There may be no place like home during the holidays, but sometimes, you need to get away for a bit. That's when you need to pick one of these best Christmas vacations for families and take off on a getaway.
My husband and I talk about this all the time. Now that our kids are getting older, taking Christmas getaways is going to be something we try each year. Vacationing during the school year is hard, so if we plan trips around our kids' breaks, we will get to experience some amazing destinations.
So many towns embrace Christmas and turn into places full of magic and excitement for families during the holidays.
Whether you want a city vacation with tons to do or a winter cabin in the mountain with skiing, I picked some of the best Christmas vacations for families. You'll love these destinations!
Pin this blog for later! ↓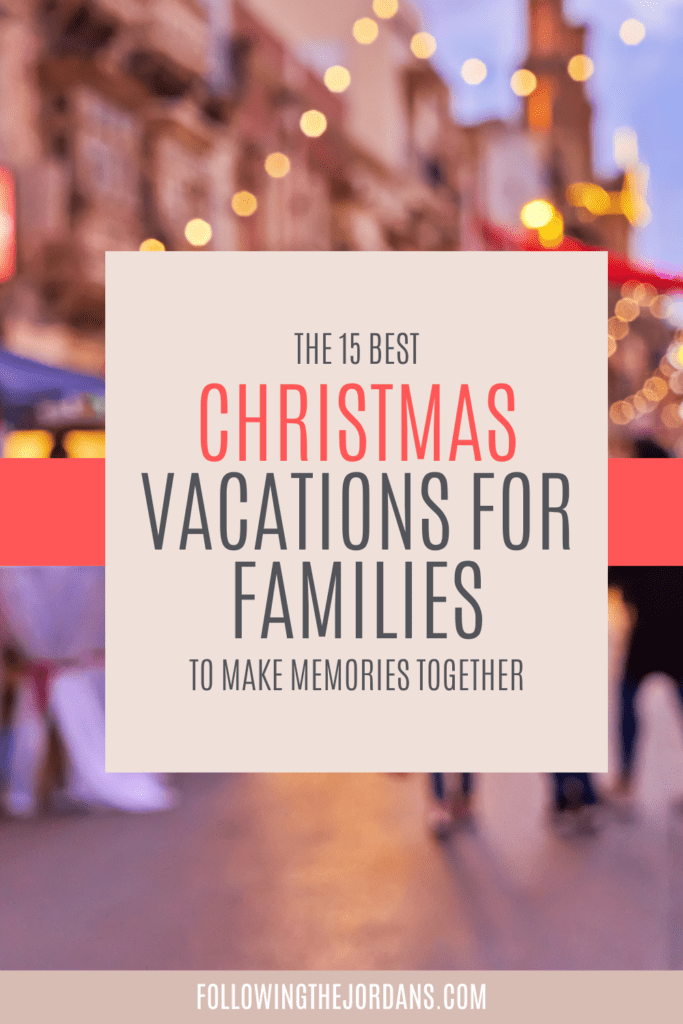 Related: Traveling During the School Year: 10 Tips for Parents
15 Best Christmas Vacations for Families
1. New York City, NY
How many Christmas movies have you watched that take place in New York City? More than you or I could count.
That's because there is something utterly magical about NYC during Christmas. The city is full of lights and sounds, plus it's chilly, and you feel like you're in the middle of a Hallmark movie.
Christmas in NYC gives you a never-ending list of things that you can do with your family, which is why it's one of the best Christmas vacations. The city has several ice skating locations, and the Radio City Show features the Rockettes.
Go see Times Square ready for Christmas, or check out the huge tree at the Rockefeller Center. Let's not forget that you can shop until you drop – literally – in NYC.
2. Seneca Falls, NY
Seneca Falls, NY is one of the best Christmas vacations for families without a doubt. I mean, if you've watched It's a Wonderful Life, then you know the fictional town of Bedford is based on Seneca Falls.
Yes, it's really that magical.
The most popular time to visit Seneca Falls is during their four-day-long 'It's a Wonderful Life Festival' for fans of the movie. Kids love the gingerbread house they can walk through and all sorts of light displays.
The town puts all the stops for Christmas. They offer plenty of live concerts and events for families to enjoy.
3. Disney World, FL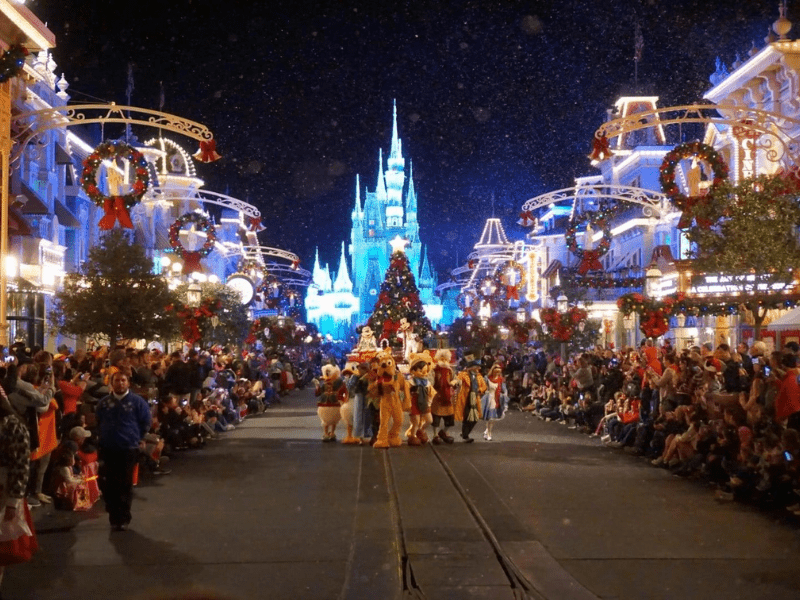 Is there any place happier than Disney World at Christmas? You need to book well in advanced if you want this as your Christmas vacation; it's one of their busiest times of the year.
Disney World gives it their all for Christmas. There are light displays in every single park, everywhere, no matter where you are. They convert Cinderella's Castle into a Frozen-themed palace.
The magic is everywhere, and Disney makes sure kids thoroughly enjoy their getaway.
4. Stowe, VT
Do you love The Sound of Music? Stowe, Vermont will be an amazing Christmas vacation for your family. The Trapp Family Lodge is where the Trapp family settles after escaping Austria. Walking into the lodge, it feels cozy and full of music.
Stowe offers plenty of activities for families to enjoy during a Christmas getaway.
Families enjoy sugar maple tours, rock climbing, craft workshops, and so much more. They offer classic films for free, and if you love skiing, the slopes are close.
5. Chicago, IL
Take a few days in the Windy City during Christmastime. It offers a similar vibe as NYC but less crowded during the holidays.
Chicago displays a massive Christmas tree that draws a crowd every year, and the parade is a huge hit every year. Kids and adults alike will love the Christkindlmarket, an open-air market with vendors and live music.
Let's not forget, you also can experience all the common sights and things to do in Chicago during the holiday season.
6. National Harbor, MD
National Harbor, Maryland is home to the Gaylord National Resort that hosts the ICE! Exhibit. This exhibit showcases life-sized ice sculptures in different themes each year.
Kids will find this exhibit fascinating!
However, the best part of the exhibit is the multi-story ice slides. I know my husband would be a kid on these slides too.
National Harbor also has a Cirque du Soleil show and an indoor ice skating rink. The harbor front has different boat rides with indoor seating that families enjoy when they need some warmth.
7. Cape May, NJ
Cape May, New Jersey is a seaside town south of Wildwood, and it's a quaint town with so much to enjoy and see during the holidays. You can take candlelit trolley tours around the city, enjoy wine tastings with your spouse, and watch a beautiful tree-lighting ceremony.
The town is full of beautiful, Victorian-themed homes that are decorated for the holiday. Cape May offers bingo on the beach and other events.
Congress Hall is America's oldest seaside resort, and they offer all sorts of holiday activities for families. Kids enjoy gingerbread house making, candy cane tents around the pool, farm-to-table Christmas dinners, and craft workshops.
8. Washington, D.C.
Another one of the best Christmas vacations for families is Washington, D.C., our nation's capital.
The capital steps up their Christmas game and presents tons of amazing celebrations, light displays, and spectacles for families to enjoy. It truly feels like a Christmas dream.
The sheer number of Christmas trees available in Washington, D.C. is jaw-dropping. You can find decorated trees at the:
US Capitol
Library of Congress
Union Station
White House
There is so much to do in the city, like checking out the Downtown Holiday Market or the Holiday Boat Parade. The Wharf, the waterfront area for D.C., has fireworks for families to enjoy.
9. Branson, MO
If you want to spend Christmas in the mountains, Branson, Missouri is a great location for a Christmas vacation. Branson is located in the Ozark Mountains, full of the holiday spirit, and it's known as "America's Christmas Tree City."
The town is full of light displays all through the town, and the Christmas Tree Trail is a beloved activity for kids. They spot decorated trees throughout the town.
The main attraction of Branson is the Silver Dollar Tree along with their Christmas festival. Check out Christmas music, a beautiful tree, and tons of light displays. In fact, this town has more than 6.5 million lights and over 1,000 Christmas trees.
Rent a cabin and spend some time together as a family in the most magical time of year in the mountains. What a dream!
10. Colorado Springs, CO
Colorado Springs is an outdoorsy Christmas vacation, and it's an affordable destination for families. This area offers so much for families to do throughout this season; families flock to this area all year long, including Christmas.
Colorado Springs has a full calendar of events throughout December.
They have a massive ice skating rink in Acadia Park and a Santa Express Train to ride with your kids. Live music events are throughout the city, and Palmer Lake has an annual lighting ceremony with hot chocolate for kids.
If you're looking for somewhere magical to stay at Colorado Springs, check out The Broadmoor. This resort turns into an amazing winter wonderland with holiday dinners and Christmas shows for families.
11. Leavenworth, WA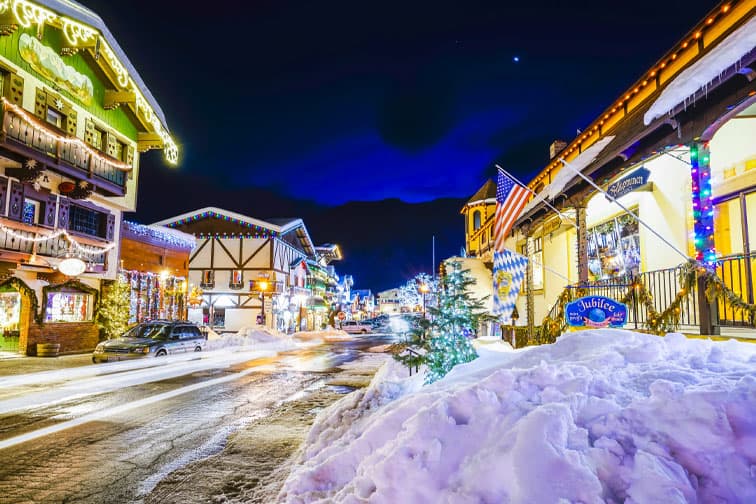 Never heard of Leavenworth, Washington? Boy, you are missing out on a magical Christmas town. It's a German-inspired town without needing to get a passport. Leavenworth is a Bavarian-themed town that comes alive during Christmas.
The town goes ALL OUT for Christmas, starting on Thanksgiving until Valentine's Day weekend. Leavenworth has over 500,000 lights through this small town that will dazzle your children.
That's not all Leavenworth has to offer.
It's ones of the best Christmas vacations for families because the town has so many events. Check out all the live music and concerts, a Bavarian Ice Festival, and more.
12. Jackson Hole, WY
Jackson Hole is a busy Christmas getaway location for families, but I recommend you book way ahead of time. Every time we've tried to book a trip here, it's typically booked up.
That's how popular Jackson Hole, Wyoming is.
This town gives you the quintessential white Christmas you want to see, and if you love to ski, the slopes are open on Christmas Day. Jackson Hole also offers other winter sports like sledding, sleigh rides, and snowmobiling.
A white Christmas is truly a dream, and Jackson Hole gives you everything of your dreams. From open fires to roast marshmallows to Christmas festivals, you'll find everything you could imagine here.
13. Oahu, HI
Are you dreaming of Christmas vacations where there is sunshine not snow?
Oahu, Hawaii is a beautiful destination to enjoy if you need to escape the cold temperatures. Instead of skiing, your kids can splash in the waves and build sand castles.
Even though it's warm in Hawaii, the town still embraces the holiday spirit. They have caroling, hot chocolate stands, and even ice skating in man-made snow. So, you can have the best of both worlds in paradise.
14. San Francisco, CA
San Francisco is a kid-friendly city, so it makes sense that it's one of the best Christmas vacations for families. The city is full of festive light displays and decorations, including an 83 feet tall Macy's "Great Tree" with over 33,000 LED lights and 1,000+ ornaments.
San Fran turns their Golden Gate Park into a winter wonderland throughout December. You walk through a forest of thousands of lights.
Not only is the town decked out for the holidays, but you still have all the awesome things to do in San Francisco with your kids. You can check out Chinatown, Ghiradelli Square, the Golden Gate Bridge, and tons of other amazing sites.
15. San Diego, CA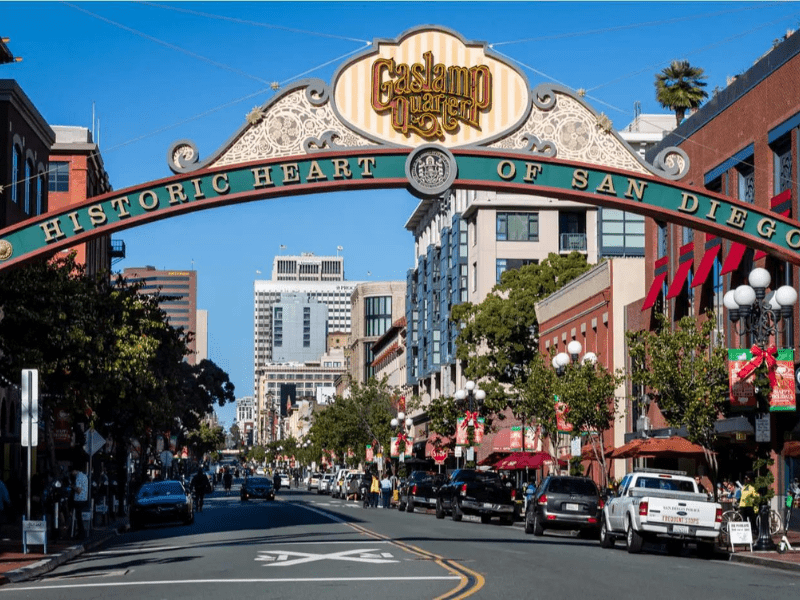 Whether you visit just San Diego or want to take a bit of a road trip with your family and visit San Francisco as well, this Californian city offers tons for families to enjoy together. The climate makes this the perfect time for families to getaway together.
San Diego hosts many different Christmas festivals throughout the holiday season. The city has over 37 acres of illuminated plants and gardens in the San Diego Botanical Garden.
That's not all the city offers for families.
San Diego has the iconic Mission Bay Christmas Parade of Lights, multiple lighting ceremonies, and so many more events!
---
Getting away with your family during the holidays is a great way to make memories with your kids. You'll find plenty of great places for Christmas vacations for families, and everyone will have an amazing time together.