Earning money through affiliate links is one of the top ways website owners and bloggers earn an income online. While you will find many affiliate programs available, Amazon Affiliate program continues to be the leading option for bloggers.
Think about how many times you look at a product on Amazon or how many times you buy something from this large corporation. Amazon tends to have some of the most affordable price tags for all sorts of items, so if you want something but want the best deal, I bet you check Amazon before buying the product elsewhere.
Whenever you link products in your content, it should be natural, and do your best to link to products you know are trustworthy and worth your readers' money. It's part of building the trust of your readers, and it all starts with getting started with the Amazon Affiliate program. Let's take a look at those steps.
Related: 12 Ways to Make Money Blogging
What is the Amazon Affiliate Program?
The Amazon Affiliate program, often called Amazon Associates, is an affiliate marketing program that is free of website owners and bloggers. This allows bloggers to advertise products they use by creating unique links, and once customers buy the product on the links, the blogger earns referral fees.
Affiliate marketing is a fantastic way for bloggers and website owners to earn an income. Website owners promote the links, and once the links are in place, you earn an income for years to come.
Chances are you've seen hundreds of these Amazon links!
You may read a recipe for dinner, and they link a set of measuring cups they use. Once you click on the link to see what they use and decide if you want to buy it, the blogger may earn a small commission, but it doesn't cost you – as the buyer – anything extra.
Related: 12 Reasons Your Blog Might Not Be Growing
How Does the Amazon Affiliate Program Work?
The program is quite simple to understand. Associates – that's you if you are the website owner or blogger – earn a small commission by creating product links and promoting the links on your website or social media. These links drive traffic back to Amazon.
Here's how the Amazon Affiliate program works.
Website owners and bloggers create an Amazon Affiliate program account and receive a unique associate ID.
After approval, associates create affiliate links in the Amazon portal or using the link banner.
Place these links in blog posts, other parts of your website, or social media.
Once a visitor clicks the link and make a purchase, you – the associate – earns a commission.
The commission rate you earn varies based on the product category; the percentage varies from 2-5%.
Amazon Affiliate Program Rules and Requirements
One thing you should know is that Amazon is strict with their rules and regulations, and since they regularly change, make sure you pay attention to any emails that are sent your way. Understand the guidelines before you dive in because Amazon is rarely understanding; noncompliance may result in being banned from the affiliate program.
Here are some important rules and regulations to remember.
A disclosure statement must always be included on your website letting your readers know you may be eligible for commissions based on your recommendations.
Never make false or deceptive claims in your recommendations.
Do not put affiliate links in eBooks, offline promotions, or email marketing.
Don't use link shorteners on affiliate links.
How to Get Started with Amazon Affiliate Program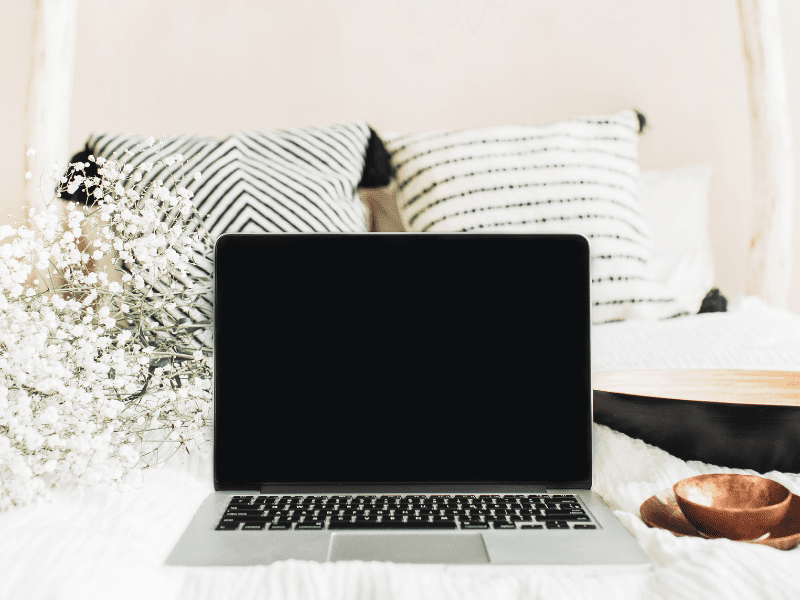 1. Create a Website or Blog
The first thing you need to do to get started with Amazon affiliate program is create a website or blog; all associates must have an active website, blog, app, or YouTube channel. Ideally, I would suggest have a site with content already because it seems active to Amazon and increases the chances of someone buying from your links.
Related: How to Blog Regularly: 10 Tips Bloggers Need
2. Sign Up on the Amazon Associates Homepage
The next thing you have to do is create an Amazon affiliate account. Go to the Amazon Associates homepage and click sign up.
Signing up requires all sorts of information like your name, address, and phone number. You also have to provide your website address or other information about where you will share the affiliate links.
3. Create a Preferred Store ID
Next, you enter your preferred store ID, which is typically close to your website name, and explain the purpose of your website. You'll also select Amazon topics and categories your links will target, in general, like books, gaming, groceries, movies, etc.
In the sign up details, you'll have to share your plan to drive traffic to your websites and how you use your website to generate income. It will also ask how many visitors your site brings each month, but there is no requirement; you can start with no visitors.
4. Choose Your Payment Method
Next, pick where you payment will be deposited, and you can opt to put your tax ID information in now or later.
5. Create Amazon Affiliate Links
Now that your account is ready to go, you go to the personal associate homepage, which is where you view your performance dashboard. This area shows your earnings, monthly summary, and clicks.
6. Create Content to Advertise Your Affiliate Items
You have your associate's ID, so now it is time to create content to advertise your affiliate links and start earning commissions. There are all sorts of ways to do this, but the most common is including links in articles.
For example, if you are writing an article about how to help a baby with acid reflux, you may link to gas drops, gripe water, and any other product that helps babies with this problem. Suggesting products to help with a product is often the best way to earn a commission since your readers already want to get something to fix whatever issue they have.
How to Increase Your Sales with Amazon Affiliate Program 
Now that you are set up, you want to be sure you are selling – and making – the most amount possible. This is a great way to boost your blog income, but it takes time to get started.
Here are some recommendations for increasing your sales and being as success as possible with your Amazon Affiliate sales. 
1. Use Charts when Reviewing Products
Comparison charts, when reviewing products, are a hit with readers. If readers want to find the "best of" product – whatever it may be – they want to make a purchase. Make it easy for them to understand which product would be the best fit for their needs. 
2. Make Sure You Target the Right Keywords 
When people shop online, they use different queries, typically a process of general keywords to specific ones. Target people searching for items when they are closer to buying rather than simply researching.
For example, if you are writing a review of baby swings, you don't want to target the word "baby swings" only. That is quite general, and you will have thousands of competitors.
Instead, you want to go for more specific keywords that buyers might look for before making a purchase.
For example, consider writing articles about:
The best baby swings under $150
Baby swings with the longest battery life
Baby swings with high weight limits
Best baby swings with Bluetooth
Typically, buyers progress to more specific keywords as they decide what they want to buy. They may find a budget they want to stick to or a feature that matters the most for them.
Target that to increase your sales.
3. Always Include Affiliate Links
The more links you include in your posts on your blog, the more opportunities you have to make money. One or two links aren't going to cut it; if you have a product to recommend, link it.
If there is a way to include an affiliate link, then you have to do so. It's common in the blogging world to link over ten times in a single article. 
4. Remember Seasonal Content 
Quarter four – from October to December – is the best time for website owners to make money. People buy more, so posting more recommended products is important. It's how you take advantage of sales.
Make sure you schedule out your seasonal content far enough that it is ranking on Google, and then be sure to share it like crazy during the holiday season.
Google prefers for bloggers to recommend products they ACTUALLY have experience with rather than round-ups. They mentioned in a recent update they will start to give preference to websites that do this.
Sharing products you really love and use is essential. It's how readers trust you – bonus points if you have real-life photos of the products rather than stock photos.
Incorporate your real-life experiences and feedback.
However, be careful with pricing. Amazon doesn't like when you mention the prices of products in blog posts; products change in price regularly. However, you can say if they are more or less expensive, and it's safe to give a range, such as "this product costs less than $60."  
6. Use a Buy Now Button in Your Articles 
Adding "Buy Now" buttons or "Check It Out" buttons into your article have great conversion rates. Readers love to click them, and even if they don't buy, the affiliate link stays active for 24 hours. 
At the end of the day, you have to get people onto Amazon. Even if they don't buy your products you linked, you get a commission for 24 hours (30 days if they add the item to their cart). So, getting them on Amazon is the goal. 
---
Getting started with the Amazon affiliate program is easy, but make sure you get three sales within 90 days or you will have to start over again. That's why many recommend waiting until you have traffic before putting the affiliate links into your content. Using these links are one of the best ways to start making an income while blogging.

Click on the image below for your Amazon Associate Program checklist! ↓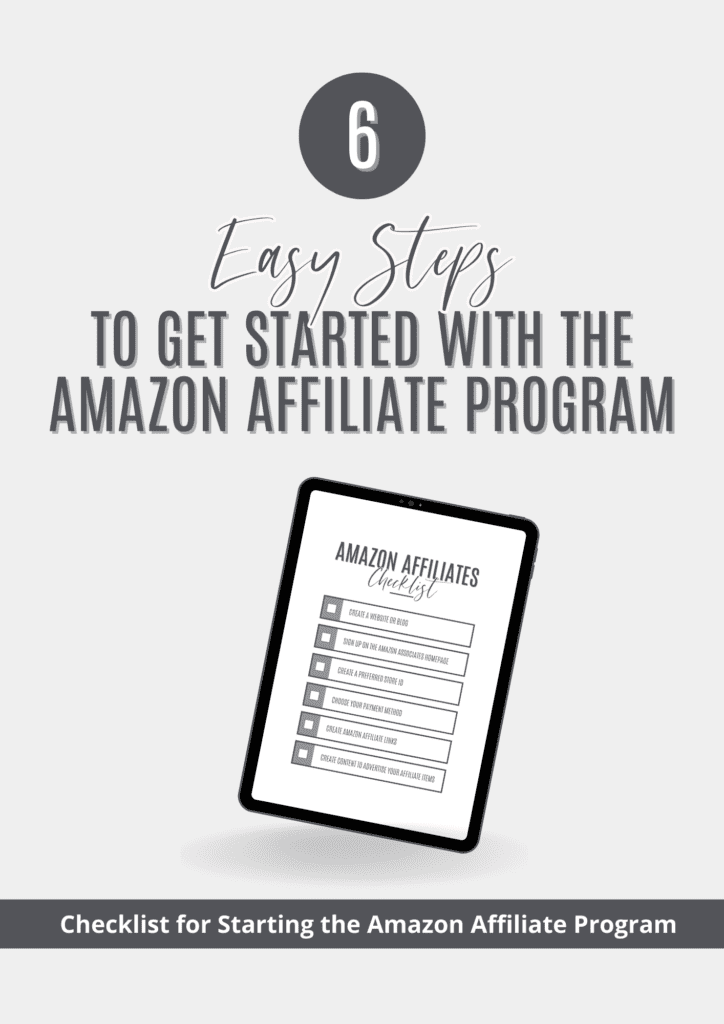 Pin this blog for later! ↓