Most people won't blog for free; you want to have a blog to make money. However, simply putting content out into the world won't bring your money, and it sure isn't as easy as one might think. You need a plan to make money blogging and start by picking your goals.
Blogging leads to a great income, but the reality is you have to have a plan to make the money. You may want to make money with ads, but that takes plenty of traffic. You may want to sell digital products, but that may require a dedicated audience on your email list.
I suggest by starting to make a list of the ways you want to make money blogging and the steps that it will take to get to those. Remember, this is your job, and it has to have a business plan. You need a plan so you always know the next steps.
Pin this blog for later! ↓
Related: How to Blog Regularly: 10 Tips Bloggers Need
How Much Money Can You Make Blogging?
This is a hard answer to give because it varies so widely. Join any blogging group, and you'll find bloggers who earn a wide range of income. Some make nothing – hopefully not for too long – and some make six figures a year. It's quite hard to pinpoint how much money you can make blogging. 
The amount of money you can make blogging depends on several factors, such as: 
The niche you pick. Some niches are simply too oversaturated and dominated by websites with high domain authority. That makes it much harder for new websites to come in and make their mark. 
The time you put into creating your blog and brand. This is a business, so naturally, the more time you put towards learning and implementing your business, the better it'll do.
Your traffic. The traffic you bring to your website will determine how much money on your ads, and it also helps you earn more money through products and your email list.
These are just a few factors. Other things play into it as well, like how consistent you are with new content and the goals you set. Also, the time you take to learn the craft of blogging and working on your digital marketing skills go a long way to earning you more money. 
16 Ways to Make Money Blogging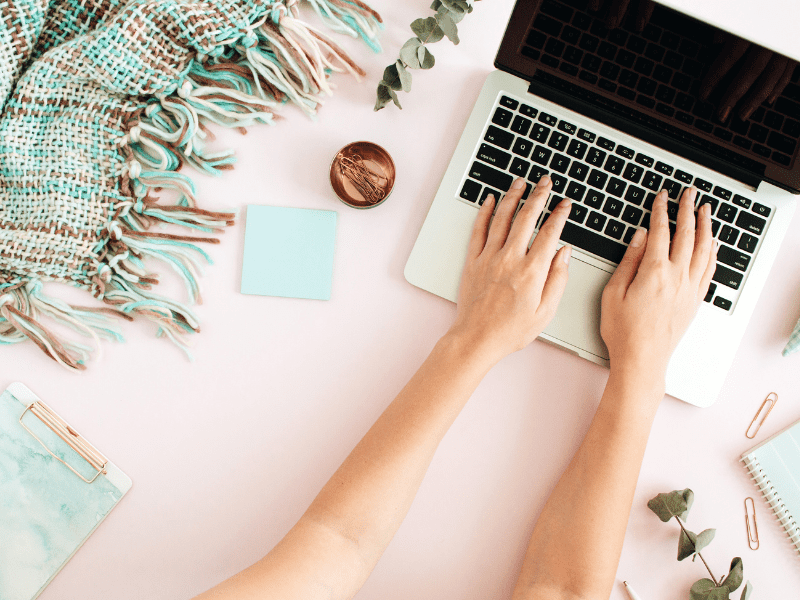 1. Make an Amazon Affiliate Store
Once you belong to the Amazon Affiliate program, it's time to create your own online storefront. It's a way for you to sell products or to recommend products you love and earn affiliate sales.
There are several ways to use Amazon Associates on your blog. Some prefer to create an online store, but you also can link to products on your website that go back to your Amazon storefront. If someone buys a product from your link, it earns you a small amount of commission. Bloggers with plenty of traffic can make money blogging this way.
For example, create blog posts about a specific topic and use it to sell physical products that solve your readers' problems. If you focus on solving problems and give them products that will help them, this will earn you money
2. Display Ads
Perhaps the second most popular way to make money blogging is to have display ads on your website for visitors to see. You make money when users see or click on the ads on your website.
There are plenty of ad networks, but not all of them make the same amount of money. Some of ad networks have a traffic requirement before they'll approve the ads for your website.
Google Adsense is one of the most popular, but the truth is that this doesn't make you a ton of money. However, it's a starting point for bloggers. Once your traffic grows, here are some other ad networks to consider.
Infolinks
Mediavine
She Network
AdThrive
3. Sell Ad Space on Your Blog
This is different than ad companies; their ads typically happen in between the paragraphs of your content. The ad space you can sell is on the side bars or banners of your website.
The amount you can sell these spaces for is based on your traffic, and I suggest being picky about what ads you want to display. It should be for products or brands you use and trust to have on your website.
Related: 12 Reasons Your Blog Might Not Be Growing
4. Affiliate Sales
Most people think about Amazon when it comes to affiliate sales, but the reality is that there are thousands of affiliate products and programs. Affiliate marketers use their blog to promote products and recommend them to others. It's a passive way to make money because links stay in place for as long as they stay there.
Affiliate sales also work on your social media page and email marketing!
5. Sell Ebooks
Selling an ebook is a great way to dive into digital products to sell as a way to make money blogging. You can create ebooks around any niche or topic; think of how many books are available for sale! It has endless possibilities.
Ebooks are easy to create, and if you have popular posts on your website, repurpose that content in an ebook. It's a way to sell ebooks faster.
It's easy to sell ebooks on your website, but you also can self-publish your ebooks on Amazon as a way to make even more money.
6. Sell Physical Products
If you create a physical product, it's another way to make money blogging. Use your website to sell your products to the world, or you can create a storefront on your website.
People love online shopping, and there is plenty of room in this area to make money. If your product is unique and well-priced (and fits your traffic and audience), then it's a great way to boost your income.
The print-on-demand model is great for small bloggers since you only pay manufacturing costs. Here are some custom merchandise you can offer your readers.
Mugs
Travel Mugs
T-Shirts
Tote Bags
Sweaters
Stickers
Posters
7. Accept Guest Posts
Many bloggers accept guest posts for free to help add content to their website, but you are able to charge for guest posts if you want. However, if you want to charge for guest posts, your website has to have enough traffic to be worth the exposure for the guest poster.
The good thing about guest posts is that it gives you time to do other things since it is fresh content for your website while making you money through affiliate links and ad sales.
8. Sell Courses
If you have an audience that would love a course, then it may be a time to sell a course that teaches them something. It may be a blogging course, but if your niche is gardening, you may have a course to teach others how to garden. If you target and learn about your audience well, then picking a topic for your course may not be as hard as you think.
There are several types of course.
You could have a monthly membership that allows your readers access to new content on a regular basis, or you can have a complete course for sale for a one-time cost.
Creating a course is a great way to earn passive income because they sell at a much higher price than ebooks or other digital content.
9. Host a Paid Webinar
Webinars are similar to courses, and they grow your audience while growing your experience and business. They truly are one of the best ways to make money blogging online. 
A webinar differs from a course because they are live and include a question and answer section. WordPress gives blog owners an easy way to host a paid webinar and a way to host it. 
10. Grow Your Email List
I have to tell you something that is a harsh reality; fewer than 30% of your traffic will return your traffic a second time. Getting your visitors email address is a top priority for your marketing plan because you can reach these people over and over again.
Money is in the email list.
Create pop-ups on your website for products, free-printable, or whatever else you want to offer. Visitors often love freebies, and you can use these as leads to get them to buy full products.
Related: 6 Ways To Grow Your Blog Easily
11. Try a Paid Newsletter
If you have a large audience and regular readers, consider launching a paid newsletter. It's easy to do so with most email services; you create a special VIP list and charge them monthly or quarterly.
However, this is not passive because you have to create new products for this newsletter regularly. You need to offer things that people want to pay monthly or annually to have, but if you do so, you can grow through word of money, testimonies, and more.
12. Sell Sponsored Posts
Sponsored posts are typically created by a brand to encourage you to buy what they sell. It's recommended that you avoid overdoing sponsored posts, or your audience may not trust your website as much anymore. However, it is a great way to make money occasionally, but I suggest only doing this for products or brands you trust.
13. Write Reviews 
Writing reviews is similar to sponsored posts; you make money by posting reviews of products or brands on your website. Most companies send you the products to try for free in exchange for the product, and many will pay for the written review as well. 
When opting to post review articles on your website, be careful. You never want reviews to be a bulk of your articles, or it will look too spammy. All products should be products relevant to your niche that your audience will find useful. 
14. Sell Freelance Services
Many bloggers make money blogging by selling their freelance services, such as freelance writing, email marketing, or graphic designing. These services make plenty of money, and you have plenty of ways to market your knowledge.
If you become a SEO expert, you can market your freelance services to increase SEO for content. Offer site audits and give people content plans to increase their traffic, or offer copywriting services.
Doing this regularly helps bring money into your pocket; many people do this full time who aren't bloggers, but your website helps serve as advertisement for your services.
15. Start a Consulting Business
When you have an expertise in an area, then you can start a consulting business fro your blog. A consultant offers advice and strategies to their clients to increase their effectiveness and reach their goals. 
Beginning a consulting business takes little to no start up investment, especially if you already have an active website. Use your existing blog to offer services to your audience. 
16. Public Speak as an Influencer 
Learning how to become a blogger is a popular topic right now as more people than ever want to work from home and be their own boss. Once you grow as an influencer in the blogging world, use this to get public speaking jobs. Many bloggers make money speaking at conferences. 
Even if you don't get paid to speak, this is fantastic exposure! It's one of the best ways to promote your blog and brand while finding new opportunities and networks. 
---
Once you have your plan and know how you want to make money blogging, take the steps needed to get there. Start small, but have future plans. All good businesses need a future plan!