Taking baby to the beach for the first time is an adventure and a learning experience rolled into one. Family vacations are the best, but it's hard enough having a baby at home. It has to be even harder to have a baby at the beach, right?
We love to travel, and the beach is one of our favorite destination. Our kids love spending time in the waves and sand, and after having three kids, I know a thing or two about taking baby to the beach. One of the most important pieces of advice is to be prepared, and you're already doing that by reading these tips and planning ahead for your vacation.
Here are some of my favorite tips for taking baby to the beach; you'll have the best vacation by being prepared!
Related: 11 Reasons We Love Visiting Holden Beach Every Year
22 Tips for Taking Baby to the Beach
1. Always Have Shelter
Babies need shade; it's not a good idea to take your baby to the beach without quality shade available for a majority of the time. It's best to keep your baby out of the sun as much as possible.
I prefer to use an EZ-Up canopy that provides enough shade for our entire family, but use whatever easy set-up shelter you prefer. We have space to eat, build sandcastles, and relax. Umbrellas work as well, but they're best for small families or two people.
Make sure you ask the hotel first before you pack your own; some provide canopies and umbrellas to rent for a small fee.
This is definitely an important tip when taking baby to the beach. The American Academy of Pediatrics recommends that babies under six months old shouldn't be in direct sunlight if avoidable.
Related: When Can Babies Go to the Beach? Parents Need to Know
2. Pick the Right Bathing Suit for Your Baby
Those cute bikinis for babies are adorable, but they're not practical when it comes to UV protection at the beach. The sun is strong because of the water reflection, so the more skin you cover, the better.
Start with a cute swim shirt that is a minimum of SPF 50; babies have sensitive skin! Add matching bottoms, and I always include water shoes for walking infants and toddlers. Sand is hot, and those broken seashells seriously hurt your feet.
3. Don't Forget the Sunhat!
A good sunhat is a must-have beach item. Most babies don't have enough hair to protect the top of their head and neck. A sunhat covers your baby's head, neck, and face.
Let's be honest; most don't like to keep them on. I prefer sunhat with a chin strap, and we practice wearing them whenever we leave the house to get our kids used to wearing them.
Related: 22 Toddler Beach Essentials You Don't Want to Forget
4. Don't Forget the Sunscreen
For babies six months and older, it's safe to use sunscreen. It's best to use a sunscreen that uses zinc or titanium for the best UVA/UVB protection. It's necessary to use sunscreen when your baby is going to be in the sun; a sunburn is misery and avoidable!
So, what happens if your baby is under six months and it's not possible to keep your baby out of the sun?
it's safe to apply a small amount of water-resistant sunscreen to your baby. An SPF of 30 is ideal, but make sure your baby is as covered as possible with his bathing suit. The American Academy of Pediatrics recommends that parents apply sunscreens 30 minutes before heading to the beach.
5. Set a Timer for Applying Sunscreen
Sunscreen typically needs to be reapplied every two hours, but when you're having fun with your family, it's easy to forget that it's time to reapply. I set a timer on my phone for every two hours so that I never forget.
None of my kids have had a sunburn yet, so it must be working!
6. Hydrate More Than Usual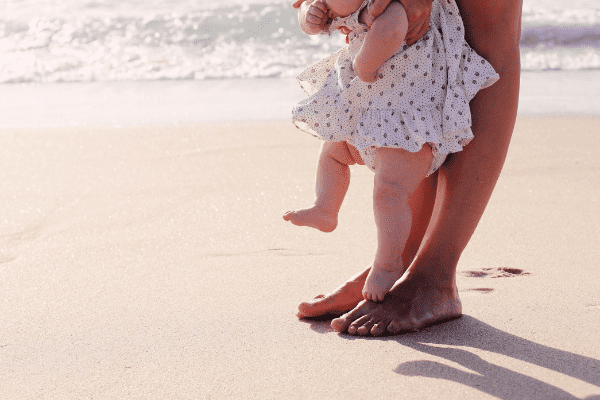 Babies between six and eleven months old can safely drink small amounts of water or breastfeed more. Parents need to increase a baby's overall hydration by 50 percent when spending time at the beach.
Think about it. You're probably slinging back water bottles regularly while at the beach. Your baby feels the same way, and if you fail to hydrate your baby, it increases the risk of heat stress, heat exhaustion, and heat strokes. You also can keep bottles cool with ice.
7. Baby Powder Takes Sand Off Hands
I remember the first time I learned that baby powder (or cornstarch) takes sand off hands. It was like the heavens opened; I hate eating snacks at the beach with sandy hands.
Now, we always pack a bottle of baby powder for the beach. I use it on our baby's hands after they crawl around in the sand.
8. Destin is Necessary for Chafing
One year, we went to the beach, and my son developed chafing on his inner thighs. He was miserable, and my heart was broken because he was so uncomfortable.
Destin came to the rescue!
Now, I always pack diaper rash cream with me when we go to the beach or camping – anywhere we might swim. It's a lifesaver.
9. Bring Plenty of Toys
Definitely bring sand toys to help distract your baby from eating the sand and seashells. Find a few sand toys that are a safe size for your baby, and I bring smaller sized toys that I can easily clean when we get home.
10. Drawstring Mesh Bags Are Your Friend
Drawstring mesh bags rock when you go to the beach. Sand gets everywhere – that's not an exaggeration. Bring at least one for all of the sand toys; keeping them in one place makes for easy clean up.
Once you gather all of the toys in the mesh bag, shake it to help the sand come out, and then spray it down to rinse them off.
11. Load Up Laundry Baskets
One of the best ways to carry all of your gear to and from the beach is in a big laundry basket; it has to be one with holes. Sand falls out of the holes when you leave the beach, and it's the perfect place to store towels and blankets.
if you bring a large enough laundry basket, it doubles as a place for your baby to nap or play out of the sand. It's one of my favorite tips for taking baby to the beach; I've used this tip for years!
12. Use Outdoor Blankets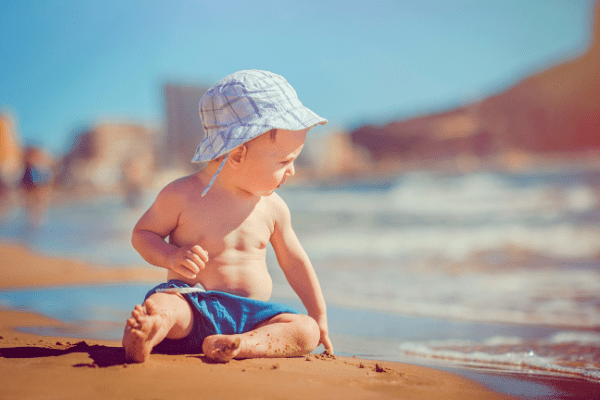 I'm a big fan of outdoor blankets, which are available at most stores like Costco or Walmart. Outdoor blankets are a great investment if you spend a lot of time outside; we use ours at the park weekly.
These blankets are made of materials that won't absorb moisture and won't collect sand. That makes it easy to shake off; the sand comes right off. When your child steps onto the blanket soaking wet after swimming in the ocean, the blanket won't end up soaking wet.
13. Bring a Blow-Up Baby Pool
I know some people that use baby pools to wash off their hands, but I like to use them to contain my baby and give them a safe way to play in the water without the sun beating down. Babies don't necessarily love waves and saltwater, so this is an easy alternative.
Having an inflatable baby pool is handy for new crawlers and babies. If your baby keeps putting all the sand in his mouth, put him in the blow up baby pool!
14. Reusable Swim Diapers Rock
You have to bring swim diapers, but you have to decide between cloth or disposable swim diapers. Using regular diapers is a no-no; the gel inside of the diapers will cause them to swell up and burst, sending those gel crystals everywhere.
I prefer cloth swim diapers because disposable swim diapers don't stop the urine either. It goes right through the diaper; I learned the hard way when my husband put a swim diaper on instead of a regular disposable diaper.
Swim diapers are pricey, so why not spend the money on reusable swim diapers and save money in the future?
15. Bring a Place for Baby to Nap
You might not want to leave the beach when your baby is ready for a nap, especially if you have older kids who want to keep playing. A pack 'n play is a great solution; stick it under the canopy, and your baby can snooze on the beach.
They also have outdoor playpens and baby tents made for this purpose. Whatever you decide to use, it helps to have someone sand-free that you can lay your baby, even if it's to have a break and be hands-free for a few minutes.
16. Wagons Work Better Than Strollers
For years, we used strollers at the beach, and I struggled to push them in the sand. Recently, we traded the stroller for a wagon, and it made life a lot easier. The wagon seems to roll over the sand a lot easier, and you need something to carry all of the supplies you need when taking baby to the beach.
17. Bring Age-Appropriate Life Vests for Swimming
Having an age-appropriate life vest or lifejacket on hand is essential for all ages. Even if you use a water-safe baby carrier, it's safest to have your baby in a U.S. Coastguard-approved lifejacket. Swimming in the ocean is unpredictable, and it's easy for a wave to take you under when you think all is safe.
18. Bring a Cooler for Snacks – On Wheels Preferably
A cooler is a must-have item when you're taking baby to the beach. Babies need to stay cool, so that means they need to have cool water to sip. Some babies might like their formula or milk cold; every baby is different!
It helps to have cool rags to wipe your baby down when it's hot outside. Heat stress is a serious risk with babies; you don't want to take the chance.
You also can put food pouches and other yummy snacks in the cooler for your baby to enjoy. A full baby is a happy baby, so bring all the cool snacks possible.
While it's not necessary for the cooler to have wheels, it makes it easier, especially when your wagon or stroller is full with everything else!
19. Freeze The Snacks Ahead of Time
If your baby is old enough to eat solid foods, consider freezing some of their food pouches and yogurts before going to the beach. By the time they eat them, they'll have a sort of slushy consistency, helping to keep them cool.
Slushy baby food also feels great on your baby's gums if they're teething.
20. Spray Your Baby to Avoid Overheating
Another way to keep your baby cool is to spray them with cool water. You can use room temperature or cool water, but you don't want it to be too shocking for your baby.
Every now and then, I spray my baby (and myself) with some water. It feels good, and since we need to stay hydrated and cool, it's the perfect solution.
21. Bring Extra Wash Cloths
One of my favorite tips for taking baby to the beach is to bring several washcloths with you in a plastic bag. You can bring one out at a time and use it to wipe down your baby's hands and faces, and they also keep your baby cool when they start to get too hot.
22. Bring Too Many Towels!
Over the years, I learned to pack lighter because we don't need to bring the world with us when we go to the beach. However, I never seem to have enough towels; they're always all in use.
So, bring more towels than you think you'll need; you'll thank me later.
Enjoy The Beach with Your Baby
Don't stress out about taking baby to the beach; these tips will help make your trip more relaxed and fun with less stress. Make happy memories with your baby at the beach this year and make sure you're prepared!