Hitting the beach with a baby is no small task. You're juggling nap-times, feeding times, ALL the things and more. We love the beach (and the sun) so I picked my favorite most essential items to share with you in this baby must-haves post!
Vin went on his first beach trip at 3 weeks old (with multiple trips that summer), Lexi was around 5 months and Callum just went on his first beach trip last weekend at 7 months old. Since we go to the beach multiple times throughout the year, I feel like I have mastered what to take (and what not to take) with a baby. This list of items will help you pack for baby's beach trip (first time or not). Most of these items are for use on the beach, but I will include other must-have items to take for general purposes at the end of the post.
1. Swimsuit
SPF Bathing Suits are a must! Ruffle Butts has the cutest suits with matching hats! For babies it is important to cover their skin and keep them cool at the same time. Rashguards are great for this! Below are some of my favorite bathing suits that have great SPF!
2. Swim Diapers
Don't forget these! Reusable swim diapers (the ones with the snaps are the best! Makes it easier to change baby if they have a poop!) are amazing!! I used disposable swim diapers with Vin and Lexi, but having been using reusable swim diapers with Callum!
3. Beach Tent/Umbrella/Canopy
Tons of options out there for this! You can get a big canopy for the whole family to sit under, use a colorful and fun umbrella, or purchase a baby beach tent.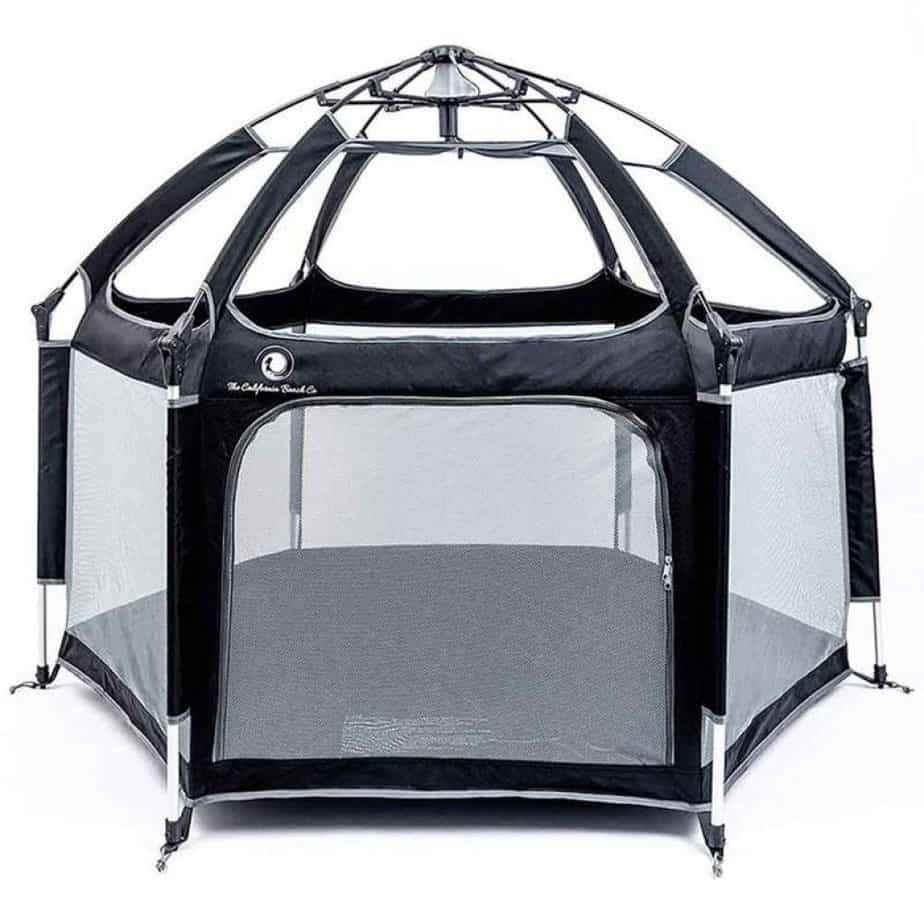 4. Sunscreen
Remember, cover their skin with clothing/hats as much as possible. If your baby is over 6 months then you can use sunscreen. Lexi is my sensitive skin kiddo and I swear by Blue Lizard Sensitive. For Vin and now with Callum we use Aveeno Baby or Sun Bum. With babies (and kids) its great to use a face stick for an easier time with their face and lips! Don't forget about the top of their head if they don't have much hair or the areas where the hair parts.
Don't forget aloe vera gel! I love this one by SunBum. It also has Cocoa Butter to soothe and hydrate after being in the sun
5. Beach Hat
Just like with clothing, you want to pack a baby hat with SPF in it. They even have ones that have more of a "ball cap" look. Match it with their bathing suit for a super cute photo opt!
6. Baby Tub/Baby Pool
You can bring a baby tub to the beach and create your own "ocean" for your baby. We have brought a blow up bathtub (this one also has balls!) that was great and we have used a pop up baby pool (it also doubled as as shade tent!). This frog one is super cute! Both are easy and portable.
7. Toys
You don't have to bring a lot. A couple sand toys, an indestructible book, and something to squeeze with water (sponge, splash ball, etc).
8. ALL The Snacks
For babies not eating snacks yet, just an extra bottle (if they take it). For us this means bringing puffs, teething crackers, yogurt melts and cheddar crunchies (and if you as a parent like Cheetos go ahead and try one of these! They taste pretty good and are way less calories….don't ask me how I know ;)). Combo pack for all the above here.
9. Beach Towel
A cute hooded towel for little one (Pottery Barn Offers customized ones!) and one to sit on. I love the Sand Cloud towels because sand doesn't stick to them and they are so soft.
10. Wet/Dry Bag
You can use a wet/dry bag to put diapers in, wet clothing, carry a change of dry clothes etc.
11. Battery Powered Fan
It can get hot out in the sun all day. I like to use a stroller fan that I can clip to anything. A battery powered desk fan also works well.
12. Baby Powder/Brushes
Baby powder makes getting sand off super easy!! I also use these silicone scrub brushes to help remove the sand.
13. Beach Wagon
A wagon is extremely helpful if you have a lot to carry or a long way to walk to the beach. The Keenz wagon is on the pricy end but it does allow you to strap baby in safely. Other wagons such as the Coleman are great for carrying all the stuff. (We have the Mac Sports one below and love it!)
14. Water Bottle
A stainless steel water bottle to keep your water cool. Not only is it important to keep your baby hydrated while out in the sun, but you need to stay hydrated as well.
15. Life Jacket/Float
Being near a large body of water can bring some anxiety to new (and seasoned) parents. Having a floatation device is a must! I love the Stearns brand for infants under 30lbs.
16. Rash Cream
Sometimes the sand and diapers don't mix well and leave our littles ones with a rash. I carry a travel size Hello Bello diaper rash cream everywhere I go. My other favorite brand is Dermacloud.
17. Hydrating/Moisturizing Lotion
This is extremely important for any sensitive skin babies, but important for all kids. We use the Aveeno Baby Eczema lotion for all of our kids after a day in the sun to keep their skin from drying out. Other hydrating lotions I love are: Jergans, OGX, and Baby Dove.
---
Other items to bring on your trip that you don't want to forget for baby:
Safe Sleep Space–> we used this portable option as the babies were a bit older (3-10months) and this portable option for travel when they were really tiny (less than 3 months)
Feeding Supplies (formula, breastmilk, bottles, bottle brush, bottle washing supplies, bottle warmer, pump, pump parts, pumping bra)
Baby Food (I usually just buy this at the grocery store once we get there!)
Clothing (shorts, shirts, pjs, extra onesies)
Diapers and Wipes (I usually just pack enough for the day to get there and buy once we arrive).
Extra Paci
Extra Lovey
Baby Medications and Thermometer
---
What If It's Raining?
We all know that sometimes an afternoon storm can roll in along the coast. No fear! Use this time to unwind with your baby. Cuddle, take a nap, enjoy making a new meal, or get dressed up to go out to dinner (if restaurants are open). My favorite thing to do is to sit on the porch or balcony and enjoy the salt air mixed in with the smell of rain. Just relax with your baby and know that everything is so new and exciting to them.
If you have older kids check out my list of activities here to keep them busy if it rains on your beach trip. Some activities are also for babies!
---
Sometimes sand, sun and babies done mix well, but hopefully this list will help you be prepared so that you and your baby will enjoy the trip!
What items do you pack for traveling to the beach with a baby? Let me know in comments!