Summer is finally here, and that means plenty of time swimming whether you're at the pool, splash pad, or the beach. One of the essential beach items for babies is swim diapers, but more parents than ever are switching to reusable swim diapers than disposable diapers. These save money and do a better job at preventing poop leaks.
Plus, have you ever seen how adorable cloth swimming diapers are? They're so cute!
When I had my son, I couldn't believe the cost of disposable swim diapers. An average pack only has 10-15 diapers, and they cost nearly $12 a pack. That's almost $1 a diaper, and they don't hold in urine!
Reusable diapers won't as well, but these diapers are worth their money. You can spend $40 and have enough diapers to last you all summer, which is only around three packs of swim diapers. Since we swim all that time, that was only a month's worth of disposable swim diapers for us.
If you're ready to try out these diapers, I put together a list of a few of our favorite brands. Not all are created equal.
Pin this blog for later! ↓
Related: 22 Toddler Beach Essentials You Don't Want to Forget
Does My Baby Need Swim Diapers?
If your baby or toddler isn't potty trained yet, then your baby needs a diaper for swimming since your child is too young to control their bowels in the pool. Swimming is fun for all, and it brings a distraction, so it will reduce your child's ability to receive the signals that he needs to go to the bathroom.
Swim diapers stop accidents from happening, but they aren't effective for avoiding pee. You might not realize that swim diapers don't absorb pee because, if they were absorbent diaper, they'd absorb water in the pool!
However, the main goal with these diapers is to prevent a poop accident which would compromise the cleanliness of the water. No one wants to clean and sanitize a pool, and if you're at a public pool, this means everyone else has to leave early.
Can Regular Diapers Be Used for Swimming?
As much as it may be tempting to use a regular disposable diaper while swimming, it's not a good idea. Regular diapers are ultra absorbent; they absorb everything. So, as soon as your baby submerges into the water, the diaper will absorb as much of the water as possible.
That can't be comfortable for your baby!
Doing this causes a few problems. First, it increases the risk of chafing where the diaper sits at your baby's hips and belly. Then, it causes gaps at the thighs, which could allow poop to escape.
If the diaper gets too full, it also may explode, causing the gel to escape into the pool. That would be quite a mess!
Are Reusable Swim Diapers Worth It?
If you swim regularly, then cloth swim diapers are worth the investment. While one reusable diaper is the cost of a pack of disposable swim diapers, you can reuse them indefinitely. If you have multiple kids, you can save the same diapers and use them for years.
That's definitely worth your money.
Typically, all you need is three or four cloth swim diapers, and that will last you the entire swimming season. If you buy swim diapers that adjust and grow with your baby, then it's especially worth it.
Do Any Reusable Diapers Hold Pee?
Reusable diapers will not, in general, hold pee. These diapers are made of materials that allow liquid to pass through them. Otherwise, as soon as you put your baby into the pool, the water would soak in, becoming water logged.
Yes, that means pee seeps out of the diaper.
Do Reusable Swim Diapers Hold Poop?
Yes the goal of these diapers is to hold poop in while your baby is in the water. The design should have elastic around the waist and thighs that prevent poop from exploding up your baby's back or out of the thighs.
How to Pick Reusable Swim Diapers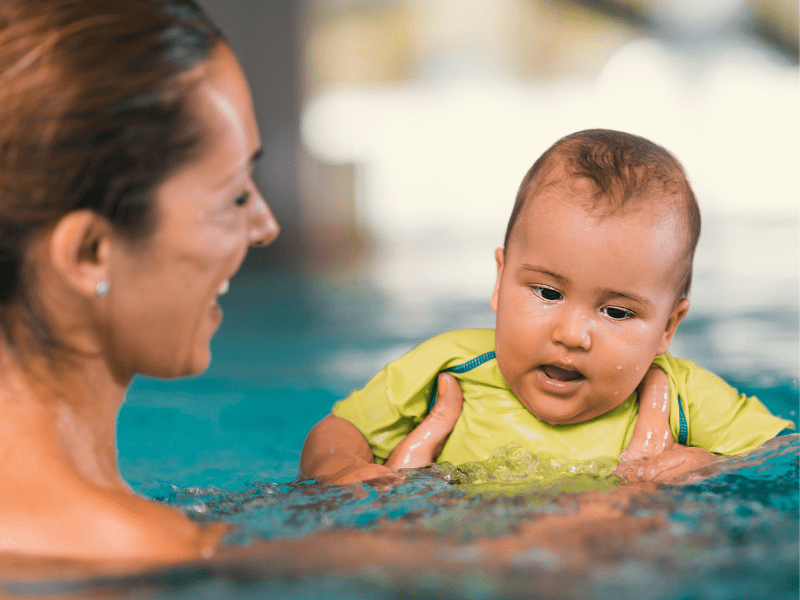 When shopping for the best cloth swim diapers, here are some things to consider.
Comfort
Not all diapers fit all babies well, so expect some trial and error. Hopefully, the first one you pick fits your baby great, but if not, don't be discouraged. You want a swim diapers that fits your baby's body and activity level well to avoid any accidents.
Functionality
If they have bad reviews, skip over the diapers. You need these diapers to work; you really don't want to be the parent that causes the entire public pool to empty! Inferior quality will lead to messes and disasters.
The basic function of a reusable swim diaper is that it contains solid poop while swimming not liquid. Anything else is a bonus when it comes to the functionality of the diaper.
Think about the features that matter to you. You may want snaps or adjustable waistbands to grow with your baby, or you may prefer a swim diaper you pull up and down.
Price
Price always matters; it's a consideration we all must have when picking a swim diaper. There are great options at all price points, and remember, these are reusable so they'll last the entire swim season.
6 Best Reusable Swim Diapers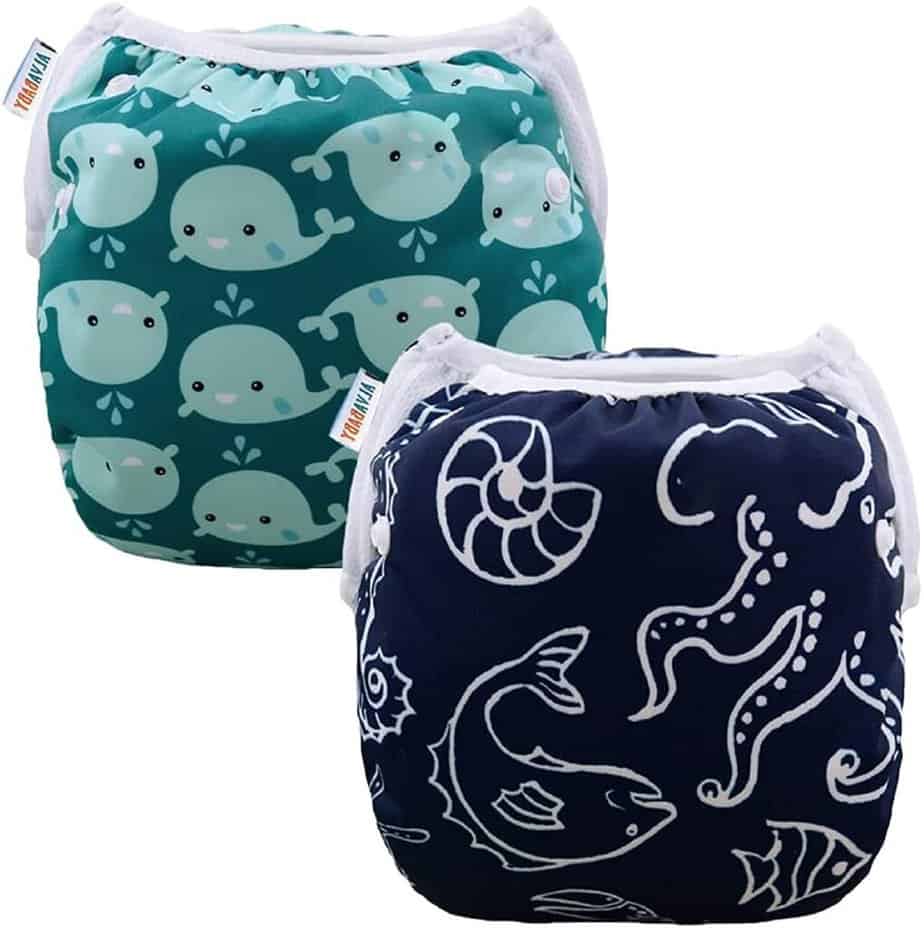 Alva Baby is a popular cloth diaper brand, known for selling quality cloth diapers at a great price that parents can afford. Their swim diapers are the same great quality, and the reviews reflect how parents feel about these diapers.
They love them!
The diapers come in aquatic-themed designs on the waterproof outer layer. Elastic on the back of the diaper and around the thighs gives a great fit that prevents leaks. These diapers work best for infants up to two years old with adjustable waist and rise settings.
Alva Baby added three rise options and multiple waist settings, making it easy to find the perfect fit for your baby.
Each set comes with two cloth swim diapers, making them an excellent value buy.
Who doesn't love when their baby wears something adorable? iPlay created their swim diapers in various colors and prints, so you'll find several you love no matter if you have a little girl or little boy.
iPlay created their swimsuit diaper with three layers. First, the innermost layer comforts your baby while the middle absorbent layer catches messes. Then, the outer layer keeps water out and accidents in the diaper.
Elastic around your baby's waist and thighs creates the perfect fit, and these diapers come in multiple sizes. It's easy to find the best fit for your child, plus they're so easy to use without any snaps or fastenings!
However, these diapers tend to run on the small side, so you may need to consider ordering a size up if your child is in between sizes or on the edge of needing the next size up.
The Nageuret swim diaper is an adjustable, washable diaper for children between 30 and 50 pounds. The waist adjusts up to 24 inches, and the thighs adjust up to 18-inch thigh circumference. Another nice feature is that the rise adjusts with three different settings.
That's great for older toddlers or special needs children! Reviews state that it's trim-fitting and not bulky at all, so your child won't feel uncomfortable while playing.
Nageuret placed an inner layer of mesh and a high-quality PUL exterior, so it's comfortable for your baby to wear. They offer the paper in a range of fun prints.
If you prefer Velcro over snaps, only a few cloth swim diapers come with hook and loops. Kushies features extra-wide tabs and a patch of velcro on the front panel to stop the diaper from slipping in the water.
Kushies made updates to their swim diaper design based on the feedback of parents. The diaper gives you an exceptional fit and work great for beginners with cloth diapers. Reviews say that these are leakproof; they report no messes.
Who doesn't love that?
The only negative to Kushies swim diapers is that Velcro is more high maintenance than snaps. They tend to not last as long, and velcro accumulates hair and lint I the wash. So, be sure to pay attention to how you wash them.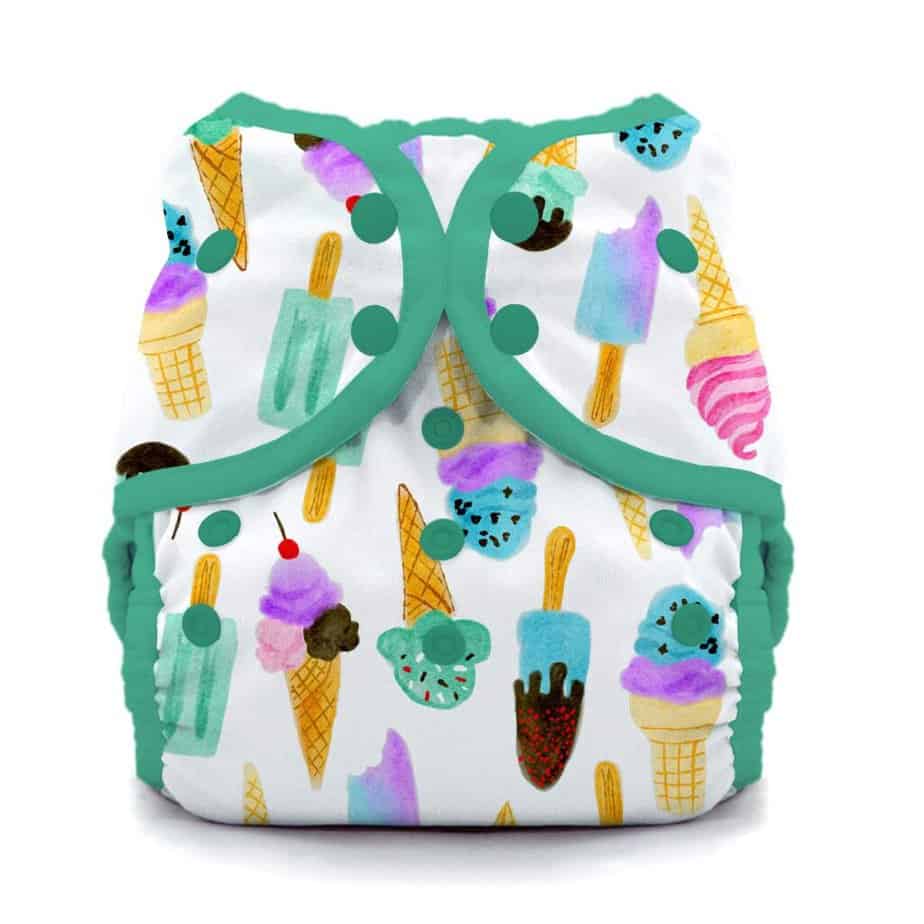 Finding cloth swimming diapers that fits a newborn is a challenge, but Thirsties is well-known for creating diapers that work for little babies. This swim diaper is suitable for babies as little as 8 pounds and grows with your child up through 55 pounds.
Thirsties added an adjustable rise and wing tabs to allow the diaper to grow.
One of things that I like about this brand is that Thirsties isn't new to the cloth diaper industry; they're well-known and an established brand. This swim diaper is a modified version of their Duo Wrap, one of the most popular cloth diaper covers on the market.
Mesh lines the inside of the diaper for extra protection, along with a double gusset to prevent leaks around your baby's thighs. These diapers are trim-fitting and not bulky, so your baby will have no problem moving in the water.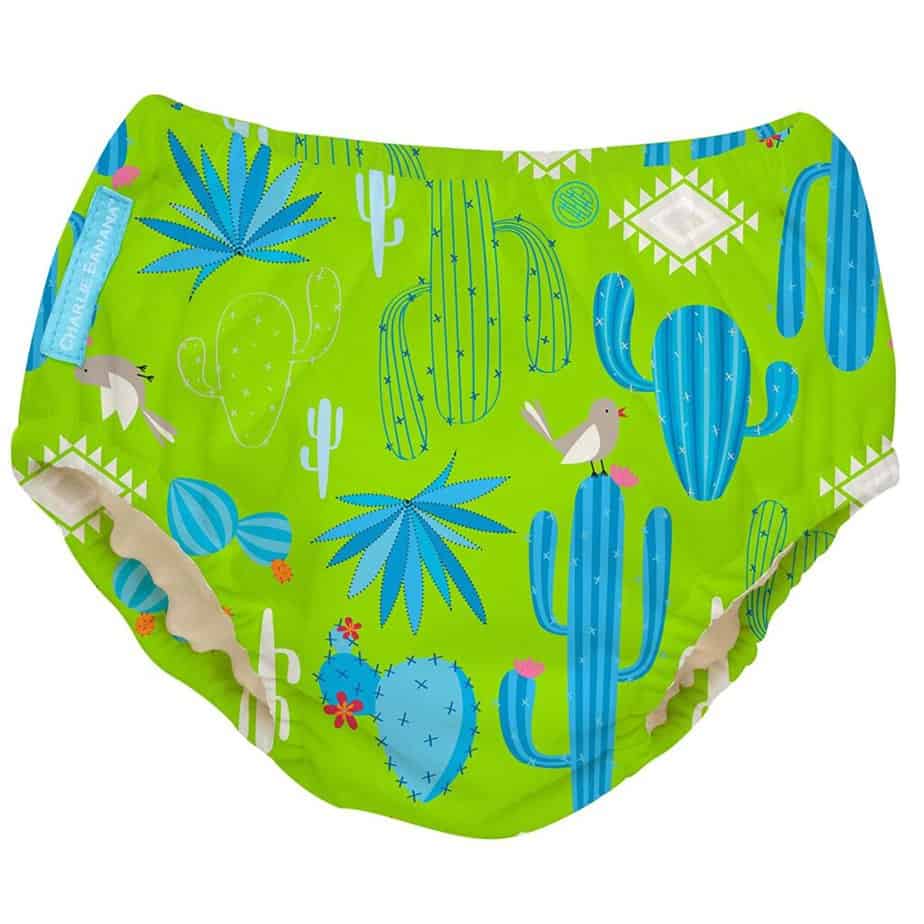 If you have an older child who needs a swim diaper, finding a cloth option is a challenge, but Charlie Banana created these diapers to work up to 55 pounds. The diapers come in a variety of colors, including several neutral colors. If your child feels self-conscious about needing a washable swim diaper, the subtle designs reduces insecurities.
Charlie Banana added a waterproof outer layer with an absorbent layer to prevent leaks. The layer is enough to hold moisture from one bladder accident, so they work as potty training pants outside of the water.
---
Grabbing the best reusable swim diaper will help ensure everything that needs to stay in the diaper while swimming does. Plus, your baby will look so cute wearing them!