Our family loves going to the beach; that's no secret. Over the years, we've learned what we need to bring with us to the beach to keep our toddlers happy. Going to the beach is exciting yet exhausting for toddlers, so you want to have all the toddler beach essentials to make the day enjoyable for everyone.
Toddlers and the beach go together like peanut butter and jelly. They love to splash in the water and dig in the sand. Our kids will spend all day at the beach, making it one of our favorite vacations with babies.
Whether you're taking a baby or a toddler to the beach, bringing the right beach essentials for toddlers saves your sanity. It helps you avoid all those meltdowns and tantrums that no one wants on vacation.
Not all things are true essentials, but everything on this list will make your life a lot easier.
Some are obvious, but a few of these toddler beach essentials are things that I found out through tips and tricks of other parents.
You know that I love to shop, and I spent a lot of time finding some of our favorite toddler beach essentials to make our trips even more enjoyable. I wanted to share those with you.
Pin this blog for later! ↓
Related: 20 Real-Life Tips for Taking Baby to the Beach
22 Toddler Beach Essentials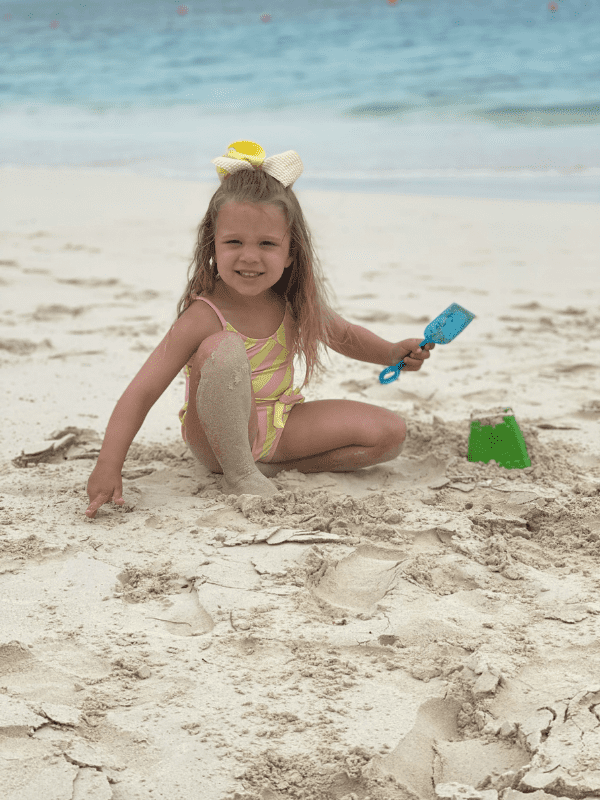 1. Collapsible Wagon
I love collapsible wagons; I like them more than I like strollers once my kids get older. They make it easy to cart all of your needed items down to the beach (or wherever you are), and toddlers hop in and out of wagons much easier. If you're going on an airplane to visit the beach, a collapsible wagon can be gate-checked instead of a stroller.
One of my favorite collapsible wagons is the Mac Sports Outdoor Utility Wagon. It has a heavy-duty frame that holds up to 150lbs, and it has durable, strong wheels that roll through the sand with no problem.
2. Portable Fan
Beaches are hot, and toddlers like to be comfortable. Every parent knows that if your toddler is too hot, a breakdown is on the way. I like to hook a portable fan to my stroller or wagon. When we're eating snacks on the beach, I direct the fan to my toddler; it definitely improves their mood.
I tried a few different brands of portable fans. A few were too flimsy and broke quickly; it has to be able to take a beating because toddlers are rough on everything.
My favorite is the WiHoo Mini Handheld Stroller Fan. It has a flexible tripod that connects to whatever you want and three speeds for the fan, and you can use batteries or a USB cord to power the fan.
3. Beach Tent or Canopy
Having shade for your infant or toddler is an essential tip for parents when going to the beach. Since we live in North Carolina, we drive often to the beach, so we bring a pop-up canopy with us. You can find a basic pop-up anywhere like your local Walmart or Target.
However, taking a canopy on an airplane isn't so easy, so another space-saving option is a beach tent meant for toddlers or babies. I use pop up sun shelters for my kids from the time that they're little, like when I'm gardening or at the local park.
You can find many different options for a beach tent, but my favorite is the Babymoov Anti-UV Tent. It folds compactly enough that you can fit it in the bottom of a suitcase, and it provides enough space for two kids to sit in the shade. This material keeps 99% of the UV rays off of your child.
5. Beach Blanket
My parents always brought a sheet to the beach, but they always made me so mad.
The wind blew them around, and I felt like they never stayed in place. Then, I found this Sandfree Beach Blanket – my dreams came true.
It's LARGE – it fits 4 to 7 adults. It's water resistant and dries quickly, and it comes with six ground stakes, so the beach blanket won't move around.
Yes please! This will forever top my list of toddler beach essentials.
6. Sunscreen
Sunscreen is one of the top toddler beach essentials that you need to bring with you. Toddlers have sensitive skin, and the sun rays at the beach are strong, especially because of the reflection off the water. While I like to use rash guard sets for my toddlers, parts of their bodies still are exposed to the sun.
Sunscreen is a must – I take it everywhere with me!
One of my favorite brands is Baby Bum; I keep bottles of the Baby Bum SPF 50 Sunscreen with me at all times.
This is a 100% mineral-based sunscreen lotion that rubs into your child's skin well without leaving an oily residue. I like that it's paraben, silicone, phthalate, and sulfate free, so if you have a child with sensitive skin, it's dermatologist tested!
7. Sunhat
Toddlers don't always appreciate sunhats, but they protect their heads, eyes, and face from harmful UV rays. I like the sunhats that have a chin strap to keep them in place, even though toddlers easily chuck them off when they're annoyed with the hats.
My favorite sunhat is the iPlay Brim Sun Hat. I love this one because it has a flap on the back of the hat that covers your baby's neck as well as their head. It has a strap to tie the hat on your baby's head, and it's made with a quick-dry material. My toddlers wore it while swimming, and it dried super fast in the sun.
8. Rashguard Set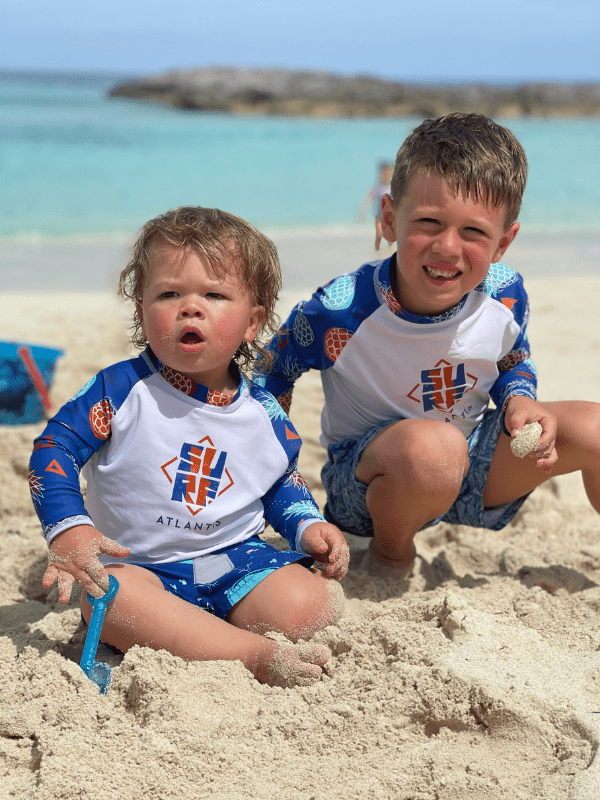 Wearing a rash guard is a must-have essential for toddlers when you go to the beach. UV rays are strong and dangerous; the last thing you want is a toddler with a sunburn. That's a surefire way to ruin a vacation!
Each of my kids has multiple rash guard sets, but Carter's makes some of my favorite sets for toddlers. I prefer two-piece swimsuits rather than one-pieces because it makes changing swim diapers a lot easier. This Carter's Boy 2-Piece Set is my favorite, and it comes in several adorable patterns. For girls, take a look at the Carter's Girls' 2-Piece Set; the patterns are adorable, and I love the ruffles on the bottoms.
9. Water Shoes
Sand is hot, and with all of this stuff that I need to take with me to the beach, the last thing I want to do is carry my toddler to the beach. Plus, many beaches are full of seashells. Stepping on seashells hurts.
We always have water shoes for our kids. We use them when we go to the lake, ocean, or creek walking.
I tried several brands, like ones from Walmart and Target, and my favorite ones so far are the WateLeves Kid Water Shoes. They're made from quick-dry material, so they dry super fast. They come in multiple adorable patterns, and the foam inner sole makes them comfortable for your toddler to wear.
10. Beach Toys
Beach toys are definitely one of the top toddler beach essentials; I think your toddler will agree. If you're flying and don't have the space to bring toys with you, buying them at your location is possible. They might be cheaply made and overpriced, but sacrificing that space in your luggage isn't always possible.
I prefer to buy nicer beach toys so they don't break in a second. I have the 19-Piece Prextex Beach Toys Set, and it has everything that my toddlers need and more for a reasonable price.
Buying this set is more than buying beach toys at the dollar store, but the plastic is thicker, and they don't break as easily. We have most of the same pieces from three years ago.
Here's a few other beach toys I suggest bringing with you.
11. Small, Inflatable Pool
You're wondering why you'd bring a pool to the beach.
Let me explain – it's genius.
First, you can fill it up and let the kids wash off their hands and feet before stepping on the beach blanket. You can't get rid of all the sand, but it helps.
Second, sometimes when your toddler is feeling beat from the sun, they can sit under the canopy and splash in the inflatable pool. I found that sometimes my kids really gravitate towards the inflatable pool.
I take that as a sign that this little thing works. We bring a blow-up one that's small, so it doesn't take up much space.
12. Mesh Drawstring Bag
Beach toys bring sand, and I don't know about you, but sand everywhere makes me go crazy. I put all of our beach toys in a mesh drawstring bag; I grabbed the Covax Heavy-Duty Mesh Drawstring Bag, and we use it all the time. When we aren't at the beach, I use it for wet clothing at the park or pool.
If you want a toddler beach bag to carry all your suggestions, I also suggest a mesh bag.
No matter how hard you try, sand gets everywhere.
Grab this large beach bag. It comes in different colors, and it's large enough to fit the swim diapers, sunscreen, snacks, towels, toys, and more!
13. Swim Vest or Swim Armbands
Swimming safety is essential; water is dangerous around toddlers. Parents have to be diligent about watching their toddlers in the water, and wearing some sort of swim vest or flotation device is a must if you're taking your infant or toddler to the beach.
I've tried several different styles of swim vests and armbands. I like the SwimSchool Swim Trainer Vest for toddlers that are gaining confidence in the water. It keeps your toddler in the swimming position and leaves their arms open for swimming, which is one of the problems that people have with armbands like Puddle Jumpers.
However, we've had great luck with the Original Puddle Jumpers. Our toddlers enjoy the freedom these give them, and they splash and swim well. I suggest that you find what makes you most comfortable.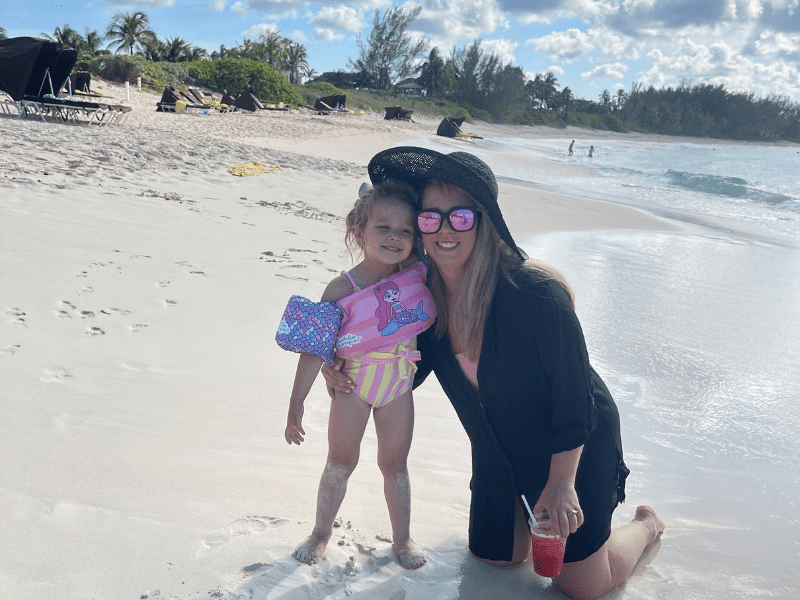 14. A Water Baby Carrier
Even if you don't have a baby, a water baby carrier is a great toddler beach essential. It lets you wear your baby and submerge into the water.
That means if your toddler is tired, you can still go out in the water, or maybe if your toddler thinks that the ocean is a bit sketchy, you don't have to keep your hands on them the entire time.
I love a water baby carrier when I have a baby and a toddler – it makes chasing them around the beach so much easier!
I have two suggestions for you to try.
Biubee Water Sling Baby Carrier: if you like a ring sling, this is 100% nlyon mesh that dries fast and the plastic rings prevent rust from developing.
Beachfront Baby Wrap: If you prefer a baby wrap, the Beachfront is a great choice, made from 100% jersey mesh. It dries fast and feels super lightweight.
15. Baby Powder
Make sure you grab a bottle of baby powder at the grocery store before you leave for the sand. This is the only time we use baby powder, but putting some on your hands is the easiest way to get sand to come off. We use it all the time at the beach. Toddlers hate having sand stuck to their hands – who can blame them?
16. Diaper Rash Cream
One year, we took our kids to the beach, and my son ended up with some chafing on his thighs from the sand and mesh in his shorts. Diaper rash cream is a must-have at the beach, even if your toddler is potty trained. Slathering on rash cream takes care of chafing in no time.
17. Swim Diapers
Swim diapers are another one of the top toddler beach essentials. I never realized until a few years ago that swim diapers don't stop urine from coming out. I learned that the hard way when my husband put a swim diaper on instead of a diaper, and my toddler peed right out of their clothing.
Since then, I switched to reusable swim diapers typically. Swim diapers are EXPENSIVE; most brands are $10 for only 10-14 swim diapers. We swim all the time in the summer, so it doesn't make sense to spend that money when we can use a reusable swim diaper.
I like the iPlay Snap Reusable Swim Diaper. It offers UPF 50+ protection and easy snaps for removals. Just toss it in the washing machine with your baby's swimsuit after you're done at the beach or pool.
18. Large Beach Towels
We bring large, oversized beach towels for our toddlers that also double as a blanket. My little kids went crazy over the Franco Kids Beach Cotton Terry Towels – they're hooded and come in several adorable patterns like Baby Shark.
Another option that I have my eye on grabbing this year is the Bavilk Kids Children Hooded Towel – it comes in patterns like dinosaurs, sharks, mermaids, and rainbows.
Oh yeah!
It goes without saying that you need to have beach towels as part of your toddler beach essentials. I suggest at least two beach towels per toddler, but you might even want to bring three, depending on how long you'll be at the beach and if you have access to a washer and dryer.
19. Wet/Dry Bag
You have to bring a wet/dry bag with you to the beach. The bag is exactly what it sounds like; it has space for wet and dry items. The wet area is lined with polyester to stop other items from getting wet. It's perfect for sticking wet swimsuits and swim diapers.
I like the Bumkins Waterproof Wet Bag; they offer several adorable prints, and it's a great size for beach trips. The bag closes with a zipper to keep the wet clothes inside.
20. Snacks
Any parent knows that snacks must come with you to the beach. Whenever you're at the beach, you end up starving; you're having fun, burning calories, and need to eat. Toddlers are no exception, but when toddlers are hungry, you'll end up with screaming tantrums.
I pack perishable and non-perishable snacks when we go to the beach, such as:
Goldfish crackers
Grapes
Applesauce
Fruit snacks
Fig bars
PB&J sandwiches
Don't forget drinks! Water, juice boxes, and popsicles are great beach snacks.
21. Cooler
A cooler is needed to keep your drinks and snacks cool for your toddlers. In the beginning, we used a hard-sided cooler, but now we use a soft insulated bag. I love my big insulated bag that I grabbed at Costco; it fits all of the snacks my family could need plus drinks when we go to the beach or lake.
22. Insulated Water Bottle
Last but not least, my toddlers always have an insulated water bottle at the beach with a straw and cap. I fill it with cold water before we head down to the beach, and the cap helps keep the sand out of the drink. Check out the Snug Flask for Kids Insulated Water Bottle. It comes in several adorable prints and sizes.
Final Thoughts
These are the top toddler beach essentials that we have to bring with us every time. If you have something that you bring to the beach with you that I don't have listed here, let me know in the comments!