Do you ever feel like you're always on the go, and you need to screech to a halt and take a breather? You aren't alone! With three kids, a husband, multiple dogs, a business, and a home to take care of, I'm the first to tell every mother I know that we all need self-care activities.
I think one of the worse things that mothers do (and are encouraged to do) is to devote their entire lives to being mothers.
Hear me out.
Being a mother is amazing. I love my kids with my whole heart, and I think being a mother is the greatest joy.
But I'm more than a mother.
We make sacrificing everything to mother your kids the new martyrdom, and I'm not down with that idea. My kids benefit from seeing me pursue things because it matters to me.
I recently asked on my Instagram if mothers do things for themselves, and a resounding number of my viewers said that they don't.
Mamas, it's time to take back time for yourself. Take 30 minutes a day to focus on yourself. That could be time when your kids are napping, when they go to bed, or when they're watching a show on their iPad.
We don't judge around here about screen time.
Here are some of my favorite self-care activities that moms need to do more, even if they feel too busy.
20 Self-Care Activities for Busy Moms
1. Get Enough Sleep
Alright, I'm going to tackle a big one first – one that I'm totally guilty of as well – not getting enough sleep.
I know you're like me, and you've either gotten up way too early to get things done or stayed up too late to have kid-free time. Having kids underfoot makes it harder to get things done throughout the day, so it's natural to want to stay up later than you should.
Make this one of the most important self-care activities on the list – You need good sleep.
When we have a chronic lack of sleep, we have some bad side effects, and it also increases the risk of depression. I suggest having a regular routine, and that means getting the allotted eight hours of sleep (or more) your body needs.
2. Journaling
I love to journal, and after my journey with PPD and PPA, having a place to let those feelings out is a huge help. It's one of the things I do to feel better when my anxiety starts to creep up more.
You don't need to spend hours journaling; I surely don't have that time. Grab a pretty journal from the store (or use an app!) and jot down some thoughts each day.
Write down what's on your mind whether it's good or bad. I like to brain dump sometimes; it helps to calm my mind when it's racing.
3. Meditation
Meditation is something else that helps with my anxiety. When I was struggling with anxiety attacks and rage, I found a few YouTube guided meditations and spent time in my bedroom going through them.
Meditation makes you feel good. Even if you only spend 5-10 minutes meditating, your body and soul immediately feels better after.
Try it!
4. Practice Mindfulness
What in the world does mindfulness mean?
I heard the term about a year ago, and I wasn't sure what it meant. The best way that I can describe it is to be present in the moment and reduce your worries.
It's easy to spend time worrying. You might worry about bills, your kids' schooling, problems with your marriage, an argument with your mother, or whatever.
We all know there are tons of stressors that could be on your mind.
When you focus on the stress and aren't present in the moment, you miss so much, and it's not good for your health. Mindfulness reduces stress and makes you feel happier.
You might miss the way that your kids play together or the way that the sun feels really good on your skin. It's easy to miss the adorable laughter coming from your child, and you might not appreciate the taste of the pie your husband brought home from the store.
Be present; it's such a good self-care activity, and you'll be happier than you could imagine.
5. Napping – It's Not Just for Kids
I'm a huge fan of naps. I used to feel like I was lazy if I napped, but not anymore.
When I'm tired, I tend to overact and yell more than I like. If I feel tired, I give myself permission to take a nap with my kids when they go down for a nap. Sometimes, I don't sleep, but instead, I curl up with a cozy blanket and just relax.
6. Read a Book
I love to read, but I know what you're thinking.
"I don't have time to read a book."
That's a legitimate problem, and I understand. It's easy to get sucked into a book. I've spent hours reading a book, so how are you supposed to find that time?
Here's my secret.
I read multiple books, and some of them are audiobooks. I don't care what anymore says; an audiobook counts as reading.
I listen to audiobooks with Audible; I always have one or two available in my queue. Then, I have one or two physical books. If I have time to read the physical book, I do. That tends to happen more at night, but if I don't, I listen to my books while driving alone, cleaning, or gardening.
7. Drink a Cup of Hot Tea or Coffee
Sometimes, drinking a hot cup of coffee while looking outside or sitting on the front porch just feels holy.
Do you know what I mean?
The birds are chirping, and your kids are watching TV inside (or sleeping). The sun is out but it's not too hot yet, and the day just feels crisp.
Take your cup of hot tea or coffee outside and relax. Put your phone away – this is key. You don't need to be connected to anyone but yourself at this moment. Breathe deep and take time to get ready for the day.
8. Fuel Your Body with Good Food
I know you probably don't think about eating good food as a self-care activity, but it really is.
Good food fuels your body. Moms tend to focus on giving their kids healthy foods, but we'll be the first to drink four cups of coffee and a donut.
Nourishing your body with good foods should be considered one of the most important self-care activities. Start by drinking more water and add veggies to your meals. Taking care of your body is valuable.
Focus on your health too!
9. Go to the Doctor!
Here's another thing that you probably never considered a self-care activity, but do you take yourself to well-visits like you take your kids?
Mama, you deserve to be healthy, and as we get older, life throws health curveballs at us. The best way to catch those curveballs is before they smack us in the face. Going to the doctor for well-visits should be a priority, along with yearly bloodwork.
A lot of health problems are only caught because they cause miserable side effects, and we tend to push through problems until they're bad. Pay attention and take care of your health. This is important for yourself and your entire family.
10. Start a Garden
A few years ago, we started a small garden in our backyard, and I love it. My kids and I spend time tending the plants, but I also go out there in the morning alone to check on the plants. I spend time planning and picking out the plants and flowers I want to grow.
If you think you have a black thumb, you probably don't. Gardening, like so many other things, is a skill that needs to be practiced. Take time to learn all about the plants you want to grow, and start off small. It feels good to get your hands dirty!
11. Sit Outside and Relax
One of my favorite things to do is lay in my hammock and listen to music. Even if my kids are outside, I still love this. I look at the clouds, watch the kids play, and enjoy my time.
It feels so good, especially if I have an iced latte in hand. Yum.
I try to get outside and relax every day when the weather is nice.
12. Listen to a Few Podcasts
I found podcasts a few years ago and quickly became addicted. The cool thing about podcasts is that there is something for everyone. If you live crime, there are tons of podcasts available. Gardeners have podcasts, supernatural lovers have podcasts, and even history buffs have podcasts to enjoy.
I know you're busy, and podcasts go with you.
You can listen to podcasts in the car, cleaning, gardening, walking, and basically anytime that your ears are available to listen. It's a way to learn something, but also a good time to get a laugh. So many podcasts are hilarious, and laughing makes you feel good!
13. Stay Connected with Friends
Catching up with your best friends is totally one of the self-care activities you need to schedule often. Staying connected with your friends is a must, but don't think it always has to be kid free.
I love going out for dinner with my friends without our kids whenever we can, but having friends who meet you where you are is so good for the soul. We have friends that bring their kids over, and we cook out together. Everyone has a great time, and by the end of the evening, your face hurts from laughing so much.
I have friends that go to the park with me. We sit with our coffee and chat while our kids play. This is a season in life that so many mothers understand, so meet each other where you are, but make staying connected a big priority together.
14. Take Walks on a Nice Day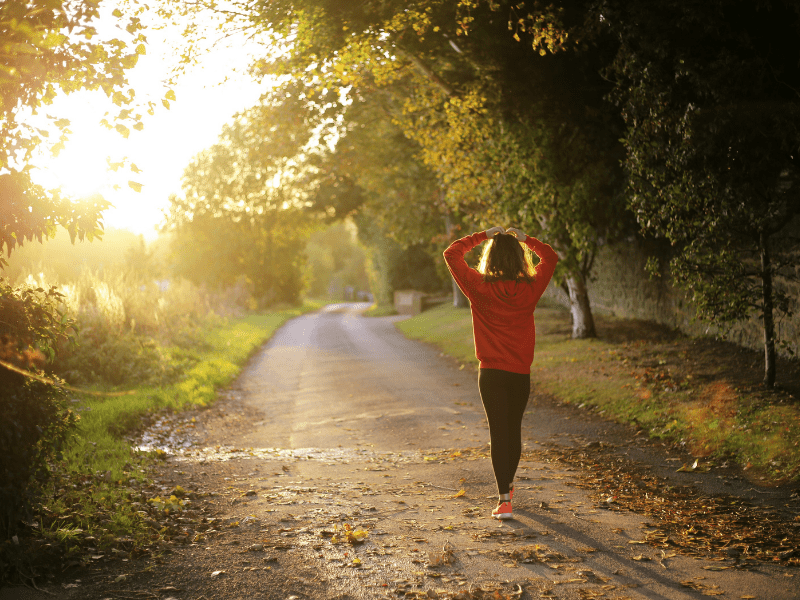 When it's nice outside, it feels great to take a walk in nature. I know that taking a walk without kids is basically impossible, but that's okay! I love taking a walk with my kids.
We talk about what we see and soak in the good vitamin D from the sun.
Get outside and walk, even if it's only 10 minutes. Moving your body feels good!
15. Try an Adult Coloring Book
Don't roll your eyes at the adult coloring books on the shelf at Walmart. I used to because who really colors as an adult?
It turns out that I do! It started when I accidentally bought two on Amazon instead of one; it was a Christmas gift for one of my friends. I decided to keep it and gave it a try. I had so much fun with it; I had no idea that coloring could be one of my favorite self-care activities, but it's fun!
Sometimes, my kids and I sit down together, and we all have our own coloring books. We talk and color, and by the end, everyone is happy.
16. Try Some Cheap Luxuries
I joke with my husband that I'm being boujee on a budget. I find things that might cost more if I didn't do it for myself.
I give me and my daughter pedicures and manicures at home. Grab some nice polish and a good nail care kit. Not only is it fun, but it makes me feel good.
I like to buy face masks and spa treatments. My husband might laugh at how I look, but it feels good. That's what matters. I enjoy lighting candles or diffusing essential oils.
Sometimes, it's easy to think that these little luxuries are a waste of money, but if you keep it within budget, these things make you feel good about yourself.
17. Take a Hot Bath
Seriously, does anything feel as good as soaking in a hot bath at the end of the day? Grab some bath bombs or Epsom salt and soak in the tub after your kids go to bed. I read a book with a glass of wine or a cup of tea, and I often listen to music.
Set the mood!
Light some candles, put on music, grab a bath pillow, and relax in your tub. It feels good on your body, especially after you spent a long day gardening or cleaning the house.
18. Binge Netflix Shows
I love sitting on my couch with popcorn and binging on a new Netflix show. My husband and I do this on the weekend, but trust me, I also do this without him. I love Netflix, but who doesn't?
I watch a variety of different shows, and I love to find new Netflix movies. This is the perfect time to veg out with a cozy blanket and relax. I have to force myself not to work or get on social media – seriously, don't – use this time to just enjoy the show. You won't regret it tomorrow.
19. Try a New Hobby
Do you have a hobby? Everyone needs to have a few hobbies that they enjoy, and finding new hobbies is something I always enjoy.
It might be photography, or you could really love knitting. Baking is a hobby that your husband is sure to appreciate; I know mine wishes I baked cookies more often. You might love decorating, or you could love hiking and kayaking.
There are endless hobbies out there. Ask your friends what hobbies they enjoy to start finding the perfect ones for you. Having hobbies isn't a way to spend more money; it gives you something to do that is fun for you. It doesn't have to produce anything amazing, but if your hobby makes you happy and feeds your soul, then it's good for you.
20. Do Nothing
Seriously – try it. I feel asleep in my hammock a few days ago doing nothing.
When you're a mom, doing nothing feels so weird, but my parents had the kids. I laid in my hammock, chatting with my husband. The next thing we know, we both fell asleep outside and woke up feeling totally refreshed.
Sometimes, I just sit on the couch and watch the dogs play or watch my kids play together. I guess this is combining mindfulness with doing nothing, but I can tell you this – it feels good!
Find Self-Care Activities for You
Everyone needs a list of self-care activities that they enjoy. Even if you feel like you're too busy, take care of yourself and invest in things that make you happy. You'll be a happier mom and person because of it.