Colorado Springs, located at the foot of the Rocky Mountains, is known for its natural beauty and whirlwind of outdoor activities for enthusiasts. If your family enjoys spending time with Mother Nature, you'll find so many things to do in Colorado Springs with kids.
Decades before, Colorado Springs never felt like a tourist destination, but in recent years, the area, with all of its beauty, began to attract tourists. Now, it's become a hub for those outdoor-loving families and individuals who want to experience the beauty of the Rocky Mountains. It features every type of outdoor activity one could hope to try.
Plus, the food scene is on fire here!
We visited a few months ago, and I made a list of some of the most recommended things to do in Colorado Springs with kids.
Related: 11 Reasons Why Traveling is Great for Your Kids
13 Best Things to Do in Colorado Springs
1. Visit Pikes Peak
When you pick things to do in Colorado Springs, make sure Pikes Peak is at the top of your list.
Pikes Peak is the highest summit of the front range. Millions of visitors come here to walk, climb, and hike the peak; its one of the biggest tourist attractions in Colorado and the entire Rocky Mountain range.
While visiting Pikes Peak, families enjoy seeing the cliffs, canyons, lakes, and forests. Don't worry; your family doesn't have to be expert hikers to enjoy this park. Kids love the Pikes Peak Cog Railway, the highest locomotive railroad in the United States. If you want to ride this railway, make sure you book ahead of time since it's a popular choice.
The area also hosts different restaurants, and the Pikes Peak highway, a dangerous yet beautiful road that sits at 14,115 feet high.
2. Spend Your Day at the Garden of the Gods
You can't visit Colorado Springs without stopping at the Garden of the Gods. With that name, you know this destination is amazing.
The Garden of the Gods is a breathtaking park with rock formations, huge mountain passes, towering cliffs, and crayons. The sandstone varies in hues of white, pink, and red.
This is one of the top destinations in the United States, and when you arrive, you quickly understand why.
When you visit the Garden of the Gods, your family will enjoy more than just the sights, but they are priceless. The park also features hiking, biking, rock climbing, horseback riding, and open-air jeep tours of the sights.
3. Experience the Cave of the Winds
Locals and visitors alike love the Cave of the Winds. Take the tour through the canyon, and the guides take you into the chambers of the cave system. It's downright breathtaking, featuring amazing geological wonders.
When the guides take you out of the cave, you find a climbing wall, a challenge course, and a zipline ride. They even have an adventure ride called the Terror-Dactyl plunge that drops you over 100 miles per hour.
That may be too much for your little kids, but parents get to fill up their thrill-o-cup.
4. Go to Seven Falls
Sometimes called the Broadmoor Seven Falls, these are gorgeous waterfalls, and it's one of the most visited places in Colorado Springs. As the name suggests, you'll find seven waterfalls that tumble down the mountainous peaks.
This area has gorgeous hiking trails around the fall. If you can't wait to see the waterfalls, there are steps that lead right to the falls, and there is an elevator for easier access.
5. Go to Cheyenne Mountain Zoo
All families need to stop at the Cheyenne Mountain Zoo. It's the "highest" zoo in the United States, situated 6,700 feet above sea level. It's one of the only zoos in the world built into a mountain.
Those are reasons enough to spend a few hours here.
The Cheyenne Mountain Zoo is home to hundreds of animals; you'll find several endangered animal species here. Visitors enjoy the themed habitats, like the Reptile House and Asian Highlands. The zoo is home to one of the largest groups of giraffes.
6. Visit Pike National Forest
If you're looking for another place to visit with your family to enjoy the great outdoors, Pike National Forest belongs on your list of things to do in Colorado Springs. This national park spans over 1 million acres with all sorts of outdoorsy activities to enjoy.
The park offers camping, rock climbing, hiking, fishing, boating, and more. In the winter, you can enjoy skiing as well. It's undoubtedly one of the most beautiful places to check out when visiting Colorado Springs.
7. Spend the Day at Memorial Park
Memorial Park is a large public park in Colorado Springs, which means it's one of the busiest in the area.
This park offers numerous things for families to enjoy, and since it is a budget-friendly location, making it a perfect choice if you need to keep your budget in check.
Memorial Park offers gyms, pools, athletic courts, large picnic areas, activity centers, boating, skate parks, and more. If you visit in the winter, ice skating is available as well. Most amenities are free, and other activities are low-cost, such as swim lessons.
8. Take a Hot Air Balloon Ride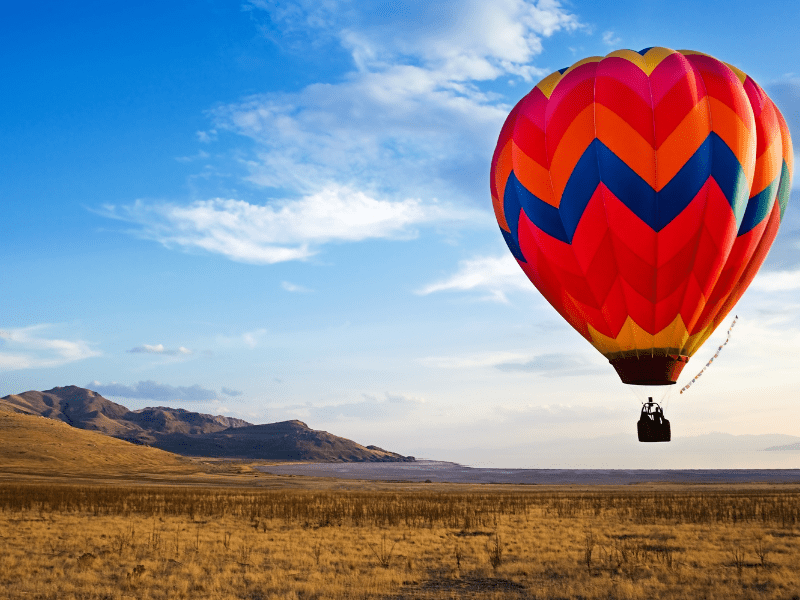 Not all kids or adults want to take a hot air balloon ride, but if this is something that interests your family, consider Adventures Out West. This recreational company offers various outdoor thrills in the Colorado Springs area.
Adventures Out West offers other adventures like a zipline over a cliff in Manitou Springs, segway rentals, and bike rentals.
9. Check Out the Olympic Training Center
Older kids and adults would enjoy checking out the Olympic Training Center and the new Olympic Museum. The museum features interactive exhibits, showcasing the rich history of mankind's athletic achievements.
You can tour the training center where Team USA prepares for the games. The tour shows you where the athletes train and how hard they work for the games.
10. Bounce at Springs Adventure Park
Kids love trampoline parks, and Springs Adventure Park is an indoor recreation center with tons of trampolines and arcade games. They even have inflatable bouncy floors for toddlers to enjoy.
Kids love the playful areas; the battle jousting area is always fun for parents and kids. Teens love virtual reality headsets. Make sure you take the time to try out the ninja warrior obstacle course.
11. Hang Out at Play Street Museum
If it rains during your visit, hit up the Play Street Museum, which is open rain or shine. Finding things to do in Colorado Springs inside that kids will enjoy is a bit tricky, but this is sure to be a huge hit.
This isn't a normal, boring museum where kids need to be quiet and look. Play Street Museum is an interactive, hands-on museum that encourages your kids to run, jump, dig, climb, build, and more.
Your kids will get all of their gross motor skills and sensory needs out of the way in one destination for the day.
12. Immerse Yourself in the Manitou Cliff Dwellings
Your family will love the Manitou Cliff Dwellings, a sensory-driven history lesson that everyone needs to take. Visitors enjoy and touch Puebloan artifacts and ruins, dating over 1,000 years old.
The museum features 40 rooms, and it's located on the cliff sides of Manitou Springs. It's quite a learning experience for the entire family, and one of the top things to do in Colorado Springs with your kids.
13. Hit Up the Rocky Mountain Chocolate Factory
If you have a bit of a sweet tooth, hit up the Rocky Mountain Chocolate Factory. It has all the sweets your family could want, from fudges to filled chocolate. They also have novelty treats like caramel apples and truffles.
Despite the name, they offer more than chocolate. The store has an old-school charm with adorable displays.
Your tastebuds will thank you for stopping by.