If you're looking for a great trip for kids, you need to check out the Great Wolf Lodge. We live in North Carolina, so we visit the Great Wolf Lodge in Concord, North Carolina. Our kids love it so much; we will be heading back there again and again.
I'm often asked if going to Great Wolf Lodge is worth the price. Depending on the cost of the suite, you might feel that it's a pricey trip, but if you watch the deals and coupons, saving money when you go there is possible.
Without a doubt, Great Wolf Lodge in Concord, NC is worth the money! Let me tell you all about what we love and the few things we don't.
A Review of Great Wolf Lodge in Concord, NC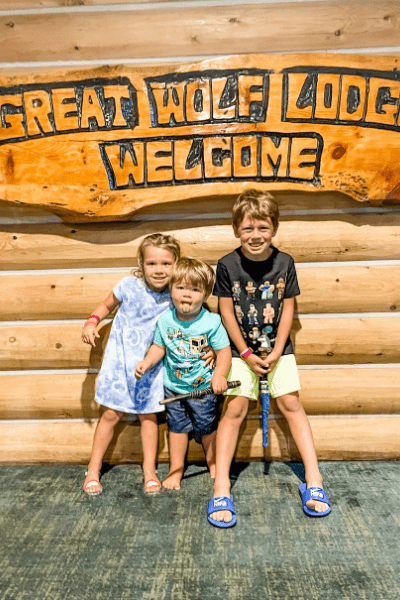 We stayed for three days and had an amazing time. It's hard to pinpoint exactly what our kids liked the most, but I picked out a few things that stood out in my mind.
The KidKamp Suite Rocks
When you book your trip to GWL, you have several room and suite options. For our trip, we picked the KidKamp Suite, and it was a huge hit for our family.
The kids loved the bunk beds; they're in a separate, kid-friendly decorated space with a TV. Then, we had a queen-sized bed to enjoy. I felt like the suite had plenty of space for all five of us.
Our Toddler Can Do So Much
Compared to Kalahari, Great Wolf Lodge offers so much more for little kids to enjoy. Vin, our youngest son, was able to do everything but one slide – that's a lot. It meant he had as much fun as his older siblings, and I love that. We did so much together as a family.
We can't wait to go back!
The Arcade is a Blast
You can't swim all the time, and one of the kids' favorite things to do is visit the arcade. You can sometimes bundle arcade money with the rooms. They offer packs when you book your room to help discount the arcade.
Do it; we spent so much time playing games with the kids.
The arcade has all kinds of kid-friendly games that we've never seen before, but they loved. So it's definitely a family-friendly atmosphere with games for all ages.
Mini Bowling is so Fun!
Yes, you read that right – mini bowling! The Great Wolf Lodge in Concord has Ten Paw Alley; it's a shortened bowling lane with smaller balls. It's perfect for kids.
Mini bowling is included in the paw packs; I recommend you buy them! Otherwise, you can pay per game. We liked to bowl before or after dinner. The kids had such a great time with this.
The Magic Quest Rocks
GWL offers Magic Quest; my kids aren't old enough for all of it, but they did what they can for their ages. They receive a wand, and they light things up throughout the resort.
The play is more advanced for older kids, and they can have unlimited time throughout the day with different quests to complete. The wands remember, so if you come back a second (or third) time, they can continue on different quests.
Story Time is so Fun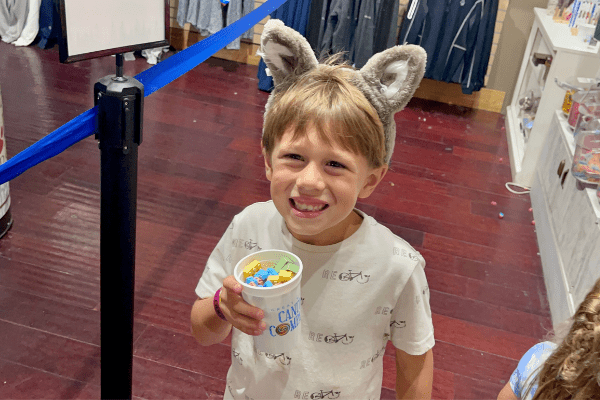 Each night, the Great Wolf Lodge in Concord has storytime with different characters. Our kids met Willie the wolf; they thought it was amazing.
Storytime is included in the price of your stay – it's a free event for all guests. Our kids love to read, and the inclusion of a real-life character is something that makes this stand out for our family.
So, what did we not like?
Of course, there have to be things we don't like about Great Wolf Lodge, right?
Not really!
The rooms are clean and spacious, the food is delicious, and I feel like we were never bored. The kids had things to do all the time. It was overall an amazing getaway for our family.
Things They Can't Control Because of Covid
The only things that we didn't like are things that the resort cannot control because of Covid. Traveling with covid is our reality for now, but certain things are closed, like a ropes course, and the buffet is no longer a buffet. You have to order your food, so it takes longer than if you could serve yourself.
None of those things are reasons enough for us not to return or give it a bad rating. Our family loves GWL!
Final Thoughts
Our family thinks the Great Wolf Lodge in Concord, NC is one of the best getaways for families in North Carolina. The kids have fun, and our entire family had a getaway that we still talk about. We can't wait to go back – and we most definitely will go back soon!