Kids typically don't need more toys. While playing with toys offers great ways for kids to learn and develop, the last thing parents want is all of their family members to buy more toys for their kids. Instead, experiences as gifts for kids really are the best Christmas gifts.
One year, my grandparents got my kids a zoo membership, and we went to the zoo multiple times that year. The kids loved it, and I always reminded them that this was a gift from their grandparents.
Experience gifts are all the rage right now as people pull away from less consumerism and giving their kids hundreds of toys. So, here is inspiration if you're looking for experiences to gift to kids.
What is an Experience Gift?
An experience gift is when you gift a child an "experience" or something they can do in the future. It might be classes for a month or two, a trip somewhere, or something new to do together or with friends.
Little kids might not immediately appreciate an experience gift because they don't receive immediate gratification. However, if you pair it with a small trinket or gift, they get more excited about their upcoming experience.
For example, you might give your child a new pack of paints if you buy them art classes.
Kids have tons of material items and toys, and more parents are wanting family members to purchase experiences as gifts rather than more toys that end up in the corner, broken and never used. Truthfully, my kids have tons of toys, but they only play with a quarter of what they have.
Instead, take them on a trip, bring them to a local museum, or more. Experiences bring new memories to your child or give them new skills to grow.
Pin this blog for later! ↓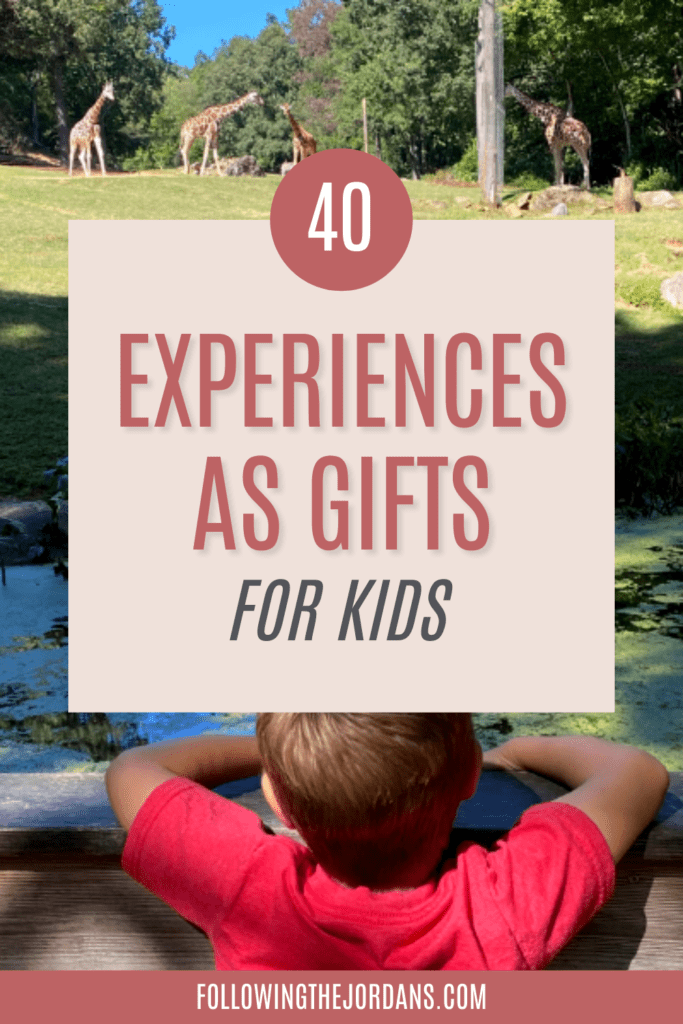 40 Experiences as Gifts for Kids
1. Disney World Trip
Let's start with the ultimate experience for kids – a trip to Disney World. Disney World is one of the best Christmas vacations, but it's undoubtedly expensive. However, if you want to take your kids on an experience they'll never forget, you cannot beat Disney World.
Wrap a box with Mickey Mouse ears and the Disney World bands, leaving it under the tree (I am trying to talk Vince into this for this year!) . You might fly out the day after Christmas so they don't have to wait too long for their experience!
2. A Camping Trip
Another fun trip that is more on the affordable side is a camping trip. Whether you visit a local state park for a weekend or spend a day or two camping at a local lake, kids love to go camping. It helps kids get in touch with nature, while giving you a relaxing getaway with your family.
3. Weekend at Great Wolf Lodge
Our family loves the Great Wolf Lodge; we go at least one time per year. We typically go for one of our kids' birthdays and spend a few days splashing in the waterpark and enjoying all that Great Wolf Lodge offers. The great thing is that it's possible to go to GWL on a budget; watch Groupon for deals because they pop up regularly!
Related: Our Great Wolf Lodge Trip in Concord, NC: A Review
4. Getaway to a City Near You
Another great experiences as gifts idea is to spend a day or two at a city near you. This will differ based on where you live, but most cities are exciting for little kids. Visit a local museum, check out kid-friendly restaurants, and play at some local parks.
5. Go on a Cruise
If you're looking to pay for a vacation as an experience gift for kids, a cruise is a fantastic idea, especially a Disney cruise. Cruises are kid-friendly, fun, and affordable when you consider most offer unlimited food.
6. Visit a Local Farm
Check out local farms near you to see if they offer tours to check out the animals and process of taking care of them. A local farm to us offers tours where the kids get a chance to watch the milking experience first hand, and they get to eat ice cream at the end, made by the milk from the cows at their farm. It's educational yet fun – my kids talked about it for weeks. It's one of our favorite experiences as gifts so far.
7. Polar Express Train Ride Tickets
One of our Christmas traditions is a Polar Express ticket for your family. My kids look forward to riding the train and experiencing this every year since it's one of our favorite Christmas movies!
8. Little Passports Monthly Subscription
Kids love to receive mail, especially kits that offer them something to do. Little Passports is one of the most popular subscriptions for kids to enjoy. They have different boxes based on the age of your child, and they take your child on a journey throughout the world, as they learn about different countries or topics, like oceans and dinosaurs.
9. Kiwi Co Subscription
Kiwi Co offers a monthly or bimonthly subscription for kids; they send STEM and science kits for kids to enjoy of all ages. They have kits from birth to 16+ years old. Kiwi Co is the perfect subscription for the budding scientist or engineer in your family!
10. Magazine Subscription
I remember when my grandmother bought me a subscription of National Geographic for Kids. I looked forward to the monthly deliveries, and I scoured all of the pictures. Consider giving your child a subscription for a magazine that they will love and learn from each month, plus this is a budget-friendly experience gift for kids.
11. Wilderness Skills Program
We found a program local to use that teaches kids all sorts of survival and wilderness skills like how to make a fire, how to filter water, and all sorts of other useful skills to have. It has a monthly fee for kids to participate. When our kids are older, this will be one of the experiences we gift them because they'll thoroughly enjoy the program but also come out with valuable skills to have.
12. Cooking Club Membership
If you have a child who loves cooking, find out if you have a cooking club or classes local for their age range. I would recommend this experience as a gift for kids who are at least six or seven years old, but I think older is better because they'll retain those skills for years to come into their teen years.
13. Sports Camps
Sports camps aren't cheap, so if you have a sports fan on your hands, see if you can send them to a camp for several days to learn and practice their favorite sport. You can find football, soccer, basketball, and hockey camps.
13. Horseback Riding Camp
Have a horse-obsessed child? Check out a horseback riding camp. These fall on the pricier side of camps, but the ones local to me offer half days, full days, and full weeks with tons of activities for kids to enjoy beyond horseback riding.
14. Zoo Membership
If you have a zoo without driving distance, consider gifting a zoo membership. A membership allows the whole family to visit the zoo as often as they like throughout an entire year. This definitely is one of the most popular experiences as gifts.
15. Botanial Garden Membership
You might think that kids won't appreciate botanical gardens, but you would be wrong. Botanical gardens are so fun for kids; most offer tons of activities for kids to enjoy like weekly nature crafts and new monthly exhibits to check out. A membership is a practical gift that gives the child an educational experience that is also fun.
16. Aquarium Passes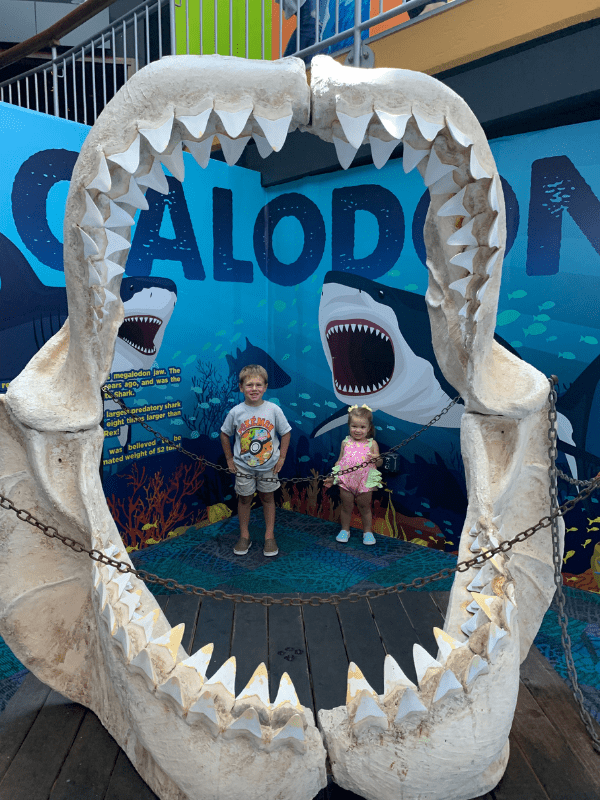 Not too many cities offer aquariums anymore, but if you have one near you, then you need to consider buying aquarium passes as experiences for gifts. Aquariums are so fun, and since they're typically inside, it offers a weather-friendly activity for kids to enjoy together.
17. A Children's Museum Membership
Kids love children's museums – they're designed with everything that kids love and adore the most. A yearly membership is quite a fantastic gift to give, but if you can't afford a yearly experience, take your child there for a fun day of play.
18. Trip to the Arcade
What kid doesn't love a trip to the arcade?
It's one of the best days for kids. Give them a budget and let them go wild, playing games to their hearts are content with fun. Then, go grab a pizza afterward.
19. Mani and Pedi Days
One of the best experiences as gifts is a manicure and pedicure day with your little girl. Many salons are set up for this type of spa day; you might even be able to get a massage and a hair cut along with it.
This is a perfect day with your daughter. Go out to dinner afterward and make sure to grab dessert.
20. Disney on Ice Tickets
We attended Disney on Ice two years ago, and my kids were in LOVE with the experience. If the show comes to a venue near you, consider tickets a present for Christmas, birthdays, or Easter. Your kids will love the show, and expect to buy a few souvenirs while there.
21. Paw Patrol Live Tickets
Another live shows the kids often love is Paw Patrol Live, the perfect experience for kids who think Skye and Marshall are the bomb. They get to see their favorite characters live in person; they'll talk about it for years.
22. Hot Air Balloon Ride
One of the best experiences as gifts that will last a lifetime is a hot air balloon ride. As an adult, it's something I haven't done yet, so I know my kids would think it's amazing – because it is. Riding 2,000 feet in the air in a balloon is a wild experience, but I would suggest this for older kids only. m
23. Go Ziplining
Ziplining is one of the most exhilarating adventure for kids, and you can find so many different places that offer these experiences as gifts for kids. In most places, they have a height requirement for kids, so be sure to research ahead of time.
24. Try Indoor Skydiving
Kids can't go skydiving, but they can go to indoor skydiving locations. When you go indoor skydiving, you go into a chamber and pressurized air sends you flying up in the air. The facilities give you special suits to wear. It's incredibly fun and safe.
25. Escape Room Tickets
Escape rooms are all the rage right now, so if you're looking for experiences as gifts for older kids, consider tickets to a local escape room. You have to find clues in the room to figure out the key to get out within a set time period, or you lose.
26. Tickets to an Amusement Park
All kids want to go to an amusement park, so grab tickets for Christmas gifts or birthday gifts. Kids get to spend the day riding rides, playing games, and eating amusement park food – the best.
27. Skiing Seasonal Passes
Do you have a skiing or tubing location near you? You might be surprised; many resorts offer skiing even in non-mountain regions. Fake snow feels like real snow, even if you don't typically get much where you live.
28. Trampoline Park Passes
All kids love trampoline parks; they're the perfect thing to do on a rainy weekend or cold Monday. It gets your kids out of the house, and they would love to get passes, daily or monthly, as experiences as gifts for kids.
29. Bowling Passes
Take your child bowling together as a fun experience together. Kids love to bowl; it's something we try to do several times per year together. Pay for a few bowling sessions!
30. Movie Theater Passes
One year, we took our son out for a movie theater birthday, and he had such a good time. We visited a cinema local with recliners and trays; the seats even had back massagers! It ended up being quite a treat for mom and dad as well.
31. Mini-Golf Passes
If you have a mini-golf place near you, pay for a few games for your child. Some places offer seasonal passes, giving your family something to do when you're bored on a weekend.
32. Sporting Event Tickets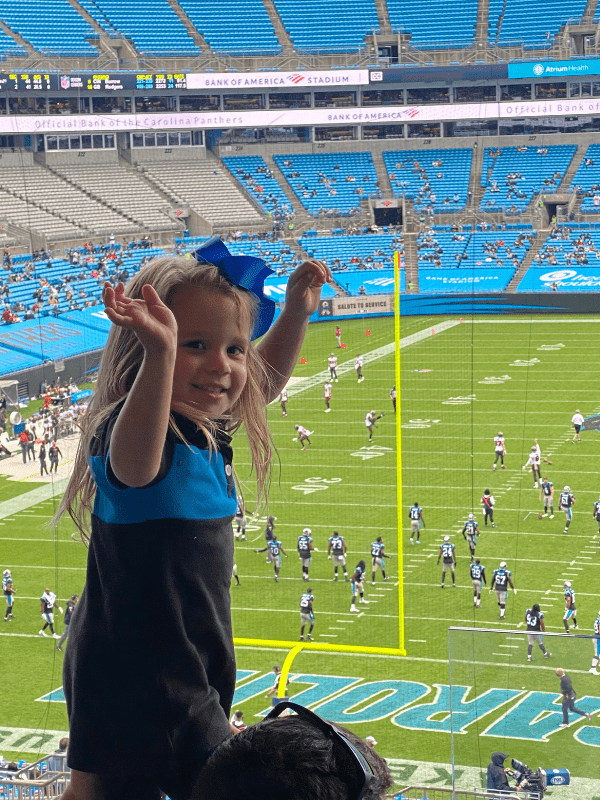 We've taken our kids to soccer games, football games, hockey games, and more. They also have a great time, even when they're young. The crowd is fun to watch, and most games play music and other things to encourage kids to have fun. Plus, we all love food at sporting events – nothing beats nachos!
33. Concert Tickets
If you have older kids or teens who want experiences as gifts, concert tickets are always a huge hit! Find out what bands or musicians they like the most, and grab tickets. The best thing about this is if you get the tickets for older kids, they can understand delaying gratification for it and won't mind the wait to see their favorite band.
34. Gymnastic Classes
Grandparents and aunts can gift gymnastic classes to the loved child in their life. The cost of paying for a month or two is the average price for many gifts, and the kids get a weekly activity out of this gift. Their parents can let them know that someone else paid for their lessons and how awesome it is for them!
35. Music Lessons
Have a budding musician on your hands? Pay for some music lessons! Whether they're interested in piano, guitar, clarinet, or even recorder classes for little kids, music is beautiful and all kids should have the opportunity to learn how to play at home.
36. Dance Lessons
Little girls (and boys!) love dance lessons, and they're an affordable experience as gifts for younger kids. It gives them something to look forward to ever week when they're bored, especially in the winter.
37. Pottery Lessons
If you're looking for a different experience for your child, consider pottery lessons. Many locations offer one-time classes or weekly classes for your kids to try their hand at making homemade pottery. It might end up being a new passion!
38. Archery Lessons
Archery lessons are great for kids eight years old and up. Sure, some younger kids are great at archery, but it's typically an activity enjoyed by older kids, teens, and even adults. We have a local archery store that has a league for kids weekly during the winter.
39. Swimming Lessons
Swimming lessons are expensive for families, but they also save lives. So, if you're looking to pay for classes for kids you love, consider paying for a month or two of swim lessons. Not only will the kids have a great time learning and playing in the water, but they'll gain life-saving skills.
40. Horseback Riding Lessons
Our local ranch offers horseback riding lessons for kids seven years old and up, and this might become a lifetime passion for your child. Consider giving your child the experience of learning how to take care of a horse and ride competently and properly!
---
Instead of buying more material gifts, consider giving experiences as gifts for kids this Christmas. These gifts keep giving months down the road once the excitement of the toys wear off.