As the weather warms up, you want to get outside with your baby and find things to do together. From splashing at the local splash pad to sensory play in your back yard, I put together a list of some of my favorite activities for babies in the summer.
We live for the summer. Our winters in North Carolina are fairly mild compared to Northern states, but it's not warm by any means. My kids look forward to all the summer activities like swimming, playing in the sprinkler, and more.
When you have babies underfoot, you may wonder what babies in the summer enjoy doing, and I have plenty of suggestions like getting a kiddie pool, a water table, and a bubble machine. Trust me, you'll use the bubble machine like crazy!
Pin this blog for later! ↓
Related: The 7 Best Family Vacations with Babies
18 Activities for Babies in the Summer
1. Splash in a Kiddie Pool
My kids love splashing in their kiddie pools. You don't need a big backyard pool – even though they are surely nice – to have fun with your babies in the water. Something I noticed is my babies are happier in a kiddie pool where they can splash and sit down without being held in the pool.
All you need is a little kiddie pool – I prefer the blow up ones rather than the hard plastic. Toss in some sand toys, and I promise this is one of the best activities for babies in the summer!
You can go a bit bigger and get this Dinoland Inflatable Pool – it's so cute and I know babies and toddlers will love it!
2. Paint Outside with Finger Paints
Finger painting is such a fun sensory activity for babies, as long as you have non-toxic finger paints since babies eat everything. Put out a few sheets of card stock paper or a white sheet and let them go crazy!
It's a great way to entertain your baby for quite awhile!
3. Sensory Scoop Bins
Babies thrive on sensory activities, and when summer comes, water and scooping bins are one of the best things for them to do. Fill a small, shallow plastic bin, add some measuring cups and little bath toys.
Your baby will love it!
4. Play with a Bubble Machine
Babies and bubbles go hand in hand. Nothing makes kids happier than bubbles to chase and hit with their hands. Instead of blowing the bubbles over and over – and driving yourself nuts – get a bubble machine. All you have to do is fill it up with soap and watch your baby go crazy.
5. Get Messy with Rainbow Spaghetti
If you've never made rainbow spaghetti for sensory play, you have to give it a try. It's one of my son's favorite activities for babies in the summer. Plus, it's cheap – you need some boxes of spaghetti noodles and food dye.
6. Ball Pit + Water
Here is an easy idea that you can do with your babies in the summer. Grab your inflatable ball pit – the one you keep inside – and bring it outside. Add some water to it with the balls. Your baby will have a field day with two of their favorite things in the world!
7. Play with Sidewalk Chalk
Sidewalk chalk is something babies, toddlers, and older kids enjoy together. Babies might not be able to draw beautiful pictures, but they'll feel like they're included with their older siblings.
8. Have a Picnic Together
When it's nice outside, pack a picnic with some of your favorite lunch recipes or meals and bring it to the park for a fun picnic together. Your baby will get to crawl in the grass while your older kids play.
That's the perfect way to spend a lovely summer day, and it's cheap, something we all love.
9. Enjoy a Water Table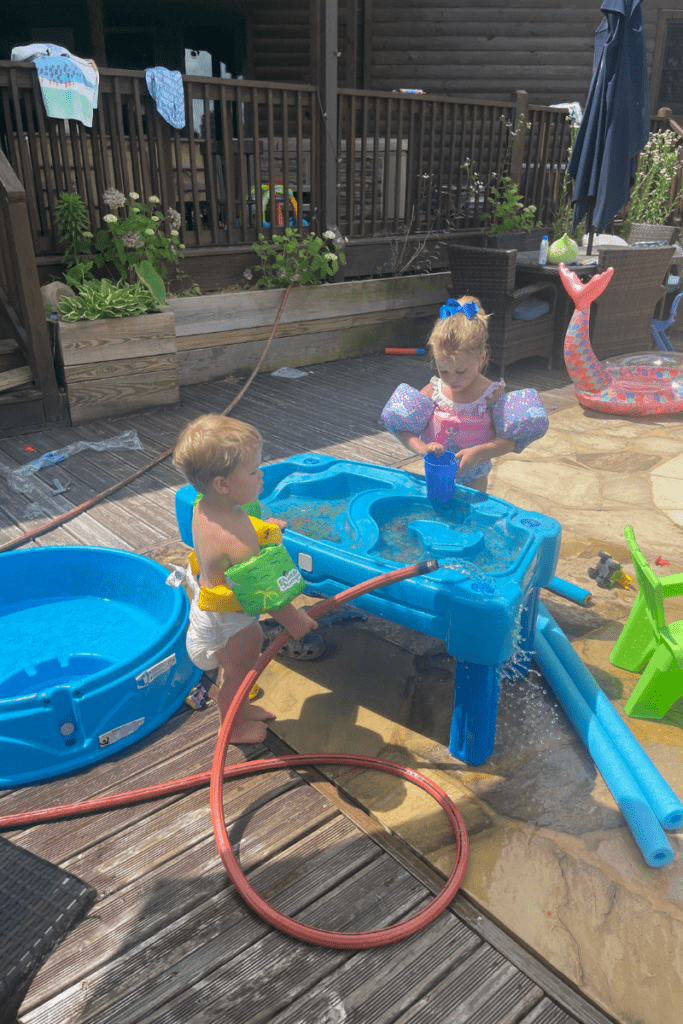 All babies need to have a fun water table to stand at and splash. Our favorite is the Little Tikes Fish 'n Splash Water Table; kids get to pretend to fish in the table and it comes with little buckets.
10. Dig in the Sand
Some parents aren't sure about sand with babies because they will take a bite or ten of the sand. However, a mouthful of sand is disgusting but not deadly to your baby. It's a great sensory activity, and all little kids love a good sandbox.
This is an investment, but something all of your kids will use for years and years. I highly suggest getting one that isn't plastic with a nice cover so it
11. Explore Your Backyard
You don't have to go anywhere to have an adventure! Your backyard is full of excitement for your baby to explore dirt, rocks, insects, birds, and more.
12. Take a Stroller Walk
If you have a stroller, you have a great activity for babies in the summer. Put your baby in the stroller and walk around your neighborhood, enjoying all the sights and sounds.
13. Head to the Beach
All babies love the beach. Sand, sun, and water – what is there not to love? Your baby will love to splash in the water, dig in the sand, and soak up the rays. I think a beach vacation is the best vacation to take with babies.
Related: 8 Best North Carolina Vacations for Families Everyone Will Love
14. Visit the Zoo or Aquarium
Another one of the best activities for babies in the summer is a trip to the local zoo or aquarium. Your baby can spend time looking at all the different animals, and if it's hot outside, most aquariums feel nice and cool on a warm day.
Many zoos offer different activities for kids to participate in and enjoy for kids of all ages. Make sure you see what your local zoo offers!
15. Go on a Nature Walk
Nature walks are a great adventure for families and children of all ages. Put your baby in a baby carrier or an all-terrain stroller and go see what is awesome out in nature. Bring a picnic along with you and make a day of it.
16. Take Baby Swim Classes
I highly suggest babies take swim classes, and many times, they're offered at local pools in the morning. Babies have to learn how to survive if they fall in the water – it's truly for survival.
After your baby is done with class, take time to enjoy the pool together.
17. Go to the Playground
Another one of the popular activities for babies in the summer is to head to the playground. Some playgrounds are more baby friendly than others. Try a new park each week; it's a great reason to get out with your baby and have some fun!
18. Visit the Local Splash Pad
I bet you have a local splash pad near you! Many community pools have splash pads connected, so get on that swimsuit – yes, even you mama! – and head out with your baby. Babies in the summer love splash pads almost more than pools; they love to run through the water and have all the fun.
---
Finding things and activities for babies in the summer is easier than you imagine. Let your baby be outside as often as possible, investigating all they want and playing with water. Head out on adventures in your area and find new places to explore. Having fun with your kids is the best!