The Caribbean is full of adventure, gorgeous beaches, and historical sites for adults and kids of all ages to explore. If you're considering a trip to this area of the world, you'll want to pick one of the best Caribbean Islands for families.
Each island has its own vibe. Some are busier than others, so if you're looking for a chill vibe, you'll want to look for a destination that offers that. If you want to spend all your days at the beach, pick a destination that has plenty of gorgeous beaches. Your family might love adventures, so explore the options on different islands to find one that fits your family.
Truth be told, the Caribbean Islands aren't a one-size-fits-all place. You might head to St. Thomas and realize it is way too busy, and you really wanted more peace and seclusion. You could go to Dominica and realize you wanted more beach time than adventure.
So, let's take a look at some of the best Caribbean Islands for families and what each one has to offer for kids and adults.
Pin this blog for later! ↓
Related: 23 Best Places to Travel with a Baby in the United States
11 Best Caribbean Islands for Families
1. The Bahamas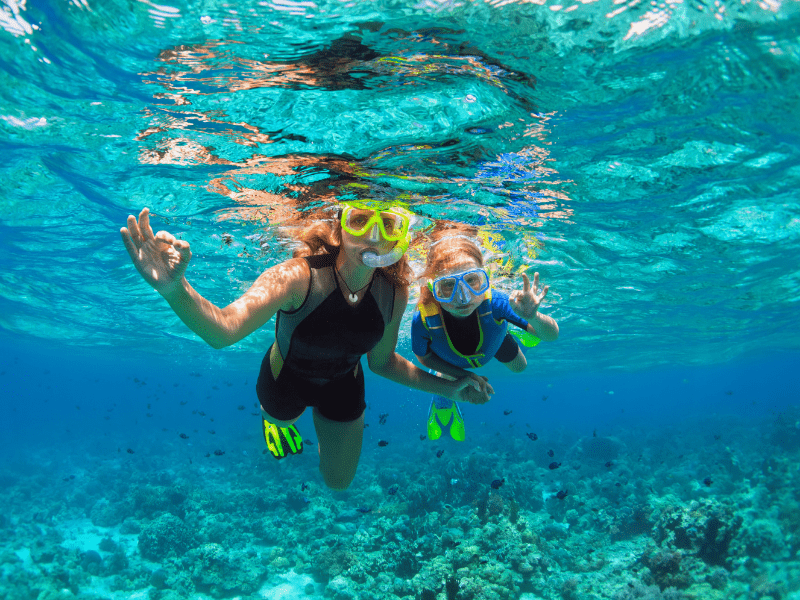 My first pick for the best Caribbean islands is the Bahamas – they have a bit of everything for families to enjoy. The beaches are white sand and gorgeous with some of the best scuba diving in the world. You'll also find some find activities like horseback riding.
One of the best places to go in the Bahamas with kids is the Atlantis Resort, a 141 acre resort and water park that kids love. Our kids love visiting Atlantis – it's a family fun vacation for all!
Related: 18 Awesome Tips for Visiting Atlantis with Kids
2. Puerto Rico
If dealing with passports is something you don't want to do right now, consider going to Puerto Rico. You can still have the Caribbean experience without leaving the United States.
Puerto Rico offers unique experiences for families. You can spend time at the beach, swimming and soaking up the rays, and then visit the El Yunque National Forest, a rainforest jungle. Another awesome place to visit is the caves of Parque de las Cavernas del Rio Camuy – adventurers love this location!
Visiting Puerto has some other advantages. You'll find plenty of conveniences that you have at home, but the island is jam packed with culture, history, and delicious food. If your family loves historical sites, Puerto Rico is not lacking; you can see Castillo San Cristobal, one of the largest Spanish forts still standing.
Overall, Puerto Rico offers something for everyone, whether you want to go clubbing at home and dine on yummy foods or explore beaches and rainforests. It's here!
3. U.S. Virgin Islands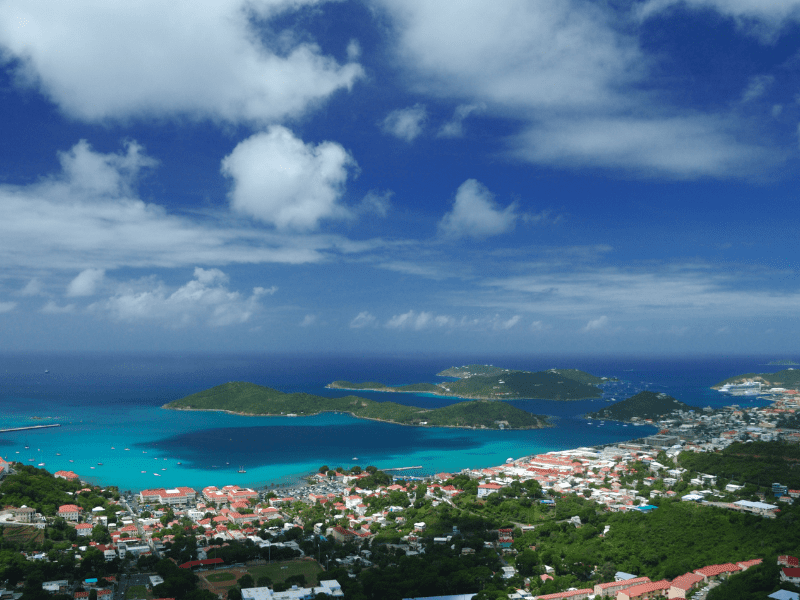 One of my favorite Caribbean islands for families is the U.S. Virgin Islands, which is actually three islands you can visit: St. Thomas, St. John, and St. Croix. You also don't need a passport to visit these little spots of paradise.
Each island has something unique to offer it. Typically, it's best to pick one island as your base and take the ferry to the others for day trips. It makes it much easier, and you get to see more this way.
St. Thomas is where you'll find gorgeous beaches, five-star restaurants, and world-class shopping. This is a popular cruise port and the most commercialized of the three. Make sure you visit Magen's Bay and take the SkyRide up to the top of the island for some amazing views!
St. John has Trunk Bay Beach, one of the most gorgeous beaches in the world, and tons of nature to explore. Go here to escape the crowds and enjoy nature. The crowds tend to be a lot smaller here because two-thirds of the island is a national park. That means there is a lot less space for development.
Then, St. Croix has a huge rainforest to visit along with white sandy beaches. This is actually the largest of the three islands, but it's the least crowded of the three. St. Croix features historic sites, yummy food, and snorkeling. One of the unique experiences here is checking out one of the bio-luminescent bays, such as Altona Lagoon.
Related: 10 Amazing Things You Need to Do in St. Thomas, USVI
4. Dominican Republic
The Dominican Republic has a vibe all its own; it's high-energy and has plenty for families to enjoy. Most families visit Punta Cana; the Hard Rock Hotel is one of the top resorts on the island, but there is more than that!
This island has more than white sand beaches to enjoy. Try zip lining in the rainforest, surfing, snorkeling, caving, mountain biking, and more. Dominican Republic is often called the Adventure Capitol of the Caribbean, especially for families with older kids who love adventures.
Make sure you don't simply stay at your all-inclusive hotel; go on as many excursions as possible to take advantage of all the beauty and adventures waiting.
5. Barbados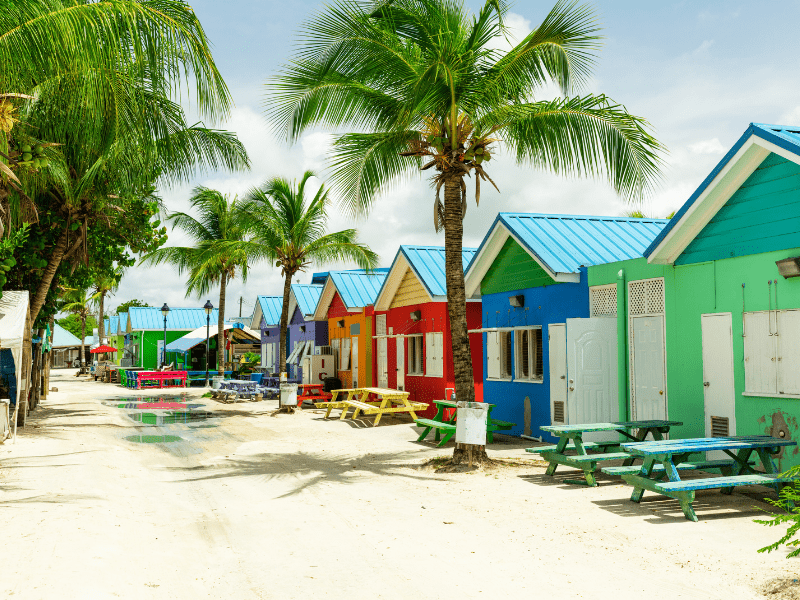 If you're worried about safety, Barbados is one of the safest and most kid-friendly Caribbean Islands for families to visit. The tourism industry is quite robust; it's a huge part of the island's economy, so most areas speak English and are safe for visitors.
You'll find dozens of family-friendly beaches, perfect for swimming because they lack waves. Head to the island wildlife reserve or ride in a submarine that takes you through underwater caves.
The capital of Barbados is Bridgetown, and it's home to a UNESCO World Heritage site. Make sure you take time to visit and explores, as well as checking out local sugar plantations. Then, in the even, hit up the street fairs where locals and tourists experience the Caribbean culture together.
6. Jamaica
Jamaica has a culture and laidback vibe that is all its own; you can spend your entire trip embracing the culture on this island.
You'll find plenty of accommodation options from all-inclusive resorts to private beachfront villas.
Jamaica is the third largest island in the Caribbeans, complete with lush tropical forests, beaches, and adventures. Head to the Blue Mountains and go on a zip lining adventure or ride a bamboo raft down a river. Check out the waterfalls and go on an excursion that walks you down rivers and waterfalls.
Don't forget to try all the local cuisine; jerk chicken is a must!
7. St. Lucia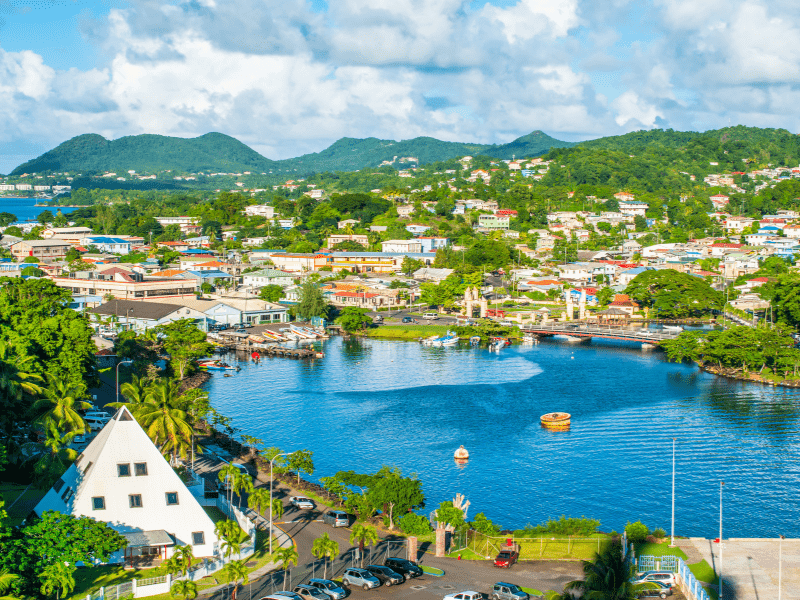 Another one of the best Caribbean islands for families is St. Lucia, an island that full of mountains, rainforest, and beautiful beaches. Considering it's a small island, you'll find a lot to visit.
The balance between wilderness, beaches, and resort life is one of a kind at St. Lucia. You'll find large, kid-friendly properties with authentic Caribbean experiences like snorkeling and pirate-themed adventures.
St. Lucia has world-class resorts and all sorts of places to explore; you get quite a Polynesian feel from the island. Make sure to visit Sulpher Springs, a drive in volcano – how cool is that! – and take a mud bath while you are there.
It's no wonder St. Lucia is considered one of the best Caribbean Islands for families; there is so much to do with your kids.
8. Turks & Caicos
Turks and Caicos is an awesome Caribbean island for families, featuring several all-inclusive resorts and crystal, clear water. This island is known for its waveless beaches, so small kids can enjoy the ocean without being smacked with giant waves.
Make sure you check out Grace Bay Beach, a three-mile stretch of sand known for having some of the whitest and softest sand in all of the Caribbean islands.
Don't forget the snorkeling! Kids love going on adventures here, and you can visit the Flamingo Pond Overlook to see flamingos in their native habitats!
9. Dominica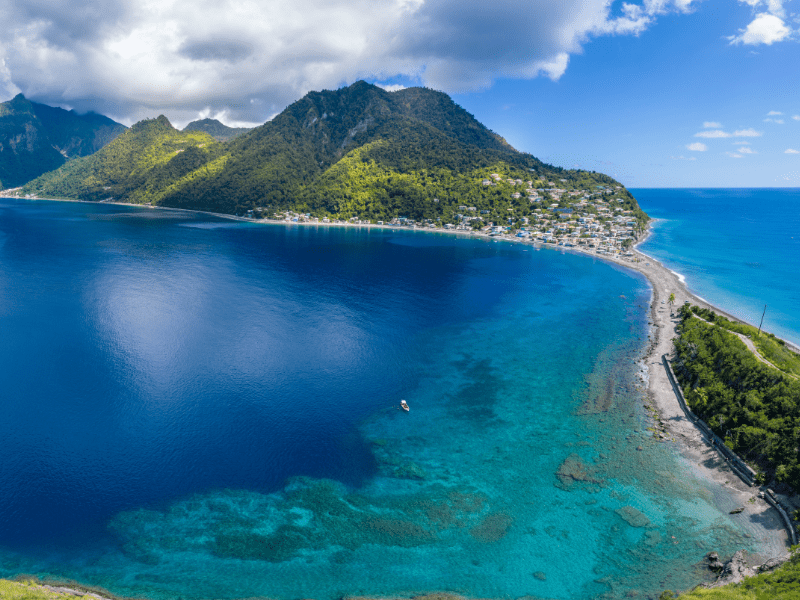 Too many people skip over Dominica, but if you're a nature-loving family that loves being on-the-go, Dominica is where you want to go. This is one of the Caribbean islands with the most biodiversity with hundreds of rare and endangered species. It's a gorgeous island with black sand beaches – yes, seriously – and gorgeous waterfalls.
Do you enjoy the Pirates of the Caribbean? Then, you'll love this island because two of the series were filmed in Dominica.
Dominica is one of the only Caribbean islands where the beaches aren't the major star of the show. This island has so many other things to offer, including a volcano and hot springs. It's best if you have a hiking guide; you want to be safe getting to the family-friendly locations.
10. Curacao
Is your family a huge fan of snorkeling? If so, you need to visit Curacao, a family-friendly island that is rich in Dutch history. You may be on a Caribbean island, but the vibes are European, making it quite a unique vacation destination for families.
One of the stars of Curacao is diversity. You'll experience different cultures and foods from Asian to African to Cuban.
Children love visiting the Curacao Ostrich Farm and the Curacao Sea Aquarium; they can go into a submarine. Throughout the island, you'll find gorgeous examples of 17th century buildings, along with beaches everywhere.
11. Antigua
My last pick for the best Caribbean Islands for families is Antigua. This is a destination full of family-friendly beaches with relatively shallow waters. Families love Dickenson Bay and Long Bay; the waters are shallow and clear, perfect for walking and splashing with little kids, and the snorkeling is amazing.
Antigua has a long history, and you can investigate that while visiting. Their sandy coves were known for being a safe spot for boaters, and the British fleet anchored off the shores during the 18th and 19th centuries. Make sure to visit the UNESCO World heritage Site museums and check out the 1777 sundial.
---
Heading to the Caribbeans is a fantastic vacation for all ages. Whether you want a solo trip with your spouse or to take all of your kids, one of these awesome islands will provide you with your dream location. The only trouble is picking just one!