Flying with your baby is an entirely different experience than flying by yourself or with only adults. Things that didn't matter before suddenly matter more, and perks may help make the experience better. If you plan to fly with an infant, you need to pick the best airline to fly with baby.
All airlines allow travelers to gate check a stroller or a car seat free of charge, but not all airlines are the same when it comes to other factors like seating families together.
What I've learned over the years of flying with kids is that, sometimes, these small things matter more than you realize. You want the overall experience that your child has to be great, along with yourself.
Before you book the tickets, check out the top airlines for families with infants.
Pin this blog for later! ↓
Related: 8 Tips for Breastfeeding on a Plane and Important Policies to Know
7 Best Airline to Fly with Baby
1. JetBlue – Overall Best Airline to Fly with Baby
JetBlue has many perks that make it a fantastic airline to fly with a baby, starting with having the most legroom in coach out of any U.S. airline. If you have a lap baby, the extra legroom makes a difference.
Here are some more reasons why JetBlue scores so high with families.
They provide free inflight Wi-Fi and personal TVs to all seats, so your kids will stay entertained the entire flight. The TVs have live DirectTV, movies, and kid-friendly programs like Nickelodeon and Cartoon Network.
They are generous with snacks; your family has access to unlimited snacks after everyone receives one.
This airline is breastfeeding and breast pumping friendly!
Families have access to pre-boarding as long as you have a child aged two and under.
JetBlue's frequent flyer program, TrueBlue, lets you pool points with other people, so your family can combine points. That means you can earn free flights faster.
If you have a lap infant, you still get a carry-on bag allowance; most airlines don't allow this.
They offer kid-friendly snacks like goldfish crackers and animals crackers!
All of this is awesome, but you should avoid their Blue Basic fare class because you can't bring full-size carry-on bags nor do they offer advanced seating. They also don't offer discounted child fares, which is a bit of a bummer!
2. Southwest – Best Airline for Families with Flexibility
Years ago, Southwest wasn't as family friendly, but they've worked on welcoming families with kids more often, especially if you need flexibility. If you travel with multiple checked bags or really value flexibility, Southwest is a great choice, starting with all of their fares include two free checked bags. Plus, there are no change fees if you need to change the time or day of your flights – a longer vacation here we come!
Here are other reasons families love Southwest.
Southwest allows families with children under six years old to board together after group A, no matter your boarding position. It's important to note that Southwest has you pick seats as a first-come, first-serve basis unless you pay for upgraded boarding. If you have kids over six years old, I suggest paying for this or checking in exactly 24 hours before to get seats together. The boarding order is determined by when you check-in.
Southwest often offers discounted child fares for kids who are between ages 2 and 11. Infants 14 days to 2 years old are free of charge.
When it comes to breastfeeding, Southwest is nursing friendly. Breast pumps and breastfeeding is welcomed.
Southwest offers their unique Companion Pass perk, and their loyalty program lets you assign one person to fly with you free if you earn qualifying points!
If you want a bassinet, Southwest Airlines will not provide them, so make sure you know that ahead of time!
3. Frontier – Best Budget Airline to Fly with Kids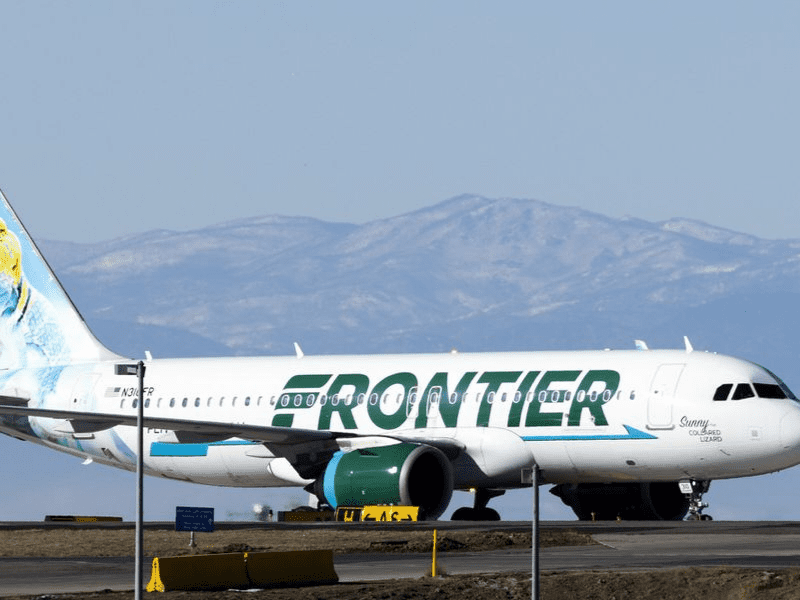 It's no secret that flying with kids is expensive, and Frontier is a budget-friendly airline that families love. Not only are the flights cheap, but they offer perks like Kids Fly Free promotions and Family Pooling for their points.
Frontier puts a priority on families and allows families to board after priority boarding. That makes it easier to get your kids into their seats!
Their membership program offers exclusive sales like frequent kids-fly-free promotions for every paid adult fare.
Large families get discounts when buying multiple tickets.
You can pool frequent flyer miles together.
Frontier is a breastfeeding friendly airline, so don't worry – feeding your baby is okay!
It's important to pay attention to extra fees; most cheap airlines have plenty of extra fees to know. However, you can join Frontier's Discount Den to help mitigate some of these.
4. American Airlines – Highly Recommended Airline to Fly with Baby
Nearly everyone recognizes American Airlines; it's one of the top domestic US airlines. Not only is this a company you can trust, but if you're flying to US or Canada routes, they offer advanced seat assignments, a must-have when traveling with kids.
Here are some other reasons to pick American Airlines.
While American, Delta, and United typically all have similar airfares, American offers more perks within that price, including their Basic Economy fare.
Even if you don't pay for advanced seat assignments, American Airlines' policy states that children under 15 will be assigned to sit next to at least one adult in their family.
American's Five Star Essentials program is great for families. They provide an escort to meet you at priority check-in, and the escort helps you with luggage. This is available at different airports, and while it might not be needed for seasoned travelers, new parents flying for the first time may love the service.
Breastfeeding and pumping are welcomed while flying.
You don't have to purchase WiFi; it's included on their app, and you can watch TV shows and movies with their app as well. However, Wi-Fi is available on select international flights.
Bassinets are available on a first-come, first-serve basis only on certain airplanes.
However, they have no pre-boarding options for families, which is often a deal breaker for some families with toddlers. They also don't provide you with any discounted child fares; kids over the age of 2 years old have to pay the full price.
5. Delta Air Lines – Honorable Mentionable Airline for Families
I've flown with Delta and infants several times and had a good experience. This is another legacy airlines in the United States, so if you're flying domestic, it's worth checking out their prices.
Here are some considerations about Delta Airlines.
Many gates allow families to pre-board to make it easier, especially if you have strollers and car seats.
Delta offers jarred food for babies and special meals for children ages 2 to 12 years old. However, these are special meals and must be requested 24 hours before flight departure.
They offer free entertainment on all domestic and international flights on their app. This allows families to stream TV shows, movies, and games. Delta also offers Speakaboos, an app for kids ages 2 to 6 , with popular TV shows and audiobooks.
Wi-Fi is available on all flights within the United States.
Delta offers SkyCots; these are bassinets available on some international flights on a first-come, first-served basis.
However, if you are flying internationally with an infant under two years old, you will have to buy a seat for your child. They also don't offer any discounted child fares.
6. Lufthansa – Best International Airlines for Kids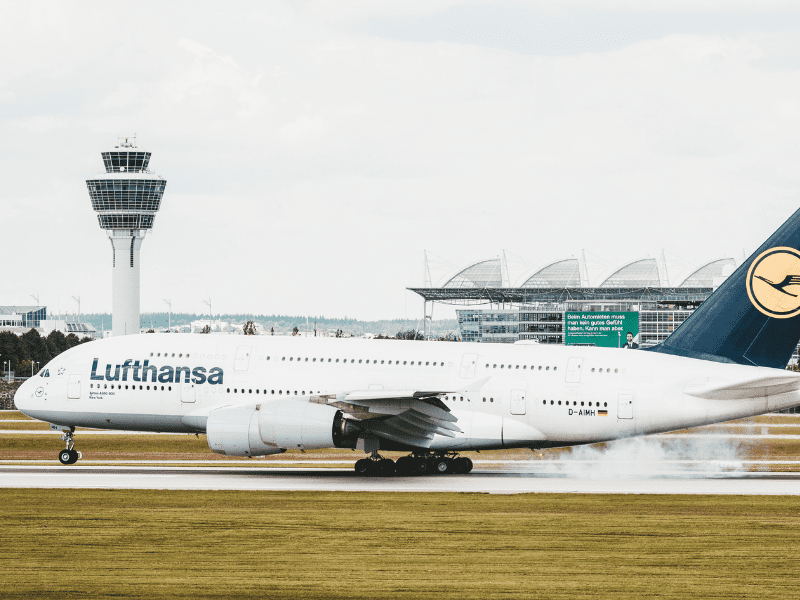 If you're embarking on an international flight with an infant, Lufthansa is often touted as one of the best airlines for kids. They have hubs in JFK, LAX, and all throughout Europe. Many European-based airlines focus on catering to kids, an Lufthansa does a fantastic job.
Here is what parents love about this airline.
Flight attendants provide kids with activities like coloring books and model trains, so your child will stay entertained the entire flight.
They offer a children's menu with dishes like lasagna and kid-friendly snacks that they'll enjoy on the flight. This menu is available for kids over two year olds. If you have a baby, baby food jars, soups, and other age-appropriate foods are available. Make sure you order food before your flight.
JetFriends, their frequent flyer program for kids, lets kids accrue points for free flights as well!
Kids between 2 and 11 have discounted fares on most routes.
Bassinets are available for infants under 24 pounds and 26 inches in length. They must be reserved up to 52 hours before the flight departs.
Baby care products are included in their airline policies for kids and infants. Water is provided for babies' bottles, and they carry extra diapers. Flight attendants warm bottles and baby food for you during the flights.
7. Emirates Airlines – Overall Recommended Airline for Families
Emirates Airlines is a Dubai-based airline that is fantastic for families traveling overseas. They offer family priority boarding, on-board bassinets, and more.
Here are other reasons parents love this airline.
Emirates offers special children's meals, but make sure you put your request in ahead of time. Their menu includes foods like chicken tenders to pasta, along with snacks like fruit and cookies.
Kids receive a special stuffed animal with an amenities kit when they arrive.
They offer entertainment for children, including in-flight toys and activity packs to keep your child busy while flying. Emirates also offers kid-sized headphones to use to enjoy Disney movies and other entertainment.
They offer on-board bassinets for flights, so you don't have to worry about where your infant will sleep while traveling overseas.
---
If you're preparing to travel with your baby, make sure you pick the best airline to fly with baby to make your trip the best experience possible.