When I talk about flying with kids, I often find that parents avoid certain trips – even though they really want to go – because they're worried it will be too hard. After traveling with all of my kids, I really think the key is planning and knowing what to bring when flying with a toddler.
Parenting really is all about preparing.
Getting on an airplane with a toddler takes a plenty of planning, but I've found that, as long as I keep my toddlers fed and entertained, flying with them is a breeze.
It's really all about what you bring when flying with a toddler!
Pin this blog for later! ↓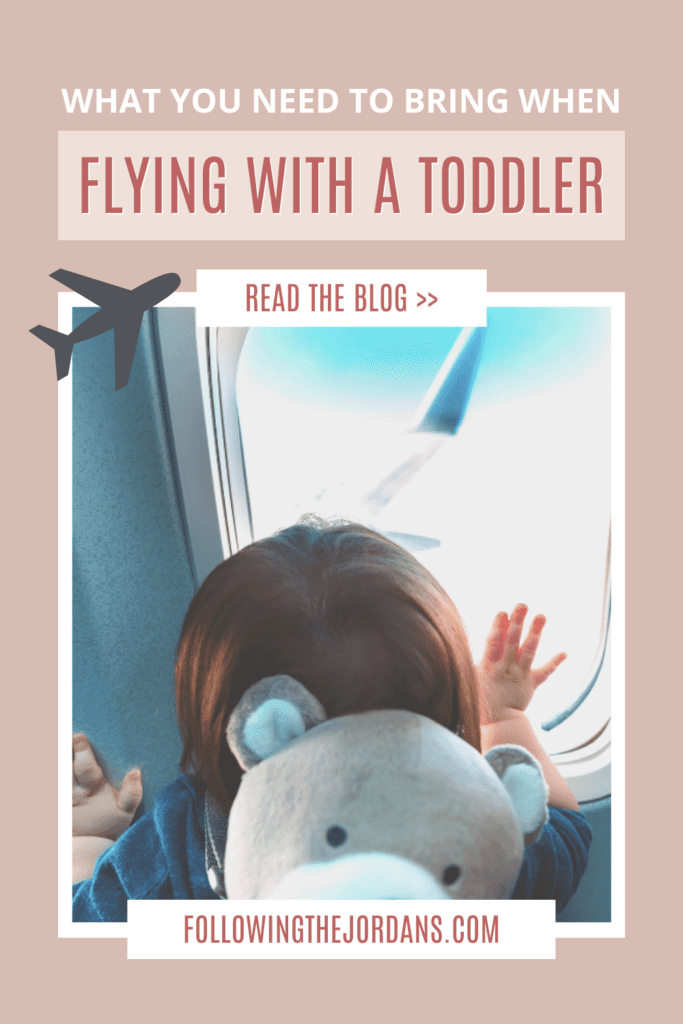 Related: 12 Helpful Tips for Flying with Small Children
What to Bring When Flying with a Toddler
Before you start packing, make sure you check with your airline to figure out if you can have a diaper bag along with your carry-on bag. Each airline has different policies, and, sometimes, each seat has their own rules. Some seats don't come with a carry-on bag, but others may allow you to bring a carry-on, a personal item, and a diaper bag!
Once you figure that out, it's time to start packing! Remember, these are things you want when flying; they don't have to do with your destination.
1. Diapers or Pull-Ups
The first thing you need to pack is plenty of diapers or pull-ups. I suggest bringing more than you think you need. You never know; flights get delayed, or you may miss a layover. If that happens, you need to have extras on hand so you don't run out while on the airplane!
That would be a bad situation!
2. Baby Wipes
Baby wipes are one of those versatile items I always want to have on hand when traveling – or any time really!
When you're flying with toddlers, you can use the wet wipes to wipe down the tray tables – who knows who touched that last! You can wipe down other touching points like arm rests, and use them to wipe your child as well. Those snacks may get messy!
I suggest bringing your regular baby wipes, and I also like these Wet Ones – they're great for hands and surfaces.
3. Crayons & Coloring Books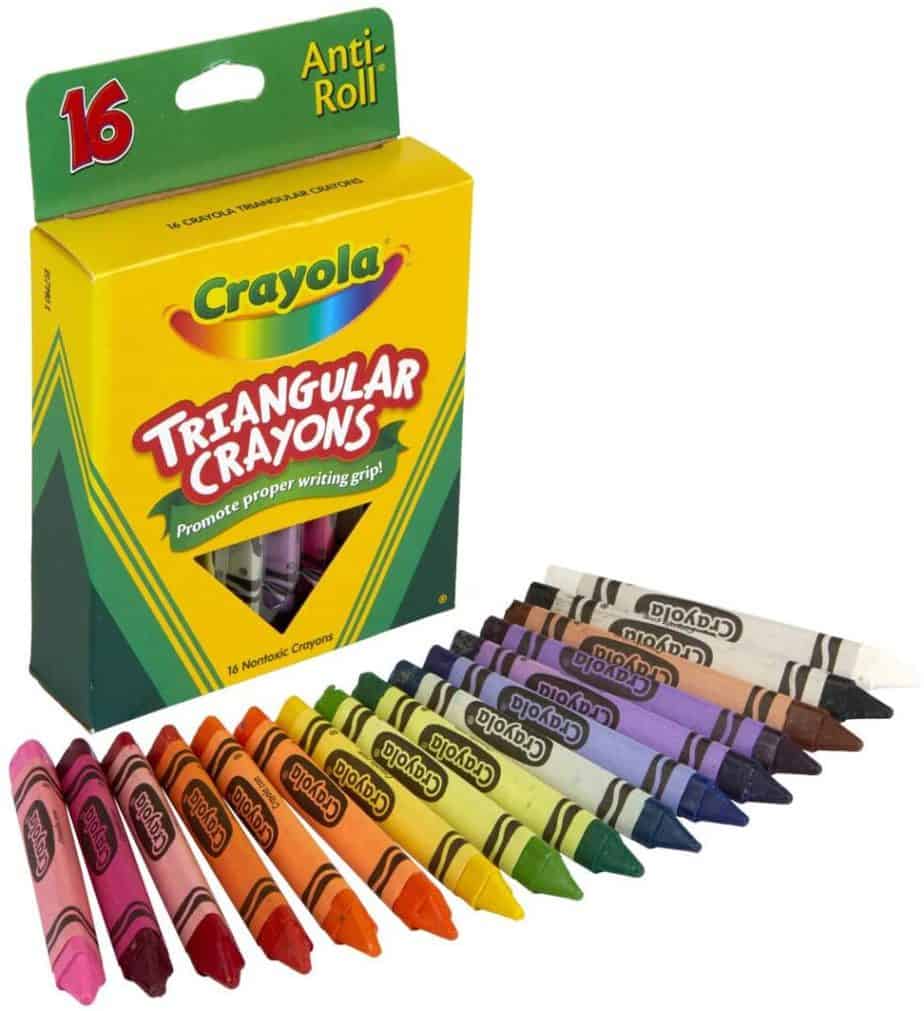 Coloring and working on activity books is a great way to pass time when flying in an airplane with toddlers. I like the triangle-shaped crayons for toddlers since they won't roll away and are easier for toddlers to grip.
Grab a few coloring books. I recommend staying away from ones with stickers while in the airplane; they might get stuck to the tray!
4. Tablet or iPad
I know a lot of parents are anti-screen time, but one time that I am not anti-screens is on an airplane. You want your toddler to be calm and entertained, and watching a movie or a TV show is a great way to keep them happy.
I suggest loading up the tablet beforehand with a few movies or TV shows. Some streaming services, like Netflix, let subscribers download copies for when you don't have WiFi. Most airplanes don't offer WiFi while in the air.
5. Headphones – Toddler Sized
No one wants to hear your child's TV shows or video game sounds. So, grab some toddler-sized headphones that will block out noises and keep your toddlers happy.
Make sure your wired headphones match your tablet or smartphone's jack. The new iPhones require a different adapter to connected wired headphones.
I like these Kidz Gear Bluetooth Stereo Headphones. They fit toddlers well and don't require any cords to connect to your devices.
6. Small, New Toys
One of the most engaging things for your toddler are small, new toys they've never seen before. Hitting up the Dollar Tree before you trip is like a treasure trove of new and small toys to enjoy on the airplane.
If you want to get a few nice things for your toddlers while traveling, here are our favorite traveling toys.
7. Toddler Neck Pillow
Napping on an airplane is a bit challenging for a toddler; they want to be comfortable. One of the things you want to bring when flying with a toddler is a cozy neck pillow.
These neck pillows make sleeping when you're sitting up way more comfortable for your toddler, and this is especially important when you're on a long flight or flying during a time when your child typically sleeps.
8. A Small Blanket
I find a lot of airplanes chilly, so I know if I'm chilly, my toddler is as well. Bring a small travel blanket to keep your toddler cozy in their seat. This is particularly important if you're flying at a time when your toddler typically sleeps.
9. Extra Clothes
Toddlers are prone to making messes or having accidents, so having at least two sets of clothing in your carry-on bag is important. Plus, if your luggage gets lost – it happens! – you want to have some extra clothing for your kids.
I always bring two to three of everything with me – pants or shorts, shirts, socks, and whatever else my kids might need.
10. Ziploc Bags
This might seem like something strange to pack when flying with a toddler, but you never know when you'll need them. I like them for the wet and dirty clothes that seem to happen when you have toddlers. You can use them to collect half-eaten snacks and loose objects that collect in your carry-on bag.
11. Sippy Cup
Kids need drinks, and most airplanes only provide soda or water. They won't have juice boxes or anything that is in a kid-friendly container. So, having an empty sippy cup lets you fill up with whatever you find for your toddler. Airports have plenty of stores and restaurants where you can buy drinks before boarding, which is what I suggest you do. If you have a long flight, consider buying several drinks to last the length of the flight.
12. All The Snacks!
Snacks are a must-have when flying with a toddler. A hungry child means meltdowns, tantrums, and a lot of angry passengers around you.
You are allowed to bring snacks with you when traveling on an airplane. I suggest keeping everything in a clear, plastic bag so, when you go through TSA, it's easy for the agents to check the contents and move you through quickly.
Bring more snacks than you think you need. Delays happen, and while airplane carriers often give you food, some kids are picky and won't take what is offered.
Here are a few suggestions:
Goldfish crackers
Fresh fruit
Fruit snacks
Crackers
Sandwiches
Make sure you also have drinks. TSA has restrictions, but when you have a toddler, you can bring liquids above the limit. Toss in some juice boxes, and you can always grab drinks while going through the airport.
Related: 24 Best Snacks for Kids When Flying That Will Keep Everyone Happy
13. A Small First Aid Kit
The last thing I suggest bringing with you is a small first aid kit. Remember, TSA has a liquid restriction, so while you can bring things like Tylenol or Motrin, it needs be 3.4 ounces and below. Also, anything liquid needs to be kept in a clear quart-sized plastic bag that TSA can inspect separately!
You never know when your little one might get sick or need a bandaid, so I suggest traveling with a small first aid kit you put together. Here are some things to carry with you.
Bandaids
Triple Antibiotic Cream
Benadryl
Tylenol
Motrin
Alcohol Pads
Related: Family Travel First Aid Kit: What You Need to Pack
---
Flying with a toddler doesn't have to be too complicated. All it takes is a bit of planning and knowing what to pack when flying with a toddler. Planning ahead eliminates so many problems, so your flight will be easy peasy!