Saving money when you go on a Disney World vacation is a must; bringing a cooler for Disney World gives you a way to bring your own food into the park. The food at the park costs a small fortune, so eating anything that you bring into the park is sure to be cheaper. Having a steady supply of snacks and drinks means your kids won't go hungry, and it allows you to delay meals. Avoiding peak meal times at Disney is one way to skip the lines since the wait times are much shorter if you skip the peaks! This is also a great tip if your family has any dietary restrictions or picky kids. Carrying a cooler with you means that you'll always have things for your kids to eat and drink. Not all coolers are great for a Disney World trip, so I picked out some of my top picks that will work for your family.
Related: How to Afford Disney World: 14 Money-Saving Tips
Can I Bring a Cooler to Disney World?
Yes! Disney World permits visitors to bring coolers into their amusement parks to store food and drinks. However, if you decide to do so, you have to follow their guidelines. Make sure you know all of their rules before doing so!
Disney World Cooler Rules
You knew there would have to be some rules for coolers at Disney; here are the regulations you need to follow.
All coolers for Disney World must meet their size requirements. No coolers may be longer than 24″, no wider than 15″, and no taller than 18″.
Use ice packs; they don't allow loose ice.
Coolers must be soft-sided. This requirement isn't a big deal; who wants to carry a heavy, hard-sided cooler throughout Disney World?
As long as you follow their rules, Disney is great about families and individuals bringing their own food into the parks. No glass containers are allowed into the park; this also includes any food storage containers. The only exception to the rule is baby food jars. Guests can't bring alcoholic beverages into the park, and all water bottles have to be plastic or metal!
How to Pick the Best Cooler for Disney World
When picking a cooler for Disney World, the first thing you need to do is make sure it fits the regulations. Disney specifies that the coolers must be no larger than 24″ x 15″ x 18″, and it must be a soft sided cooler. After that, here are some suggestions to consider.
Size & Capacity
You know the specified maximum size, but there are dozens of cooler size options within their specifications. Decide this by thinking about the size of your family and how much food you need to take with you. The cooler needs to last however long you'll be at the Disney parks. Make sure to keep the gel ice packs into consideration as well; they take up space in your bag.
Pockets for Organization
Pockets keep things organized in your bag, and while you may not need pockets for lunches, they help with all the smaller items. I also like that pockets prevent things like cookies, granola bars, and applesauce pouches from getting lost at the bottom of the cooler. The right cooler will also have space for your wallet, keys, and other personal items.
Type of Cooler
All coolers have to be soft sided, but aside from that, you have to decide which type of bag works best for you. Do you prefer a backpack-style cooler or is a tote more your style? Do you want a collapsible cooler or not? All coolers work great for someone, but that someone might not be you and your family!
Weight of the Cooler
The weight of the cooler matters. Hopefully, you have a stroller to carry the bag, but if you don't, then you want to make sure it's lightweight enough to carry around without too much discomfort.
Related: 7 Best Double Strollers for Disney World
X Best Cooler for Disney World Picks
The top-rated cooler for Disney World on this list is the Lifewit Cooler Bag. It is similar to the CleverMade cooler listed below with some slight differences and even more positive ratings. This cooler bag is constructed with high-density water-resistant Oxford fabric. It's a durable fabric that is easy to clean, and it features 6mm EPE foam for thermal resistance. Lifewit will keep your foods cold. Here are a few other features I like about the Lifewit Collapsible Cooler Bag.
It has smaller, mesh pockets on the side.
The bag is wide for easy loading.
Use the deep front pocket for snacks.
Padded handles and a detachable shoulder strap makes carrying it easily.
When not in use, the cooler folds flat.
This bag isn't as big as the CleverMade Cooler Bag, but it holds up to 24 cans of soda. 15L of storage gives you plenty of space to hold snacks and lunch for your day at Disney World.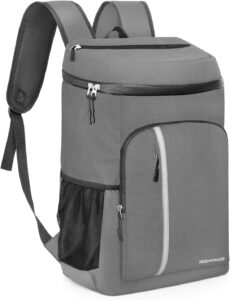 Sometimes, a backpack cooler is the best choice, and SeeHonor has a fantastic option. It comes in six different colors – black, blue, camouflage, grey, khaki, and dark grey. You're bound to find one you like the most. Here are some things you may love about this cooler backpack.
It comes with a small, removable multi-tool including a bottle opener, can opener, and screwdriver.
Lightweight and heavy-duty nylon
Heavily padded, adjustable shoulder straps
Multiple pockets including two side mesh pockets and two large front pockets
One of the things I like the most about the SeeHonor bag is that it has so many pockets that make organization and finding your items easy. You have a front pocket for keys, wallet, and other small items. The main compartment is insulated with plenty of space, plus reviews say this keeps foods nice and cold.
CleverMade is a top choice on Amazon for good reasons. It's a collapsible cooler that folds down flat to around 3 inches, so you can store it in your suitcase as you pack for Disney World. CleverMade created the bag wit their patented "SnapHinges" on both sides that provide structure and support. All you have to do is push the hinges to fold it down. Here are a few other features I like about the CleverMade Cooler Bag.
Sturdy, thick handles
Works great for traveling, grocery shopping, or a travel cooler
Does with an integrated bottle opener.
The large front zippered pouch gives you somewhere to store valuables.
It is large with enough space to store 50 cans of soda and holds up to 55lbs.
Overall, the reviews are solid for this cooler, although some said it didn't keep their food cold for as long as they hoped. However, what I like is how versatile this is and that it folds so compactly. I bet you'd find plenty of ways to use this cooler even when you aren't at Disney World.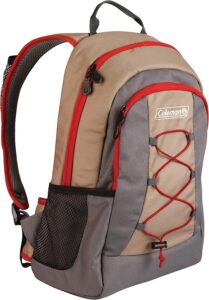 Coleman is a well-known brand of coolers, and if you prefer a backpack style, this is an excellent option. This backpack has great reviews and has plenty of features that parents want to see, especially during a Disney World trip.
Adjustable padded straps
A large front pocket for access to small accessories
Easily washable
Front bungee cords cinche the cooler tightly.
It's mostly waterproof.
It will keep your foods cold.
One of the best things about the Coleman Backpack Cooler is how much space it offers. It has two main areas to hold all the snacks plus two side water bottle pockets. Don't forget that large front pocket as well. It definitely has enough space all the lunches and snacks you want at Disney World.
Here is another product by Coleman; it's a small, collapsible cooler that keeps your food and drinks cold while visiting Disney. It's a compact cooler that feels easy to carry hands-free; you won't have any trouble sticking this under your stroller in a basket. Here are a few features of this cooler.
The fabric has antimicrobial features to ward off odors and stop the growth of fungus and old.
Adjustable shoulder strap
Multiple pockets inside and out of the cooler
Heat-welded seams for leak prevention
The only downside is that this cooler is quite small for a family. It would be best for only items for your baby or two individuals.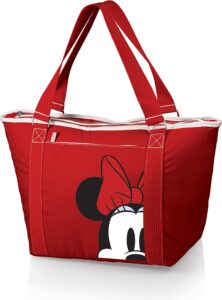 Do you want a cute, Disney-themed cooler bag? You'll love the ONIVA cooler bag! It's great if you want a smaller, less bulky bag that you can toss over your shoulder or carry in your hand. This is a small bag, perfect for picnics and beach trips. Here is why the ONIVA is an excellent choice.
It's made with durable, polyester construction with complementary stitching accents.
The interior is lined with heat-sealed PVC to prevent leaks.
A separate front pocket holds your wallet or keys.
The bag closes with a top zipper to keep everything secured.
This bag isn't huge, so it's really best for snacks for your kids. If you don't plan to bring full lunches and only snacks, this one could work great as your cooler for Disney World.
Final Thoughts
Bringing a cooler into Disney World is an excellent way to save money and keep your kids happy. Well-fed kids are happy kids, so bring one with you. Just make sure you follow the regulations set by Disney since they can deny entry if not!

Pin this blog for later ↓