A common rookie blogging mistake is blogging without any thought to SEO. I used to write whatever I wanted and thought it would rank on Google. The truth is you have to learn and implement valuable SEO tips to be a successful blogger.
Writing good blog posts require skills. You have to consider the structure of the content to help your readers learn what they need. Bloggers also have to keep SEO is mind to help their articles rank on Google.
Some people think that writing for SEO and writing for readers is different, but I'm here to tell you that is totally inaccurate.
When you use SEO tips appropriately, you create articles that cover what readers want and need to know in a readable manner. Keyword stuffing is highly frowned upon by search engines, but you can use tips to make sure articles cover the appropriate information.
Let's take a look at some simple SEO tip for your blog that all new bloggers need to know.
Pin this blog for later! ↓
Related: 15 Ways to Get More People to See Your Blog 
12 Simple SEO Tips for Bloggers
1. Do Keyword Research Before Writing
Never start to write an article without doing keyword research. As much as you would love to write an article about your favorite anything, the keyword may not be rank-able for your website.
Plus, you have to figure out what your audience wants to read.
The best results typically come from using competitor keywords that blogs like yours with similar stats rank for on search engines. In theory, if a blog like yours makes it on the first page, then you can as well, especially if your article is more thoroughly written.
One thing I always do before writing content is to look on Moz with their extension to find the DAs of all competing domains for the keyword I'm considering. If the top keywords are more than 20 points above mine, I stay away from that. The higher ranking websites will win out most of the time on Google.
2. Long-Tail Keywords Are Your Friend
In general, you'll find two to three word keywords are dominated by websites with high DA. Writing an article on "breastfeeding tips" will be nearly impossible for new writers to rank for.
Instead, you want long-tail keywords, which are a strong of words to find more specific information. Searchers gradually get more specific as they find a website to answer their questions.
So, instead of "breastfeeding tips," you may write an article about "breastfeeding tips for moms with two under two."
Long-tail keywords have lower competition rankings, so that means you have the opportunity to rank even if you are a new blogger.
3. Find Similar Keywords for Your Main Keyword
Once you pick your main keyword, you need related keywords as well. You can't stuff articles with the same focus keyword repeatedly; it will sound ridiculous. Plus, keyword stuffing hurts your rankings.
Google is smart!
Believe it or not, Google is smart enough to recognize synonyms and other keywords. Search engines understand that it all goes back to your focus key phrase.
Finding related keywords may be challenging. You can use SEO programs, like Ubersuggest, Keywords Everywhere, or Ahrefs, to find other keyphrases.
4. Evergreen Content is King
SEO is a long term game; it doesn't happen over night. It takes quite awhile to see your results, so evergreen content is the name of the game.
Evergreen content is content that brights traffic all year round and for the foreseeable future. They are timeless topics that maintain long-term search interest.
Anything holiday related is not evergreen; this is a seasonal topic. However, things like "how to clean crayon off the wall" is a topic people look for year-round.
Some niches are more seasonal, such as gardening, but look for topics people will look for year round as well for balance out.
5. Analyze the Top SERP Results
Before you start writing, be sure you map out your content by reviewing SERP results. SERP stands for Search Engine Results Pages. So, this is a link of links to websites when you search for your keyword.
Examine the first 5-10 articles; these get the most search traffic. You want to see what they include and what they don't. It also gives you an idea as to what Google want to see in your article in order to get rankings.
Never plagiarize!
Analyzing should be how you map out your content; it's not a time to steal another's hardworking.
6. Always Have a Great Title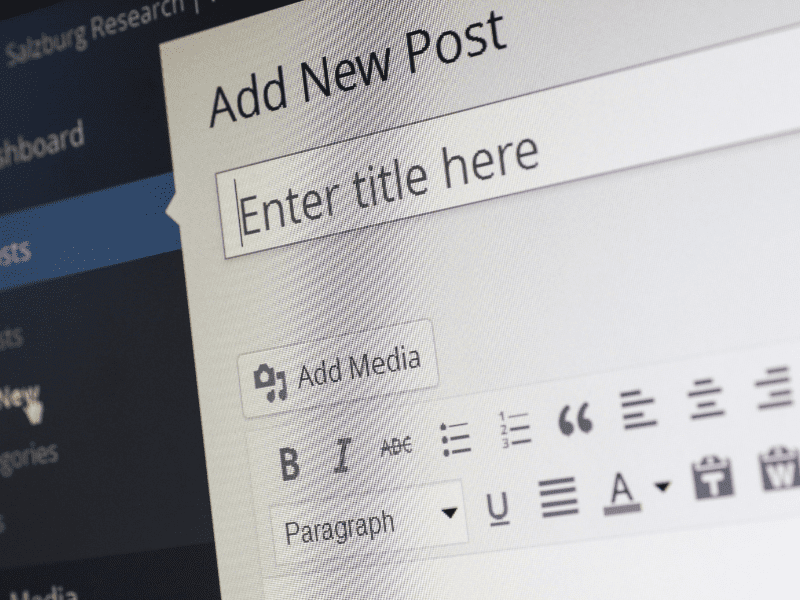 Including great titles is one of the essential SEO tips for your blog. Google pays attention to titles, so you want to make sure they are right.
Here are some tips.
Never make clickbait titles. Titles should never make promises or claims that aren't backed up in your article.
Try to get your keyword as close to the front of title as possible. This helps your readers know what they're going to find.
Numbers are great! These can be numbers of recipes, tips, tricks, hacks, or ingredients. Readers love numbers in titles.
7. Create a Structure for Posts
All well-written articles have a readable, SEO-friendly structure. A clear structure helps readers find the information they need.
First, use an introduction to discuss what the article is about and why readers should keep reading. Explain why this is valuable and what they should expect to learn.
The body of the article is the meat and potatoes. Use headings – plenty of headings! – to divide up the body into sections. Each section is about something new on the topic.
Paragraphs should be used well in articles; this isn't like writing a paper in high school. Each paragraph should be no more than two-three sentences long.
Don't be afraid of one sentence paragraphs!
Or even a few words.
Seriously!
Most of your readers are skimmers; they look for the information they need to read. If it's buried in a long paragraph, they'll never find it and they'll leave your website quick.
The last part of your article is the conclusion. Keep it short and sweet with a fast summary of what they read. It's a good time to ask for your reader to leave their thoughts or experiences!
8. Use Headings Appropriately
Headings help readers know what is in your article and where to find it. Most people come to your blog because they want to solve a problem.
Perhaps, they need a tutorial on a project or tips to help them solve a problem. Everyone has an "issue" that causes them to read an article.
Headings and subheadings make it easier for readers to scan your page and clarify the structure of your article. Plus, search engines get a clearer idea of what your article covers based on your headings.
H2 is the main topic of on section in your article. For example, "how to pick the best organic seed starter mix" is an H2 header. Then, each piece of advice belongs as an H3 header under this topic.
In most cases, H1 is the main title of your article, while H4 and H5 headers aren't typically used.
9. Be As Comprehensive As Possible
If a reader has a problem, they should be able to come to your article and solve it. Google wants top ranking articles to be as comprehensive as possible.
Make sure your blog posts are a minimum of 300-500 words, but the length of the article should be enough to fully cover the topic at hand. Google likes long articles, but some readers stay away from long articles.
Try using table of contents to help readers navigate your article. Plus, it's one of the easiest SEO tips to implement.
In the end, content is king, and quality content draws readers to your website. If you find relevant questions on Google, include those! If it could help your reader and add to the comprehensiveness of your article, it's worth including.
10. Include Internal Links
Linking to your own posts is important; this is called internal linking. If you have a relevant article about a topic in your blog post, include a link.
Readers are more likely to stay on your website, decreasing your bounce rate. Also, it shows search engines you are offering more content about specific topics, increasing your authority.
Internal linking develops a contextual relationship between new and old posts. In some cases, it pass some link juice, helping with rankings. Try to make this a habit whenever you write new content.
11. Images are Essential
You need to add images to blog posts; it makes the more engaging. Most readers are visual, and even if the images are simply for decorative purposes, they keep their attention.
Always be careful with image copyrights. You can't take images from other sites; it leads to legal trouble.
If you are writing a round up, a simple email to the image owner requesting use with a link back to their website is often approved. Another option is to use royalty free images from websites, either free or paid.
12. Don't Forget a Meta Description
Before publishing your article, be sure to include a meta description to your blog post. This is an HTML meta tag that gives a short description of your article for search engines.
If you search something on Google, the meta is the 1-2 sentences you read on the search engine page. Some say these are relevant, but other experts disagree. Many read meta descriptions, so keep writing them.
13. Work on Getting Backlinks
Getting backlinks to your blog is a great idea and helps increase your domain authority. Writing guest posts for other blogs in your niche helps other readers find your blog.
Also, Google learns you may be an authority in your niche and starts to rank your website higher in results.
14. Continue to Add Content Regularly
Adding new content regularly lets Google know your website is alive and active. If Google believes your website isn't active, it crawls it less often, potentially decreasing your article rankings.
However, that doesn't mean you should simply make new posts just to make new posts. Remember, they all need to be high-quality and provide comprehensive information to your readers.
Maintaining an editorial calendar for your blog helps to you post new content regularly. It also lets you structure your creation process in a way that works for you well. Plus, you won't forget to update old posts.
Work on Your SEO
Remembering these simple SEO tips for your blog will increase your article rankings over time. When used consistently, you will see results and get more traffic to your blog.