Taking your family to Walt Disney World is a dream for many families, but let's talk about the reality – it's expensive. Depending on the size of your family, the quote you receive on their website may be as much as a trip to Europe, leaving you wondering how you can afford Disney World.
Despite what you think, I'm here to tell you that a Disney trip is possible, assuming you have extra money in your budget to save. Proper planning and knowing shortcuts to save money is the key.
So, how much is an average Disney World trip?
The estimate for a family of four is between $4,200 and $6,000, opening on where you stay – for four days. This certainly feels like quite a bit of money, but there are ways to spend less.
Let's look at some different ways to afford Disney World and make your dream vacation come true.
Pin this blog for later! ↓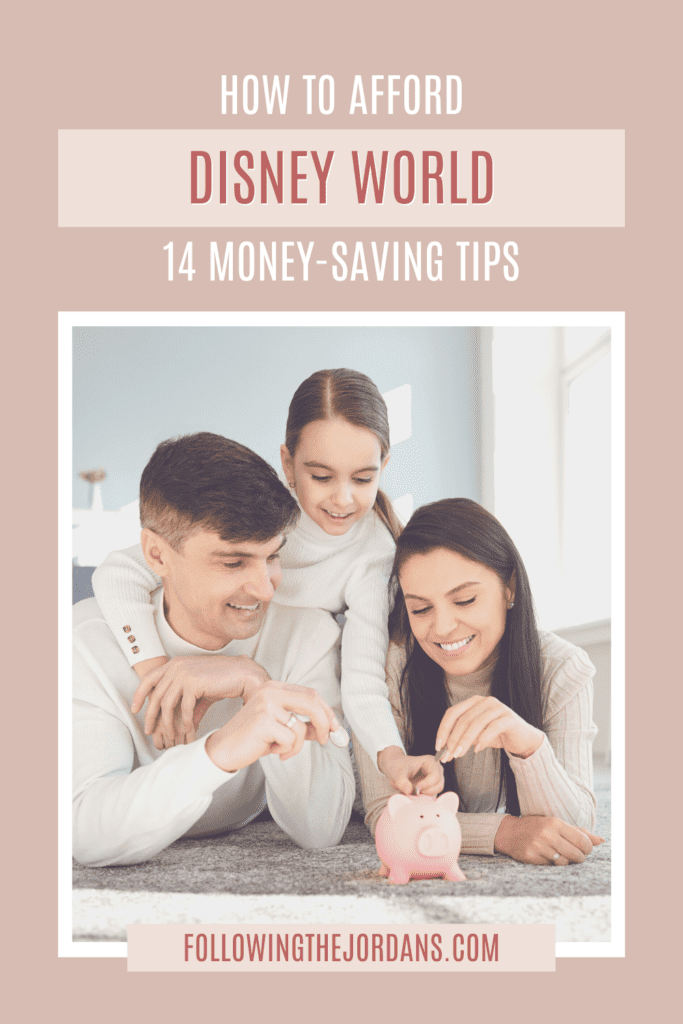 Related: 10 Best Resorts in Disney World for Toddlers
14 Ways to Afford Disney World
1. Make a Plan
Let's start with what I think is the MOST essential tip to afford Disney World – plan and plan in advance.
Typically, you need to plan for at least four to six months or longer. Believe it or not, even the restaurants fill up months ahead of time for allotted times, so planning ahead is truly your friend.
Planning ahead has one huge advantage – you know how much money you need, and you have more time to save it. You also have more time to add extra income, whether that is through working over time or side hustles, to your budget.
2. Use Disney's Payment Plan Option
Disney itself understands that paying for a trip in one payment isn't possible for all families, so take advantage of the their payment plan options.
Disney requires a $200 deposit to book a reservation, and then after that, you create a flexible layaway plan to pay a little every week or month – it's totally up to you how you want to pay it off.
Talk to an authorized Disney travel agent to create a payment plan. If you book the trip as early as possible, this gives you ample time to pay down the balance.
3. Work a Side Hustle
If your current income doesn't have enough room for your to save for Disney World, then the next set is to make more money. Luckily, we live in a time when there are many different side hustles available, even if you're a stay at home mom.
Side gigs are just that – they give you a bit of extra money on the side. They're flexible part-time jobs that work with the schedule and free time you already have.
Here are a few examples.
Door Dash
Amazon Delivery
Freelance Writing
Virtual Assisting
Make a Blog
Uber Eats
Drive for Uber
Walk Dogs
Pet Sit
There are so many ideas for part-time side hustles, and if you work on more than one, some people have a full-time income from just those gigs!
4. Pick a Time When It's Cheaper to Go to Disney World
Sometimes, it's not possible to travel at certain times, whether due to lack of vacation time or kids in school, but the cheapest time to go to Disney World is when it's least crowded.
If you go at the peak time, Disney is a business, and they charge more for those times. The ticket prices and hotel rates are quite higher, then you have to add in longer wait times and more competition for dining reservations.
When is the cheapest time to go to Disney World?
The first week of January through President's Day weekend is the cheapest time at Disney World. However, the weather is cooler during this time, so you'll need plenty of hoodies and long sleeve shirts. You might also find some cheaper weeks throughout the spring.
The summer is the most expensive time to go to Disney World, along with any school vacation weeks, weekends overall, and holidays. Going at this times will not save you money – they'll cost you more money.
5. Stay at Cheaper Disney Resorts
Disney World has around two dozen in-park resorts and hotels, and all of those are divided into three categories: Deluxe Resorts, Moderate Resorts, and Value Resorts.
Deluxe resorts are amazing, but the rooms range from $400 to $1,000 PER NIGHT. That's not going to work if you're on a tight budget.
Moderate resorts are more affordable, but depending on your budget, these may still be expensive. Value resorts are the cheapest option; don't worry, these hotels are still nice and have plenty of features to enjoy.
6. Or Stay Off the Resort Entirely
Before you book a value resort, take a look at the other hotels around your hotel, or consider booking an airBNB. You lose access to many of the amenities from Disney, such as the pools and exclusive hotel events, but it may save you enough money to justify this.
This is one of those highly debated tips for how to afford Disney World.
Some swear that staying at value resorts is the ONLY way to go, but others will tell you they saved a bundle by staying off resort.
My theory?
It depends on when you go and how many you bring with you. I suggest exploring both options before deciding!
7. Go When Your Kids are Under 3 Year Olds
I personally think the best time to bring kids to Disney World is when they're older than three years old. However, if you have older kids and a toddler or infant, (or all three), consider taking the trip before your youngest child turns three years old.
Disney is free for kids age three years old and under. They don't need theme park tickets, and there is no charge for their hotel stay. Yay!
8. Take Advantage of Free Activities at Disney
Believe it or not, there are all sorts of free activities available at Disney World; you don't have to pay for every little thing. Including these activities into your vacation adds to the memories while not increasing your budget. Remember we are here to afford going to Disney, not go broke trying to enjoy it.
Trust me, most of these are things you want to do anyway! For example, riding the Monorail is fun for kids and relaxing for you, and the fireworks every night are free for all visitors. Visit the Boardwalk area or check out free concerts.
Related: 14 Free Activities at Disney Little Kids Will Love
9. Skip Park Hopper Passes
Disney advertises the Park Hopper Passes, and they seem like a great deal. The passes cost around $200 and let you visit all four parks in one day.
However, if you're staying for multiple days, visit one park per day. There is no need to jump from park to park each day. This single thing can save you $60 per person per day, and that adds up.
Plus, when you're visiting Disney World with little kids, it's important to be realistic about how much you can get done. Going from park to park takes time, and it's tiring as well.
10. Get Discounted Disney Gift Cards
Members of Costco or Sam's Club can purchase Disney gift cards at 5% off. That might not seem like a lot, but it adds up and saves you money.
These gift cards can pay for park tickets, hotels, food on property, and more. Best of all, you can gather these for quite a long time, giving you plenty of opportunity to save up for your trip.
11. Bring Food with You
Many hotel rooms have small fridges and microwaves; bring food with you! You can find all sorts of grocery stores within a close vicinity, so get some easy foods and have breakfast and lunch in your hotel room.
You might also not know that Disney lets you bring food into the park. This could be a huge savings in your budget. Pack a lunch with sandwiches, fruit, cookies – all things your kids and family like – and keep the food in the lockers inside the parks that cost $7 a day. Since you aren't allowed to bring coolers, limit the items that need to be kept cold.
This is one simple way to afford Disney World. I don't know about your kids, but mine LOVE to eat. So, food is one big area to save cash.
You also can have groceries delivered to you. This is more expensive than going to get the food yourself but cheaper than renting a car!
12. Consider Eating Outside of the Park
If you have a rental car, consider eating meals off-site. As inflation continues, Disney World raised prices quietly significantly in 2022. I would never recommend eating all meals off-site; that wastes a lot of your time and some restaurants are fun and add to the menu.
Pick and decide which meals are going to work best for you to eat outside the parks. Even the restaurants at Disney Springs are cheaper than the ones inside the actual parks.
13. Plan a Free Day
Many people don't realize that Disney World has plenty to do besides visiting the theme parks. Not only is one less day of theme parks a way to save money, but it lets you relax and explore other things the resort has to offer.
Honestly, my kids would stay the resort pool all day long!
You can enjoy the nightly firework, watch a complimentary movie, ride the Monorail, and so many other things on your free day without a theme park. This may also be a way to offset a cost of a character dinner if that's something you want to afford for your kids.
14. Skip the Souvenirs
One of the biggest souvenirs that all families want is the adorable Mickey ears, but they cost around $30 in the park. However, Etsy has some really cute ones for half the price.
Otherwise, you don't need to buy tons of souvenirs – or any at all!
---
If you're wondering how you could possibly afford Disney World, the answer is planning ahead, using a payment option, and finding little ways to save money along the way. Multiple small savings add up to a lot of money savings!