Disney World has more than rides and attractions for families; there are tons of restaurants and places to get a bite to eat. However, after visiting a few times, not all restaurants are ideal for kids. You need the insider scoop on the best places to eat at Disney World with Kids.
The first time we went to Disney World, I couldn't believe how many dining choices we had. Honestly, it's quite overwhelming!
In general, all Disney restaurants fall into one of three categories:
Quick Service
Counter Service
Table Service
Table service is your typical, sit-down restaurant you want for dinner and maybe breakfast time. The other types of restaurants are faster, which sometimes is exactly what you need while on-the-go or after a long day.
Part of your Disney planning should be to consider the best places to eat with kids at Disney World. So, let's take a look at some of my favorite options.
Pin this blog for later! ↓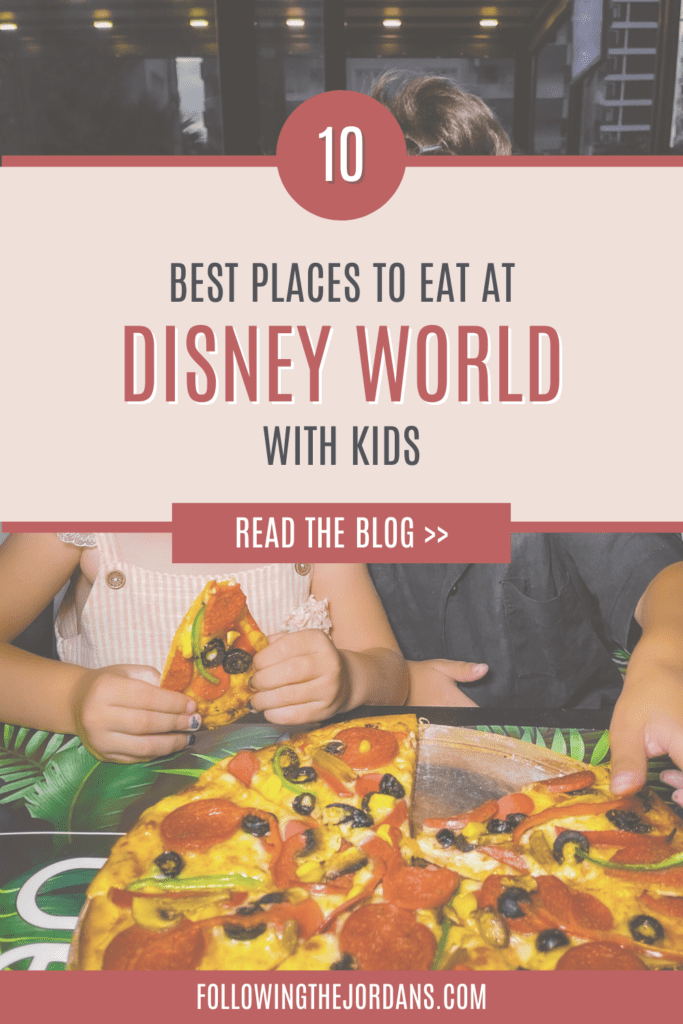 Related: 14 Free Activities at Disney Little Kids Will Love
10 Best Places to Eat at Disney World with Kids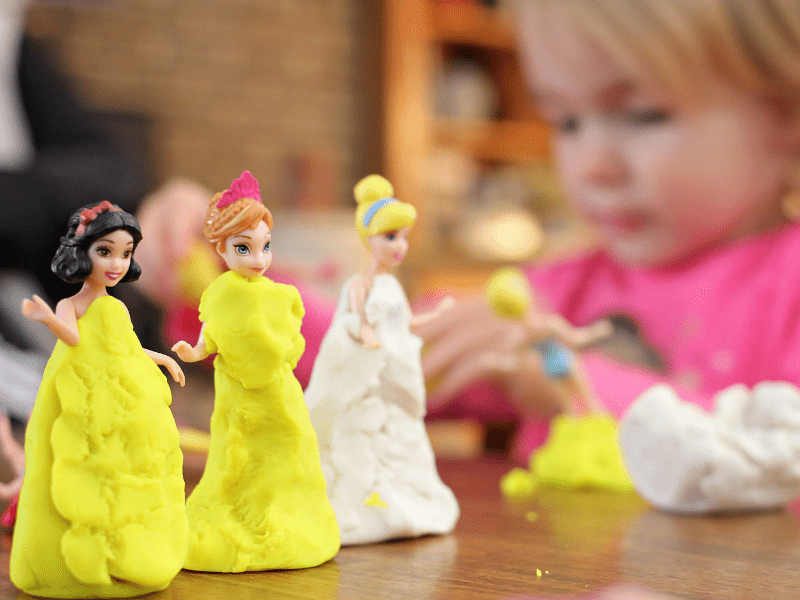 If you have one place you should definitely take your kids to eat, it should be Cinderella's Royal Table located inside Cinderella Castle at Magic Kingdom Park. It's one place you can have a true fairytale dining experience!
This restaurant offers tableside service, but some are offered as family style, which saves you some money. There is a menu especially for children to enjoy.
Time at Cinderella's Royal Table means character visits by:
Cinderella
Snow White
Ariel (breakfast)
Princess Aurora (breakfast)
Princess Jasmine (lunch and dinner)
Make sure you make a reservation well in advance because this restaurant fills up quickly. You'll want to make sure you reserve when you make your Disney World plans!
As you might guess, this is on the more expensive side, ranging above $50 per adult.
You might guess from the name that this is a Beauty and the Beast themed restaurant, and it's one of the most popular picks at Disney World. It's at the Beast's castle, so it's highly recommended by Disney that you make reservations.
Meals work differently at Be Our Guest. All breakfast meals are ordered a la carte, and lunch is a quick service restaurant. Dinner is table service, and you can order treats like balloons or flowers to be delivered during your mealtime.
The price is in the moderate range for this restaurant, between $15 to 35 per adult. However, the downside is that you won't see any characters aside from The Beast who stays in his own special room.
If you're looking for affordable places to eat at Disney World for kids, you'll want to try Cosmic Ray's Cafe, located at Magic Kingdom. It has a great atmosphere for kids, but it does get crowded for lunch.
Cosmic Ray's has a great selection of fast foods like burgers, chicken sandwiches, and salads. Also, all of their dishes are priced $15 and under for adults, so if you're wanting to save a few dollars, this is a great choice to go.
It's open from 10:30 AM to 9 PM, so it's even an affordable dinner option. However, no characters swing by here.
'Ohana is located at Disney's Polynesian Resort, and it serves Hawaiian-style meals along with some awesome characters that only visit at breakfast time. However, don't miss out on dinner because some of their fare is amazing with Polynesian-themed dishes.
All of their meals are served family style; prices are cheaper in the morning than dinner with dinner costing between $35 to $60 per adult.
Breakfast is what your kids will want here because of the characters. Expect to see:
Lilo
Stitch
Mickey Mouse
Pluto
If you go for dinner, make sure you try the pineapple bread pudding with vanilla ice cream – it's delicious.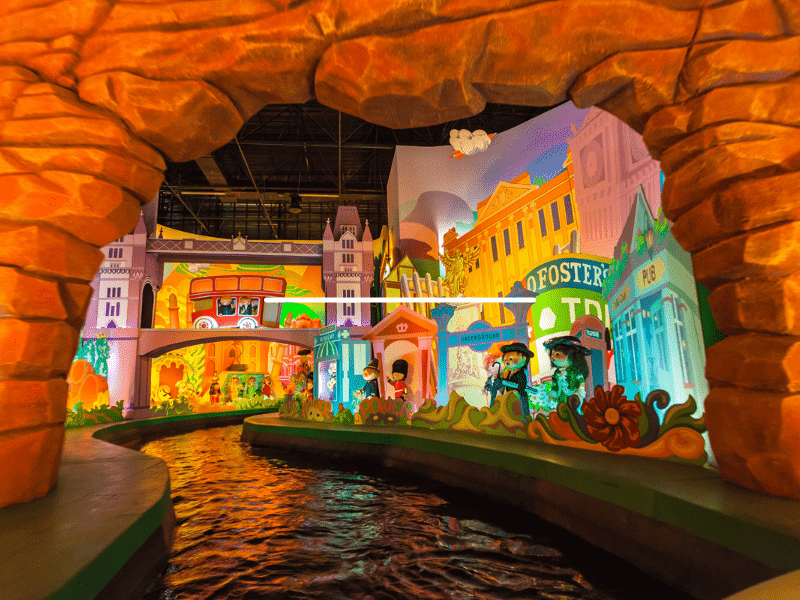 Every little kid who goes to Walt Disney World needs at least one character meal, and Chef Mickey's is the place for that. It's one of the best places to eat at Disney World with kids for several reasons.
First, tons of characters stop by for visits, including:
Mickey Mouse
Minnie Mouse
Pluto
Goofy
Donald Duck
Then, they have a full breakfast buffet that is perfect for kids. It also has an all you can eat dinner feast, but expect to pay more. This isn't a cheap place to eat with your kids! In general, the prices range from $35 to $60 per adult.
Tusker House is a family-style restaurant located at Disney World's Animal Kingdom. It features African-inspired dishes along with plenty of characters for your kids to enjoy. This is a table-service restaurant with all sorts of favorite dishes for breakfast, lunch, and dinner.
Some characters you'll find at Tusker House include:
Mickey Mouse
Minnie Mouse
Pluto
Goofy
Donald Duck
This restaurant is definitely one of my favorites because I enjoy family-style dishes. It's much easier with little kids, and it isn't typically as busy here when compared to other places to eat.
However, the price is still high with the average cost between $35 to $60 per adult.
Sometimes, you need to get a pizza or two and head back to your hotel room for some rest and relaxation before you hit up Disney at night. Pizzafari, located at Animal Kingdom, is exactly what you need.
They sell pizzas, salads, desserts, and plenty of beverages, including some adult ones. This restaurant is open from 10:30 AM to 4:15 PM, so if you want pizza for dinner from Pizzafari, it has to be an early meal, which might work for your toddlers.
Luckily, it's inexpensive, costing around $15 and under for adults.
The Coral Reef Restaurant is located in Epcot, and it scores high for little kids, including toddlers. This restaurant serves lunch and dinner aside beautiful views of a living coral reef and over 2,000 sea creatures in the massive aquarium.
Coral Reef offers tableside, ocean-fresh dishes from around the globe along with classic favorites. Advance reservations are recommended; this is a popular place.
Aside from watching the amazing aquarium, your kids might even get to see scuba divers, including a scuba-diving Mickey Mouse.
If you want a unique restaurant experience, then one of the places to eat at Disney World you need to try is Boma. This restaurant has hearty buffets for breakfast, lunch, and dinner.
Boma is a family-friendly restaurant that features cuisine from around the continent of Africa. You have Kenyan coffee and South African bootie,along with so many other dishes from the 50 African countries.
Don't worry; if you feel adventurous but you know your family won't feel the same, they also serve popular American food like chicken nuggets. They even have unique wines from South Africa for adults to enjoy.
This restaurant ranges in price. Breakfast and lunch cost between $15 to $35 per adult, but dinner increases to $35 to $60 per adult.
Head over to the T-Rex Restaurant, located in the Disney Springs, for a relaxed yet fun dining experience for even the smallest of kids. However, if your kids are afraid of dinosaurs, this could be a no-go option. The entire restaurant is a dinosaur theme, and their meal is spent surrounded with their favorite Dinos.
T-Rex Restaurant serves lunch and dinner; they're open from 11 AM to 9 PM. It's a moderately priced restaurant with adult dishes costing between $15 and $35 each.
Your kids will love traveling back to prehistoric times and checking out the mega-sized dingo. There is a 15-foot tall, animatronic T-Rex, and different parts of the restaurant have themes. You might dine in the color-changing ice cavern or underneath luminescent jellyfish.
---
Whether you want a delicious breakfast or a fun dining experience, these best places to eat at Disney World with kids are sure to be a pleaser for everyone in your family. Memory making doesn't stop at the parks!