You have everything planned out for your family vacation, but you have to fly to get there. Going through airport security with a baby feels scary and intimidating, especially if you've never done so before, but it doesn't have to be a bad experience!
I've flown with my children several times, and the one thing continues to be clear – the better you plan, the smoother airport security with a baby ends up.
Some things are better not planned, but this is not one of those things. From knowing what types of shoes to wear to how to appropriately pack your carry-on bag, planning will make or break your experience at the airport – trust me.
Related: 5 Best Car Seats for Airplane Travel in 2022
10 Tips for Going Through Airport Security with a Baby
1. Be Prepared Ahead of Time
The first tip for success is to be prepared. Know the size of permitted carry-on luggage, pack the items you need, make sure the car seat is approved by the FAA, and only bring travel-sized appropriate liquids with you.
Liquids are one of the biggest hang-ups when you go through airport security. When it comes to food and toiletries, no container can be more than 3.4 ounces, and they all need to fit inside a clear quart-sized plastic bag.
Don't worry; containers can be larger in your checked-in luggage.
When you have a baby, you're permitted to bring a reasonable amount of breast milk, formula, juice, or baby food with you. They all need to stay in one bag without a gel-filled freezer pack.
Make sure you tell the TSA officer ahead of time to make sure the process goes smoothly!
2. Learn the TSA Drill Ahead of Time
If you've flown recently, chances are you know the drill and what to expect ahead of time, but if you haven't, let me explain what happens.
First, you have to wait in a line to go through TSA, and the length truly depends. When I went to St. Thomas, the TSA line was nearly two hours long – yes, seriously – but I've sped through the line in less than 10 minutes at other airports. Typically, the earlier to arrive, the shorter the line.
Once you get to the front of the line, you have to scan your ID and tickets for each person in your family. Then, you go to an agent and remove your shoes, any liquids (should be in a clear, plastic bag), electronics, and food, placing them into plastic trays.
If your baby is in a stroller or has a car seat, the TSA agent will take those and inspect them separately as you go through the x-ray machine. On the other side, you'll receive your items, put your shoes on, and head to your terminal to meet your airplane.
Truth be told, airport security is frustrating without kids, but going through airport security with a baby adds an extra layer of frustration. All it takes is one meltdown, and you'll feel like the eyes of the world are on you – but they aren't!
3. Bring a Stroller or a Wagon
A stroller is a lifesaver when you're going through airport security with a baby. It gives you a place to safely keep your baby while you sort all of your items and take off your shoes.
However, once you make it to the conveyor belt, your baby will have to come out of the stroller so you can carry him through the scanner.
Unless you have a very lightweight and easy to fold stroller, an officer will take the stroller through an x-ray scanner and manually inspect it while you go through the screening with your baby.
Related: 8 Tips for Breastfeeding on a Plane and Important Policies to Know
4. Consider a TSA PreCheck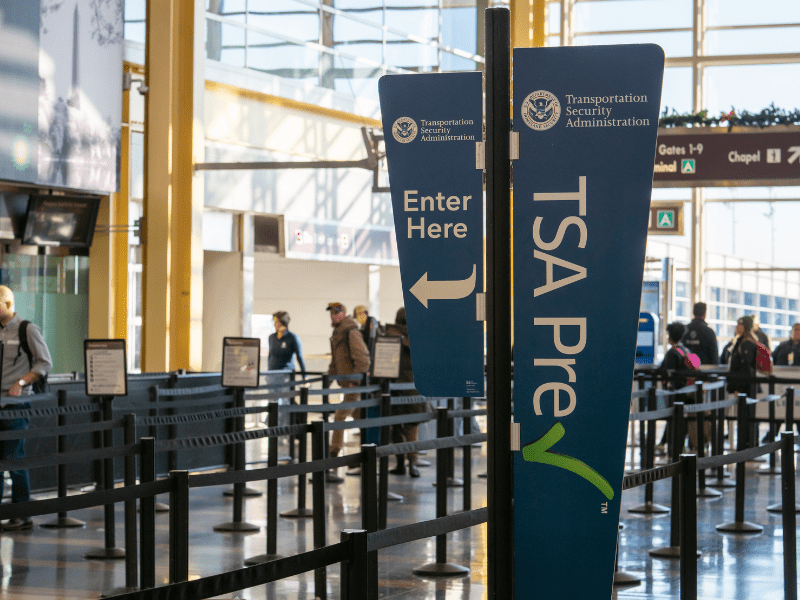 If you really want to save money, I suggest considering the TSA PreCheck, but sometimes, since so many use it nowadays, it may not save you much time.
You qualify for TSA PreCheck if you have NEXUS, Global Entry, or SENTRI, and your baby can fly with you using it. However, applying for these programs takes several months, so if this is a late minute trip, it won't work.
One of the biggest perks of this program is that you don't have to take off your shoes, jackets, or belts. You also don't have to remove electronics or liquids from your bag – talk about two huge game changers when you are going through airport security with a baby.
5. Know What You Can and Cannot Bring through TSA
It's vital for you to be prepared and know what you are permitted and not permitted to bring through airport security with you. Since liquids are limited to 3.4 ounces, you might wonder what you can bring with you.
The TSA makes liquid exceptions for breast milk, formula, and juice for babies and toddlers. You can bring these liquids onto an airplane in "reasonable quantities" but the TSA doesn't define what is reasonable and unreasonable.
Chances are it is based on the length of flight you have – international flights may require quite a bit more than a short domestic flight.
You also can bring baby food and snacks with you; pouches are much easier than needing a spoon. When it comes to snacks, you have a bunch of options. We like fresh fruit, goldfish crackers, fruit snacks, and even sandwiches!
Related: 24 Best Snacks for Kids When Flying That Will Keep Everyone Happy
6. Get to the Airport Early
You probably knew this tip was coming, but it's true. When it's just me and my husband, we tend to run a bit late because we can run, but when you have a baby in tow, it all changes.
When you have a baby in tow, things are different, and you should expect everything to take longer than you anticipated. Getting to the airport early means you don't have to rush, you may beat some crowds, and your overall stress level is lower.
Imagine a screaming baby through the airport AND knowing you are late for your flight – YIKES!
Most airlines recommend arriving two to three hours early, especially if you are flying internationally. I recommend following through with these guidelines if you have an infant in tow.
7. Have Snacks in a Clear Plastic Bag
Snacks and any liquids need to be placed in a clear, quart-sized plastic bag. When you reach the TSA agents, remove the bags with their contents and place them into a plastic travel as indicated by the TSA agent.
Be prepared!
Place these plastic bags right on the top of your backpacks or carry-on bags. This makes the process much easier. Also, any liquids – such as breast milk – that don't meet the 3.4 ounce rule belong in their own bag, making it easy to declare these items.
8. Wear Your Baby Through Airport Security
Another option is to consider wearing your baby in a baby carrier through airport security. However, some airports require mothers to take their infant out of a carrier before going through the screening.
If this happens, know that the TSA says infants may be carried through airport security in a sling or baby carrier but are subject to additional screening.
9. Be Prepared for the X-Ray Screening
Going through the x-ray screening is the last part of airport security, but it's where things can happen that cause delays. It's best to warn your older kids to prepare them for the process.
Here are some tips to remember.
Make sure you remove any excess jewelry before going through screening.
Send the stroller first through the x-ray screening because you'll need it after.
Make sure electronics, such as tablets or laptops, can be easily removed and placed in their own bin. Keep these in a place you can easily access them.
Wear shoes that are easy to take off, and make sure you wear socks since you don't want anyone – kid or adult – walking on the dirty airport floor barefoot.
When you get to the other side, make sure you double and triple check the plastic bins to make sure you didn't forget anything.
10. Be Patient and Stay Calm!
The last important tip when going through airport security with a baby is to be patient, polite, and calm. It may feel like everyone is watching you, but the reality is – they aren't. They all have their own problems, and TSA agents see families come through every day.
They are used to crying babies and frantic parents.
All you have to do is be polite and patient – and that means with other people. The agents see you tried to be prepared ahead of time to make their job easier, and they appreciate that.
---
Going through airport security with a baby doesn't have to be scary or frustrating. With the right planning and knowledge about what to expect, you'll make it through screening and be on your way to an amazing vacation!