Are you ready to escape the coldness and boredom of winter? It's easy to let the cold weather get you down, but instead of hibernating until spring, use this time to try one of the best winter vacations for families and travel some more.
Winter is often one of the best times to travel. Kids are in school, and prices are lower. So, if you're traveling on a budget, traveling outside of peak season is a great tip. Too many people think that you can only travel when it's warm outside, and while those vacations are nice, it greatly limits what you can see and do with your family.
You can find so many ideas for winter vacations for families, but I put together a list of my favorite ideas. Everyone in your family will love these ideas and have a blast, whether you're exploring a new city or hitting the slopes for some skiing time.
Pin this blog for later! ↓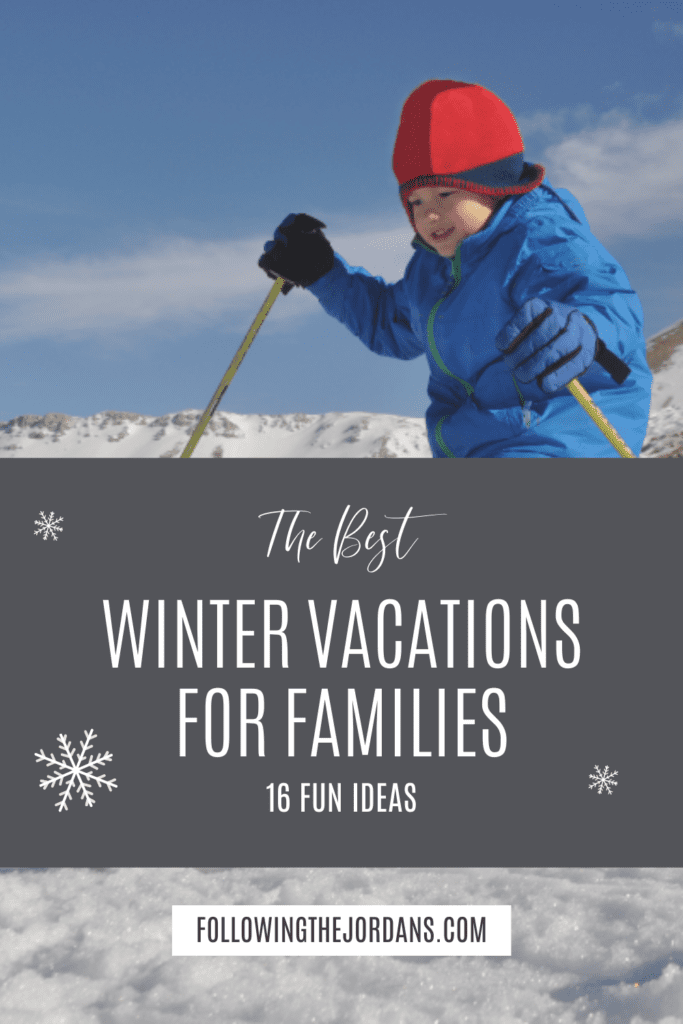 16 Best Winter Vacations for Families
1. Splash at Great Wolf Lodge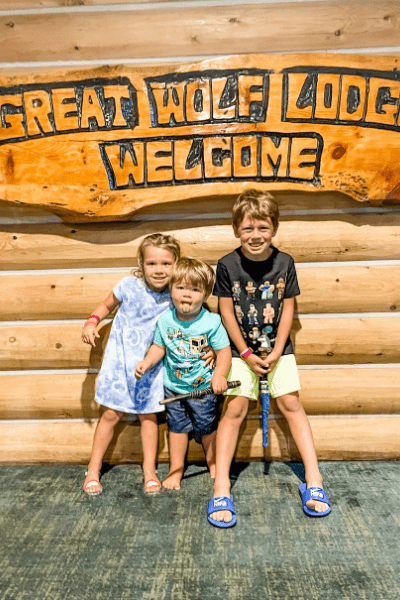 One of our favorite winter vacations for families is to go to Great Wolf Lodge. When it's cold outside, it's sometimes nice to pretend that it's not and lounge in a lazy river or slide down a waterslide. Great Wolf Lodge offers year-round water fun for all ages.
We love visiting Great Wolf Lodge, and they have dozens of locations. Watch their coupons, deals, and Groupon for ways to save money when visiting GWL!
Related: Our Great Wolf Lodge Trip in Concord, NC: A Review
2. Disney World – Orlando, FL
The cool thing is that Disney World is great to visit year round because of the fantastic weather. You might have to wear a hoodie, but the weather is never super cold.
My kids love Disney World – who doesn't? – and they jump at the chance to visit this theme park.
However, if Disney World isn't an option for you, many theme parks are open in the winter and might offer a budget-friendly choice for you.
3. Disneyland – Anaheim, CA
Those in the western side of the United States can still enjoy Disney by checking out Disneyland in Anaheim. It's always one of the top rated winter vacations for families. Disneyland offers different festive activities and plenty of food and dance for everyone to enjoy.
4. An All-Inclusive Vacation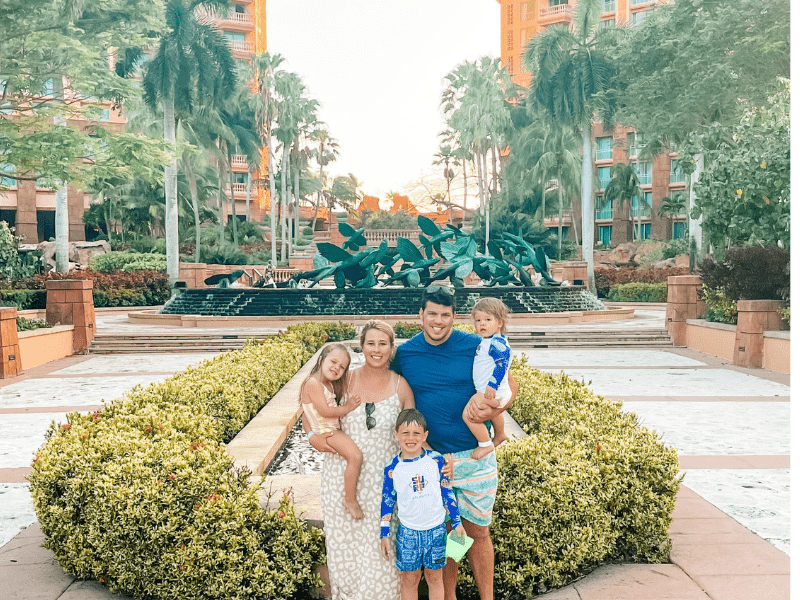 The snow sometimes feels like a drab, so if you need to escape to somewhere warm, Mexico or the Caribbean Islands offer several all-inclusive resorts.
The winter might be cold in most of the United States, but it's still bikini temps in Mexico. It's one of the best time to visit these resorts. The weather is nice, the deals are good, and the resorts tend to be less crowded.
We love to visit Atlantis in the Bahamas; there is so much for kids to do at this amazing resort. It's a destination we visit regularly.
Related: 18 Tips for Saving Money at Atlantis Bahamas
5. Breckenridge, Colorado
Breckenridge is located 9600 feet above level, making it one of the highest resorts in Colorado. This city receives around 300 inches of snow each winter, so you know that winter sports are a thing here. Whether your family love skiing or snowboarding, Breckenridge is THE place t obe.
Aside from that, this area provides gorgeous mountain views, cozy cabins, whitewater rafting, ghost tours, and some of the best snow sculptures.
Breckenridge has charming, Hallmark-movie-like streets, play areas for kids, and museums. You can rent a carriage and explore the whole town. It's truly a dream winter vacation.
6. Hit Up Southern Florida
Southern Florida is still warm in the winter, so it's one of the most popular winter vacations for families. From Key West to Naples, the Sunshine State offers dozens of cities to sink your toes into the sand.
One of the best Florida towns to visit for winter vacations is St. Petersburg, situated right next to Clearwater. This area is an ideal winter vacation destination. You can check out the beaches, Clearwater Aquarium, and the Great Explorations Children's Museum.
Winter doesn't stop all of the amazing things you can enjoy in southern Florida!
7. Honolulu, Hawaii
Honolulu feels like a dream when you step onto the sands after leaving the snow behind. From Pearl Harbor to Waikiki Beach, Honolulu is a world renowned vacation destination that has fabulous weather in the winter.
Kids have plenty to do while visiting the state. Whether you want to soak in the sun and beaches or visit the national parks to see the volcanoes, Honolulu checks off tons of activities on your bucket list. It's a great place for kids to learn how to surf and also see many different marine animals upclose.
8. Gatlinburg, TN
The Smoky Mountains might call your name in the middle of the winter. Even though it's quite cold, you can enjoy attractions like Ober Gatlinburg, known for being a snowboarding, tubing, and skiing destination. Your kids will enjoy visiting Ripley's Aquarium, and parents can enjoy some moonshine tastings.
Gatlinburg truly embraces the winter season. They host the Winterfest, the Great Smoky Thanksgiving Arts & Crafts Show, the Festival of Trees, and more. If you arrive in early December, you'll be able to attend the Annual Fantasy of Lights Christmas Parade, complete with tons of beautiful lights and bands.
9. Visit A National Park
If you don't mind being cold, many national parks are gorgeous in the winter and far less busy. As a mom with three kids, I look for places that aren't so busy. It makes life a lot easier.
You might think that national parks aren't as fun when it's cold, but you'd be wrong. Hiking is something you can always enjoy year-round. Many parks offer skiing, snowshoeing, and plenty of wildlife to enjoy and spot.
10. Take a Skiing Trip
Whether you live somewhere warm and want to try some winter vacations somewhere cold or love hitting the slopes, taking a skiing trip is a great way to spend the winter.
Many family-friendly resorts offer skiing or snow tubing packages. Check states like Ohio, Vermont, Maine, New York, Utah, Colorado, and Pennsylvania for rocking skiing locations.
If your kids have never skied before, don't stress!
Most resorts offer "school" for kids where they teach your kids all they need to know about hitting the slopes. The best part is at the end of a day since most resorts have fireplaces and plenty of hot cocoa.
11. Lake Tahoe
Those living in western states might want to consider Lake Tahoe as one of the best winter vacations for families. This area offers sledding, tubing, skiing, and resorts with on-site childcare for parents who have littles one too small to hit the slopes.
You'll find a plethora of things to do in the area along with cozy cabins to enjoy quiet time together playing games and watching movies.
12. Big Sky, Montana
Big Sky, Montana receives over 400 inches of snow annually – that's a whole lot of the white stuff snowsport fanatics love. It essentially means this area is guaranteed to have excellent skiing conditions, and it tends to have less of a crowd than other larger resorts.
This area has over 5,800 acres of skiable terrain, and it's well connected with many daily direct flights. Even you don't love to ski, Big Sky offers plenty of winter family fun like sleigh rides, snow tubing, and snowshoe tours.
The resort offers zip lining, laser tag, and a climbing wall. This area is close to Yellowstone National Park, so you can check out what this park offers in the winter. You'll need a snowmobile to access many of the areas, but they're easy to rent in the region.
13. St. Thomas, U.S. Virgin Islands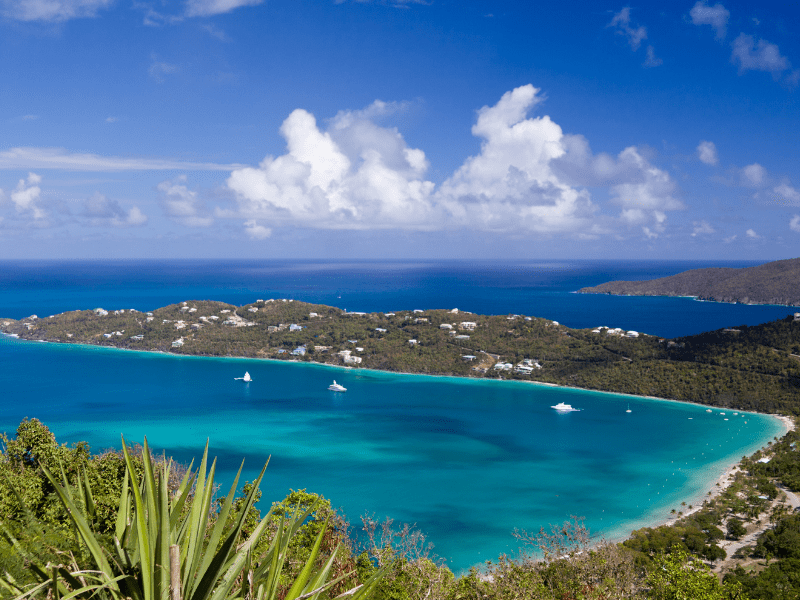 Need a sunny escape but don't have a passport? St. Thomas is for you. The daytime highs in the winter peak around 82 degrees F, so bring plenty of shorts, and it's only a two and a half hour flight from Florida.
St. Thomas is one of the three U.S. Virgin Islands. The other two are St. John and St. Croix. Each island offers something different to enjoy, but one thing is the same at all of them – breath taking beaches and incredible snorkeling opportunities.
The downside is that the winter tends to be the peak travel season for the Virgin Islands, so book in advance!
Related: 10 Amazing Things You Need to Do in St. Thomas, USVI
14. Wisconsin Dells, Wisconsin
Never heard of Wisconsin Dells? Then, you're missing out! This town calls itself the "Water Park Capitol of the World," and with over 24 hotels and resorts with water activities, that title is well deserved. It's the home of Wilderness Resort with eight water parks!
You'll also find the largest indoor wave pool in America here and more lazy rivers than you could count.
15. Check Out NYC
Sometimes, the best thing you can do in the middle of the winter is explore a new city. New York City is the first choice for many families; it has endless activities, even in the winter.
Check out a Broadway show, take a carriage ride in Central Park, visit museums, and enjoy the sights and sounds of the city.
16. Visit Washington, D.C.
Another city that families love to visit for winter vacations is Washington, D.C. Our capital city has 17 Smithsonian Museums you can enjoy – FOR FREE! Walk the National Mall, take a boat ride, and spend a weekend getting away with your kids.
---
Have some fun this year and escape on one of these best winter vacations for families. Traveling isn't just for the summer; embrace winter traveling and bring more experiences to your kids!
Check Out These Other Vacation Destinations!