We love a relaxing, fun lake day with the kids, but packing for a lake day takes some consideration. Our family spends time at our local lake, boating, swimming, eating yummy food, and playing in the sand. I put together a list of things that you need to pack for a lake day with kids; I hate forgetting something that I need.
Our family heads to the lake so often in the summer that I have a designated lake bag and collapsible container with the supplies needed. I wash everything and put them right back into the bag, knowing we are headed back soon.
There's no use in unpacking something to pack it again in a few days.
If your family plans to hit up the lake as often as our family, here are some things you need to pack for a lake day with kids.
17 Things You Need to Pack for a Lake Day with Kids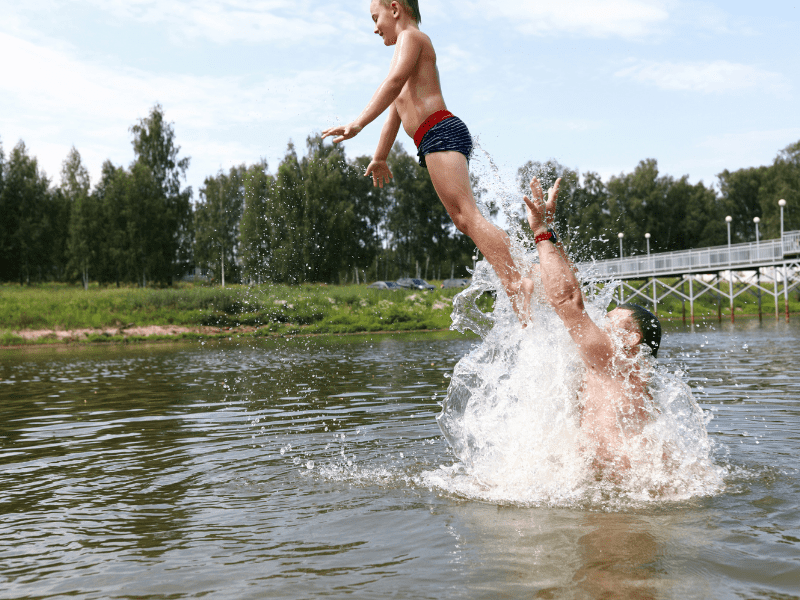 I like to be prepared, but it doesn't always work that way. Since we love to travel, I've been working on packing lists of things I don't want to forget. Here are some of my must-have items for a day at the lake.
1. Cooler
First and foremost, you need a cooler to keep your food and drinks cold, especially on hot days. Your kids will be busy, and heat is a real problem.
Chances are you'll be grilling some food; burgers and hot dogs are typically grilling foods, but we often grill barbeque chicken and some potatoes. I love potatoes with cheese, baked on the grill in an aluminum pan. It's so good!
We use a cooler with wheels so that we can easily bring it with us from place to place. Our favorite cooler that won't blow the budget for a lake day is the Coleman 50-Quart Rolling Cooler. Coleman says that this cooler can keep ice cold for five days in temperatures up to 90°F.
I've never tested that theory, but it works great to hold everything our family of five needs for a day at the lake.
2. Drinks
Drinks are a MUST when you go to the lake, and I don't mean just alcoholic beverages.
We bring plenty of water, Gatorade, Capri-Suns, and some soda. I won't lie; we pack some alcohol as well, but since we often spend time driving the boat, that's never overdone.
My current favorite is the BABE brand canned wine.
3. Plenty of Snacks!
Don't forget the snacks. You need food for lunch and maybe dinner, but when kids are busy, they want to eat. I like to have different foods set out on the table or on boat's bench seat for the kids to enjoy throughout the day.
A few of our favorite lake day snacks include:
Cheese and crackers
Fruit tray
Chips and dip
Cookies
Pasta salad
Cheetos
Uncrustables
4. Sand Toys and Goggles
Don't forget the beach toys! My kids can spend hours in the sand, playing and building sand castles. I keep a container of sand toys that I gather up before we leave; they stay in our lake gear bag.
I also always toss in a few kids' goggles in our lake bag. The kids love to splash and swim, so goggles are a must.
Personally, I don't understand because you can't see anything in lake water anyway, but my kids swear goggles are a must-have at the lake!
5. Sunscreen
You always need to have sunscreen when you head to the lake; I need plenty of bottles on hand. The glare off the lake will cause a sunburn in no time.
I pack sunscreen for the kids and a different sunscreen for my husband and I. The new sunscreen are a game changer. No more accidentally spraying your kids in the eyes 🙂
Just make sure you have plenty to last the day that you'll be there.
6. Bug Spray
One thing that is different about going to the lake compared to the beach is the bugs. You don't have as many bugs at the beach, but the lake has plenty.
I'm not a bug person. I love spending time at the lake, watching the kids play, and enjoying my time. I don't enjoy all of the bugs that come with a day at the lake, so I make sure I always have bug sprays.
When I buy bug spray, I have to make sure it's DEET-free; deet is shown to have neurological side effects on children. So, it's not worth the risk, but I want to make sure it works.
I have three favorite options for bug sprays at the lake:
7. Grilling Supplies
Most lakes have grills for everyone to use, but if yours doesn't, you'll need a portable grill to cook hot dogs and burgers. You'll want to bring things like:
Lighter
Charcoal
Lighter Fluid
Aluminum Foil
Cooking Spray
Plates & Forks
If you aren't sure, call and ask the lake if they have grills available for visitors. Most have them near picnic tables or pavillions.
8. Trash Bags
I always suggest having trash bags with you. You can gather up the trash that you create on the boat or while cooking. If anything, you can use the trash bags to store wet swimsuits and towels so they don't stink up your car.
9. Life Jackets and Floaties
While swimming, kids need to have a safety floating device to prevent injury or drowning. Everyone has different thoughts on what works best for kids, but we have always used ">Puddle Jumpers. My kids love Puddle Jumpers; they have the most flexibility with these and feel the most comfortable.
Don't forget to bring a fun floatie for you too!
10. A Large Beach Bag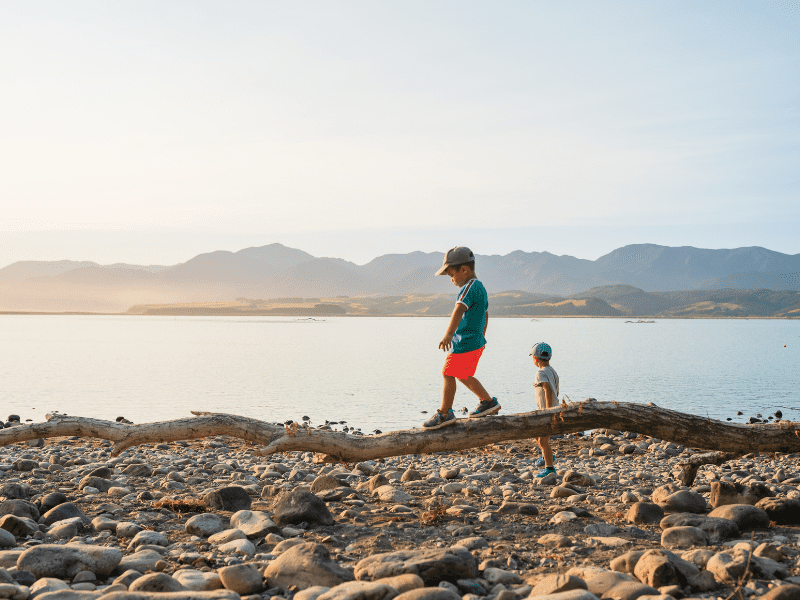 You need a large beach bag that can handle all of the things that you need to bring to the lake with you. It's one of the most important thing to pack for a lake day with kids; it keeps everything in one area.
I have a HUGE beach bag from Shylero; it holds everything we need with room to spare. If you follow me on Instagram you know that I also rave about the Bogg Bag. I have a large and small. The large holds my whole house–kidding, sort of. 
Some people like mesh bags because it helps to the sand out of the bag, but my problem with mesh bags is that they don't provide enough support to carry what I need. Inevitably, the shoudler straps end up digging into my skin, and I toss them out before too long. A bag with comfortable, durable straps is vital for a lake day with kids.
11. Beach Chairs
It might not be the beach, but you still need a few beach chairs. I put my beach chair at the edge of the water and watch my kids play and splash. When you go to the lake, you want lightweight chairs that fit into your wagon or won't kill you carrying to the beach area.
My favorite beach chairs are the Coleman Camping Chairs. These aren't too expensive, they sit low in the water, and they have a cup holder. Plus, the chairs only weigh five pounds each.
12. Sunglasses or Sun Hat
Don't forget to pack sunglasses or a sun hat for your kids and you! Sun hats are great if your kids don't have much hair to protect their scalps from the sun. Toddlers rarely keep on sunglasses.
Bring something to cover your eyes! That's a must-have when packing for a lake day.
13. Towels
Don't forget to bring plenty of beach towels with you when you go to the lake. I bring, at least, one towel per person, but sometimes, I bring extra because my kids always seem to need more than one towel.
14. Extra Clothes & Swimsuits
Make sure you bring extra clothes and swimsuits; you don't want to forget the swimsuits for a lake day! I always take extra clothes for my kids because, inevitably, they end up messy or wet after putting their clothes back on again. If you have little babies, make sure to pack extra diapers/wipes and swim diapers.
That's why I keep plenty of clothes in my beach bag, packed for all of our lake days!
15. Swimsuit Cover-Ups
I love swimsuit cover-up; I have several that I keep to use when we go to the lake. My kids like to swim, then boat, then swim again, and I never want to change. So, I throw on a cover-up and don't need to change.
I bought the Harhay Women's Swimsuit Cover Up, and I receive so many compliments when I wear it. It's so pretty, lightweight, and rolls up small, so it takes up no space in the beach bag.
16. A Small First Aid Kit
I suggest keeping a small, travel-sized first aid kit in your beach bag when you head for a lake day with kids. Kids are accident prone, so you never know when you'll need to have bandaids or anything else on hand.
If your first aid kit doesn't include Benadryl and sting cream, make sure you include that. Unfortunately, my kids have been stung at several different lakes, so it's worth having things on hand for potential bee stings.
17. Wagon to Haul It All!
Last, but not least, you need to have a wagon to haul everything. Most lakes are large, and unless you have arms of steel, you don't want to carry everything with you. A collapsible wagon fits in the back of most vans or SUVs, and it makes carrying everything you need for a lake day with kids much easier.
We have the Mac Sports Collapsible Utility Wagon; it's the best. We've had it for over two years; the kids sit in it often when we go places, and I use it to haul bags or supplies when we travel.
Enjoy Your Lake Day with Kids!
Packing and being prepared is the name of the game. Whether you're going to the beach or the lake, you want to know what you need to bring to have a good time. Make sure you bring all of these things for a lake day with kids; your family will have a blast!
---
Shop My Lake Day Recommendations