Disney World is a dream vacation for many families, but the truth is that going to Disney costs a good deal of money. Traveling to Disney on a budget is possible if you know all the right tips and tricks.
It's crazy how expensive Disney World truly is.
If you look at some of the resorts, it's not unusual for some suites and rooms to cost over $2,000 a night! Plus, the parks cost a minimum of $109 per day. If you have a larger-than-2-kid-family, these prices add up fast.
Thankfully, there are ways to decrease the overall cost of going to Disney World. Here are some tips all families should use when visiting these parks.
Pin this blog for later! ↓
Related: How to Afford Disney World: 14 Money-Saving Tips
17 Tips for Traveling to Disney on a Budget
1. Visit During Non-Peak Times of the Year
When you're traveling to Disney on a budget, picking the right time of year is a big deal. The prices and crowds change dramatically throughout the year, and if you pick a more popular time to go, it'll cost more money and be super busy.
Spending holidays at Disney sounds amazing; the parks are so festive. However, you'll see the peak costs for tickets between Christmas and New Year's reach up to $159!
Mid-January to early March and late August to the end of September are two times when the prices are best and crowds are lower. Also, visiting during the week is cheaper and less busy than weekends.
Related: Planning a Trip to Disney During Christmas: 10 Tips You Need
2. DO Stay on Site
It's tempting not to stay on site because the Disney resorts cost more money than staying off-site. This comes down to personal preference, and I prefer to stay on site because of the amenities and free activities. Otherwise, I would have to fill more time with other activities for our kids.
For example, most resorts offer fantastic pool areas, a great place to go instead of staying all day at the parks. They also have free activities; watch the calendar for the resort you pick to stay. They may have movie nights under the stars, craft times, and more. These activities are part of the price you pay.
However, if you don't plan to use any of these amenities, then it will save you money to stay off-site. Expect to have transportation and parking costs though! Parking costs vary from $25 to $50 a day.
Disney offers budget-friendly accommodations for families. Their Pop Century and All-Star Movies hotels may not be the most bougie, but they are nice and comfortable. If your family has an RV or loves camping, head to Disney's Fort Wilderness Resort for a seriously wallet-friendly location.
Related: 10 Best Resorts in Disney World for Toddlers
3. Drive not Fly
Flying is faster and saves time, but if you're traveling to Disney on a budget, you may have to sacrifice. Not only will you save an incredible amount of money on airfare, but you also can transport grocery supplies easier with you.
Having your car with you means you can go to destinations outside of the resort for your off days and times. You also could hit up cheaper restaurants for dinner rather than the pricey resort restaurants.
4. Buy Discount Disney Gift Cards
One of my favorite reasons to shop at Sam's Club is that they offer Disney gift cards for a discount, and Target does as well if you use their Red Card debit card.
Stash your Disney gift cards away! You can use these to pay for park tickets, hotels, food on property, and more. If you do this for a year, it's a great way to prepare for spending at the park and save a bit on your overall cost.
5. Buy Tickets Ahead of Time
It pays to be ahead of the game and plan ahead. Regular rates start at $109 per person for a single park day, but if you stay longer, then the price drops. if you stay five days, the price is $83.
So, if you know you are going to Disney, don't wait to buy tickets. They tend to change their entrance fees every year, so buy before an increase happens.
6. It's Okay to Skip Parks on Some Days!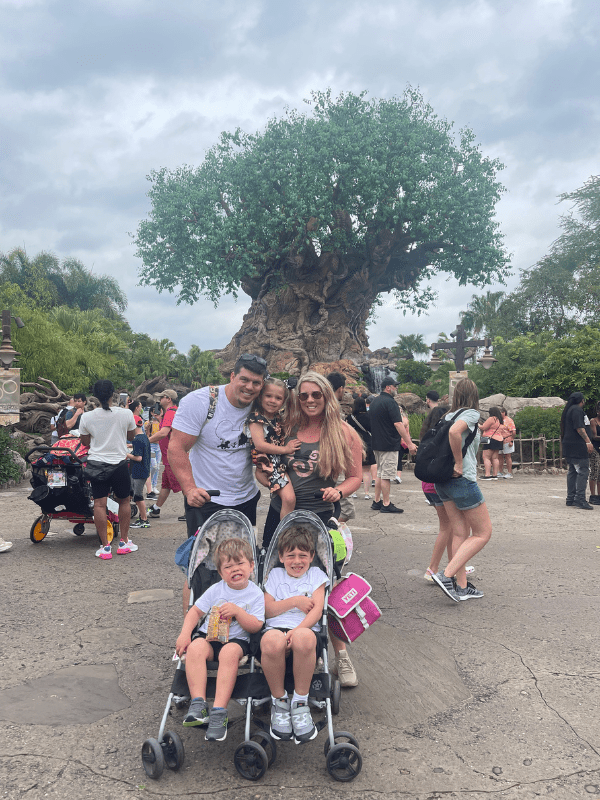 I know; the main reason you visit Disney World is to go to the parks, but you don't have to visit them every day of your trip. Not only does your body need a break, but Disney World has a lot to offer.
If you decide to stay on property, the pools at the hotels feel like a waterpark. Plus, you can go to Disney Springs for shopping, free entertainment, and restaurants. You get to see fireworks every evening.
Sometimes, you just need a break – a day to relax and prepare for the rest of the trip. This also saves you money since the tickets each day are expensive!
7. Enjoy the Free Activities Offered by Disney World
You will be pleasantly surprised by all the fun, free activities offered by Disney World. It's like its own world, and there is more to this resort than just the parks. You'll find so many activities to enjoy.
Fort Wilderness hosts campfire sing alongs with s'mores included, or walk through Animal Kingdom Lodge and see the animals near the property.
Disney Springs has all sorts of things to do with your kids like checking out the shops and restaurants. They have a free boat ride to go from one side of the boardwalk to the other side, and the Lego Store has all sorts of play tables to enjoy!
Related: 14 Free Activities at Disney Little Kids Will Love
8. Visit One Park Per Day
As much as it feels like a great deal to get the park hopper pass and access to all parks each day, this will grow your expenses.
A one-day ticket is $109 for ages 10 and up, but a Park Hopper ticket is $174. That's a saving of $65 per day per person. If you are a family of four staying for six days, that's $1,560 off your total price!
It's easy to get ambitious with what you can get done each day, but moving from park to park takes time. If you have little ones in tow, it takes more work than you imagine. Consider doing the Park Hopper for only a few days for the less popular parks you may not spend a full day visiting.
9. Consider Skipping the Dining Plans
Disney World has some of the best food options – give me all the food possible. Many visitors select the dining plans, which are a prepay option for meals on Disney property. However, despite what you may think, these are not always money savers, even if you get them for a good price.
10. Plan Out Your Meals
Even though you should skip the dining plans, it's a good idea to plan out your meals. Your day will go by fast, and while planning ahead seems crazy, it will help you in advance.
If you have Disney app, you can find the most popular times for restaurants and their average wait time. In general, it's best to avoid restaurants during their peak season. Grab a few more snacks and wait until then.
Pick where you want to have lunch and dinner in advance, and get reservations for those. It will help you avoid waiting in lines, and you can plan your days around that. You also can plan how many snacks you need to bring.
Related: 10 Best Breakfast Buffet in Disney World for Families
11. Bring Your Own Food
Along those same lines, I recommend bringing your own food when traveling to Disney on a budget. Disney allows visitors to bring coolers with outside food and drinks into the park. Disney Resorts also allow visitors to ship drinks and snacks to their hotel room in advance.
Bringing food from home is cheaper and helps with snacking. You can hold off on those long line times.
Related: Best Cooler for Disney World
12. Have a Reusable Water Bottles
Skip buying the costly bottles of water at the park and bring reusable water bottles for each of your family members.
It's important to stay hydrated, especially when walking between rides and restaurants. Your body will feel like you ran a marathon in the Florida sun.
Quick-service restaurants provide water and ice for free, but if you prefer bottles, that will cost you $5. Bring reusable bottles and fill up for free throughout the park.
13. Eat a Larger Lunch
Lunch menus tend to cost less than dinners. Try to plan your meals so you eat a late yet large lunch and you can enjoy a smaller dinner and save the money.
There are still pizza joints around Disney you could enjoy for dinner. Or, at dinner, you could order a few adult meals and share as a family instead of everyone ordering their own meals.
14. Skip the Character Meals – Unless REALLY Wanted
Unless your little kid is dying to have dinner with their favorite character, these mats aren't really worth the costs. Most of your favorite friends are throughout the park; make it a challenge for your older kids to find them.
15. Buy Souvenirs Ahead of Time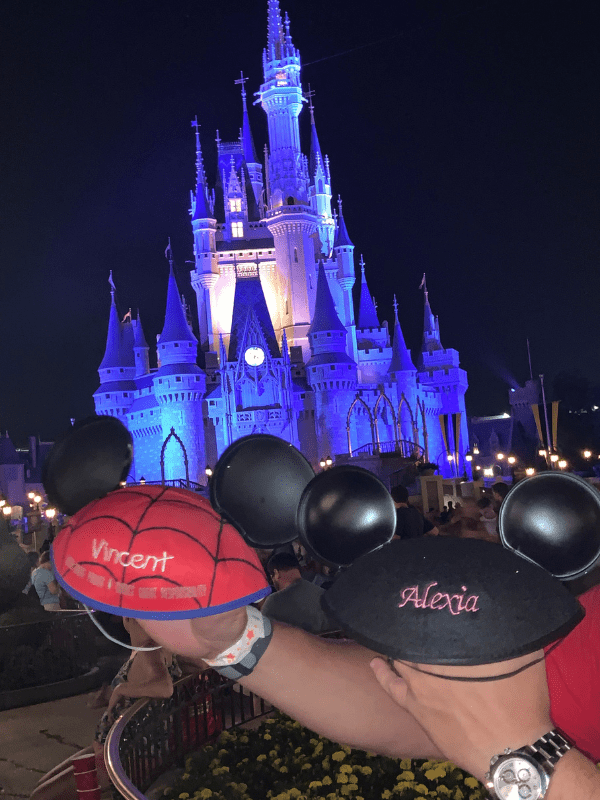 Kids always want the fun and adorable souvenirs to take home with them like the classic Mickey ears. However, the prices are the parks are ridiculous. A set of Mickey ears are around $30; you can get them much cheaper elsewhere.
You also can order souvenirs online like little toys, bags, or whatever your kids like. Surprise them with gift bags rather than stepping foot in the overpriced shops!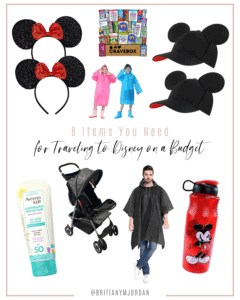 Kids Rain Poncho // Mickey Ears // SunScreen // Mickey Hats // Single Stroller // Snack Pack // Disney Backpacks // Double Stroller
16. Bring Your Own Stroller
If your child is six years old or younger, I suggest a stroller, as long as they fit within the weight range. Disney charges around $15 per day to rent a single stroller, and double strollers are double the price.
If you stay for a week, you are spending a good deal of money on a stroller. I bet you already have one at home, so bring it! Another option is it might be cheaper to buy a new stroller and leave it there when you leave rather than rent a stroller.
Related: 7 Best Double Strollers for Disney World
17. Pack Well!
Something else that is important when traveling to Disney on a budget is to pack well. Everything you forget and need to buy is money out of your budget.
For example, Florida is sunny and hot; you need to make sure you pack enough sunscreen. Buying bottles at the resorts will cost 40-50% more than your local grocer store at home. The mark-ups for convenience are insane; don't fall prey to them.
Something else I suggest you pack is rain ponchos. These are incredibly cheap online, costing around $2 each. However, the ponchos at Disney cost nearly $10 each. You pay the price for not preparing and convenience.
Doing Disney on a Budget
While Disney is still not the cheapest vacation, even if you do all the money-saving tips, traveling to Disney on a budget is still possible. Use these tips, and you'll have a great time with your family without blowing your budget.