New York City – the city of lights – is magical during the holiday season. It's hard to beat this city as a winter vacation, and the amount of entertainment options. So, it's easy to find TONS of things to do with kids in NYC for Christmas.
Christmas and NYC go together like peanut butter and jelly.
Walking through the city shows you windows full of decorations. Central Park is a destination by itself in the holiday season. Don't forget all the shows! The city has plenty of things to do with kids in NYC for Christmas – let's look at the top picks!
Pin this blog for later! ↓
Related: 15 Best Christmas Vacations for Families to Make Memories Together
12 Things to Do with Kids in NYC for Christmas
1. Watch a Show at Radio City Music Hall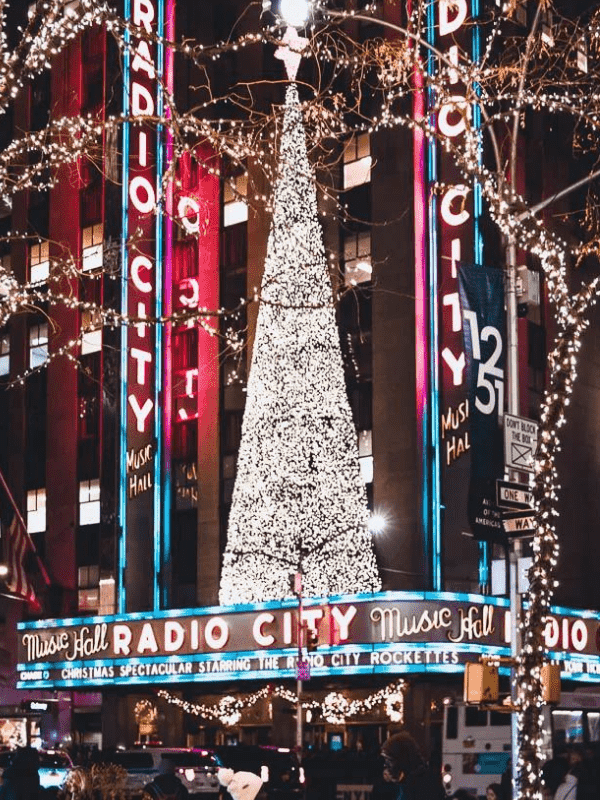 One of the best things to do with kids in NYC for Christmas is to visit the Radio City Music Hall and watch the Rockettes during one of their Christmas performances.
Everyone loves watching their high-kicking dances, and Radio City also has a living nativity for families to enjoy. The entire show is 90 minutes long, and with so much going on during the show, your kids won't be bored at all.
2. Check Out the Rockefeller Center Tree
No trip to NYC during Christmas is complete with a stop at Rockefeller Center. The Christmas season in the city kicks off with the huge tree-lighting ceremony, but you can stop and see the tree every Dady after that.
Visiting the tree is always free, and kids find it fascinating! It's massive!
3. Visit the New York Botanical Garden Holiday Train Show
Train displays are always a favorite for little kids, and none come close to the NY Botanical Garden's annual display. This tradition is over 30 years old, and each year, they add a new model to the display.
The NYBG has over 25 models of trains, including Thomas the Tank Engine. They take a lot of time to put together this display, and it's evident! You'll want to buy tickets ahead of time for this event because it sells out fast.
4. Go Ice Skating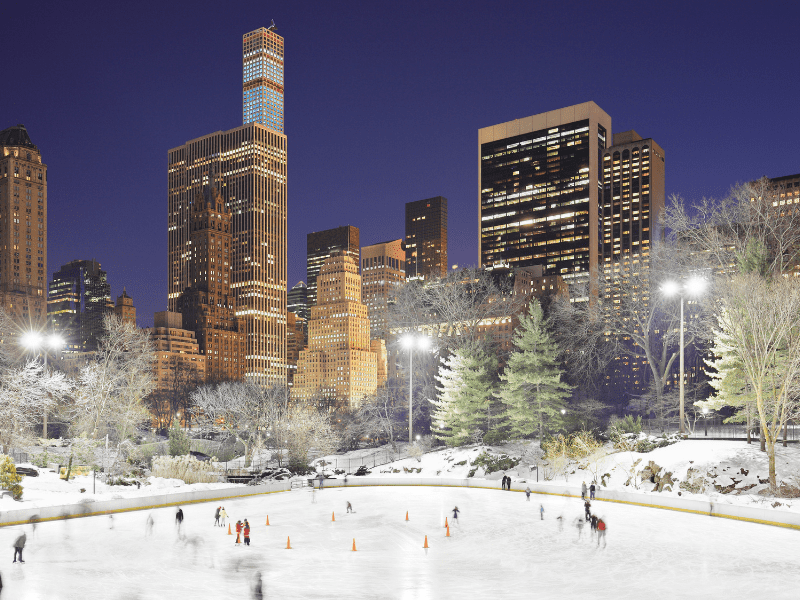 The city is full of ice skating locations for kids, and with the tall buildings as backdrop, you have to make sure enjoy this with your kids.
Most people know that Central Park and the Rockefeller Center offer ice skating, but those areas are often crowed. The Rink at Byrant Park is a bit less busy, especially during the day.
I highly suggest you make online reservation and drive before your session. All ice skating rinks offer 90 minute sessions, so you might be in for a long wait unless you plan ahead of time and get there at the right time.
5. Watch The Nutcracker
Every year, The New York City Ballet performs The Nutcracker, a classic Christmas performance. They offer matinee and evening performances throughout November and December.
6. Go to Gingerbread Lane
The New York Hall of Science hosts the Gingerbread Lane every year; this is the world's largest gingerbread village. They're in the Guinness World Records!
Kids think Gingerbread Lane is magical, especially when they know it's all edible. The display starts at the end of November and runs through January. On the final day, every piece is given away to visitors until it's complete gone.
There is more to do at the New York Hall of Science, like tons of workshops designed for children aged 4 years old and up. They can decorate their own gingerbread house and trains!
7. Check Out Holiday Window Displays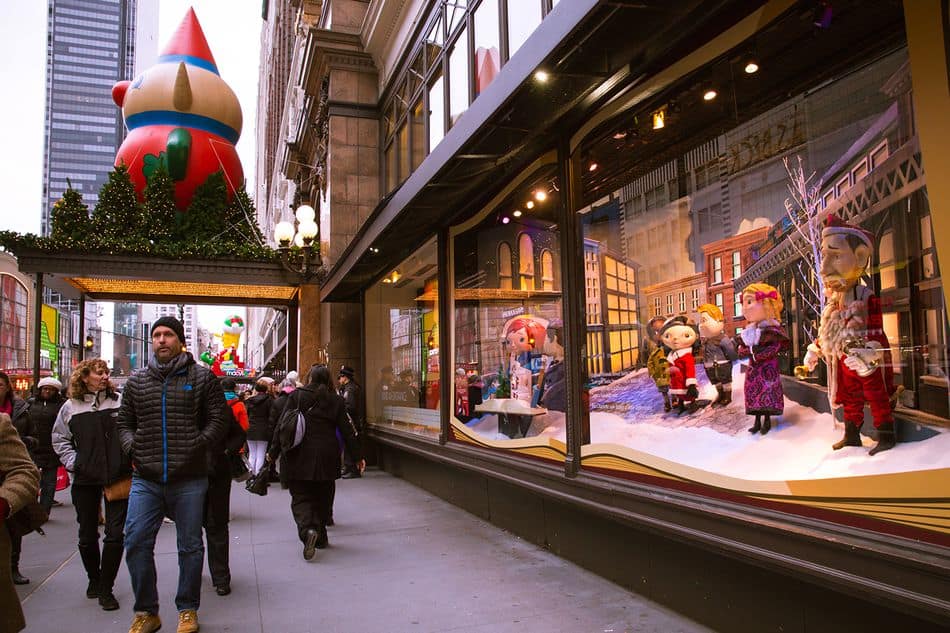 One of the best things to do is take a stroll and view the amazing holiday window displays throughout the city, especially Barney's and Bloomingdale's!
Many department store windows are known for being serious decked out each year, starting around Thanksgiving and going into the New year. These displays are more than just showing off new clothes; they often have music and moving parts.
Believe it or not, the streets often get crowded near the displays, so get there early if you arrive on a weekend.
8. Visit the NYC Winter Lantern Festival
Take a ride over to Staten Island and check out the NYC Winter Lantern Festival. It's hosted every Friday, Saturday, and Sunday throughout the holiday season, and it's so fun!
Your kids will get to see eight acres of lights and displays, some over 30 feet tall. They have interactive light projections, a DJ, children activities, and more.
One of their new additions is the wish lanterns that families decorate and bright home as a reminder of your time.
9. Visit the Christmas Markets
New York City has plenty of shopping and markets, but the holiday markets throughout the city are amazing.
You'll find tons of unique gifts, toys, and treats. The largest market is the Holiday Shops at Byrant Park; it has a European feel that is magical. You also can check out the market at Union Square and Columbus Circle.
Bryant Park hosts over 100 food and shopping stalls, and Santa always visits for pictures with kids. Columbus Circle has traditional, German-style stalls throughout their market.
10. Drink Lots of Hot Chocolate
December is cold in New York City, so as you explore the city, take the opportunity to indulge in hot chocolate. Many places throughout the city serve it.
One of the best places to get hot chocolate in NYC is Serendity 3, located on East 60th Street. It's a legend, and they sell their hot chocolate for $8 a cup. It's worth it – trust me!
Another stop for hot chocolate is Max Brenner Chocolate Bar, located in Union Square. They sell tons of chocolate goodies for your family to enjoy, and they even have a dedicated kids menu.
11. See Santaland at Macy's
There are plenty of places throughout NYC for your kids to visit Santa, but no place is better than Macy's Santaland. This is an immersive spectacle; Macy's puts together a 13,000 square foot Christmas village with live elves, an enchanted forest, animatronic toys, and more.
At the end of Santaland, you get to meet the man in red. They offer photo packages as well!
12. Go to Dyker Heights in Brooklyn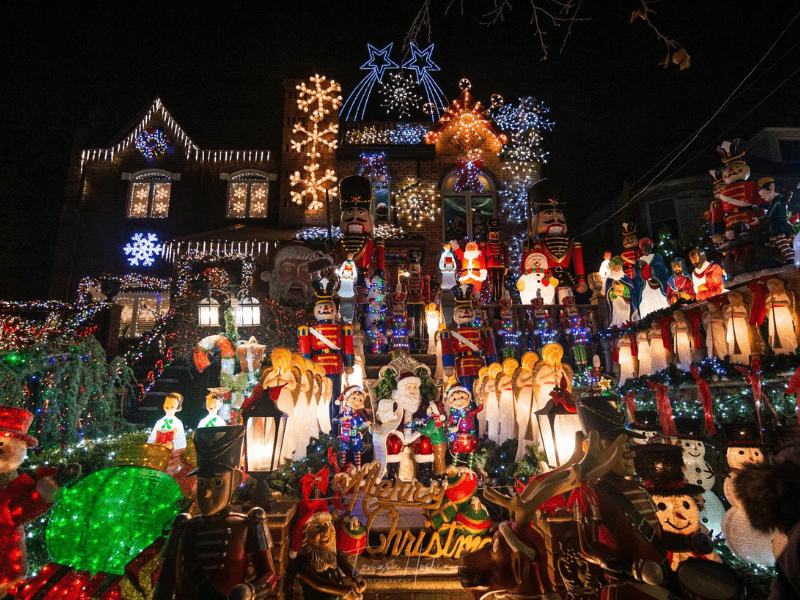 The city feels a bit overwhelming at times, so escaping to Dyker Heights plops you down in the middle of what feels like a small-town Christmas.
Dyker Heights is a few blocks in South Brooklyn that put together over-the-top decorations every year. It started as simply a festive display and has turned into a destination every year.
The light displays begin after Thanksgiving and run through the New Year's. The area gets a lot of crowds throughout the weekend.
---
New York City is magical during the holiday season, and there are so many things to do with kids in NYC. Plan to try a few of these fun activities to make wonderful memories together!