Traveling to Disney during spring break is a great idea! The weather is perfect – not too hot yet not too cold – and you'll have so much fun together as a family.
It's no surprise that thousands of other families have the same idea and hit up Disney World during spring break as well, so crowds are a bit heavier. However, don't let that stop you! All you need is a good plan and some good tips to get you through your visit like a pro.
So, before you book a surprise for your kids, read these tips and make your spring break trip to Disney a huge success!
Pin this blog for later! ↓
Related: 10 Best Breakfast Buffet in Disney World for Families
Is Disney Too Crowded During Spring Break?
Spring break varies from school to school throughout the United States, so instead of having one week with spiked attendance, Disney experiences several weeks in the spring with higher crowd levels. Spring break is more of a season than a set week or day.
Typically, the spring break season begins in early March and ends around Easter, but that date changes each year. Typically, a later Easter means a longer, but less crowded spring break season.
Also, weekends are almost always busier during this timeframe.
What Should I Wear to Disney on Spring Break?
Figuring out what to wear to Disney during spring break is tricky. Florida weather is all over the place during these months. It feels warm and cool, wet and dry, so you have to be prepared for all weather types.
Here is what you should pack.
Swimsuit
A sweater or lightweight jacket especially with a hood for rain
Ponchos or rain jacket
Comfortable shoes
T-Shirts
Long Sleeves
Shorts
Capris
Pants
In general, March and April are not months for tank tops and sleeveless shirts. Expect warm or chilly days, so capris with a t-shirt or a hoodie work great. Some days, shorts and a t-shirt are ideal, while others will need pants and long sleeves. Check the weather and pack well before you leave.
Luckily, there are stores close to Disney if you need to grab some long sleeves that you didn't pack.
9 Tips for Traveling to Disney During Spring Break
1. Book Your Hotel & Dining Reservations ASAP
Disney World loves when you book early; that's when you tend to get the best rates and deals. So, as soon as you decide you want to go to Disney during spring break, book your hotel!
Also, booking dining reservations is a great idea. Not only does it stop you from having to wait in line, but it also lets you eat when you want where you want.
Some reservations fill up fast. Disney lets you make dining reservations up to 60 days before your arrival, and some locations like Cinderella's Royal Table, Ohana, and Chef Mickey will book up early. Your best bet is to book on your 60 day mark.
2. Get to the Theme Parks Ahead of Opening
One of the most important tips when traveling to Disney during spring break is to get there early. Arrive at whatever park you want to visit that day the most before opening, waiting in line. Then, head to the most popular attractions you want to see. In the first hour or two after opening, lines for rides tend to be at their shortest.
Disney often starts letting people in before the posted opening time, so arrive 30 minutes before the park opening.
We know that Magic Kingdom lets guests enter Main Street USA up to 30 minutes before the park opens, as does Animal Kingdom.
Another perk of arriving early is parking. The sooner you arrive, the better parking spot you get. Disney once again offers tram cars to their parking lots, helping you avoid the long walk.
3. Use Your Extra Magic Hours Wisely!
Speaking of getting to the parks early, Disney offers a great perk for those who stay on property. Select properties offer Extra Magic Hours, giving you anywhere from 30 minutes to one hour extra inside the park before the general public enters.
However, since Disney has around 30,000 hotel guest rooms, the park even gets crowded during these hours.
You have a few ways to use these hours.
First, go to less crowded parks, enjoying the attractions that you want to see. Everyone goes to Magic Kingdom first, so that one attracts the most attention.
If you have teens and young adults in your group, many won't mind stay late into the evening at the park. With little kids in tow, this may not work, but the teens in your family may love riding late at night.
Some hotels offer a water park option for your Extra Magic hours. Go to the water park after hours since arriving late is no problem. Ride the most popular options at the end of the day when crowds are thin rather than hitting them up first.
4. Use FastPass & Advance Reservations to Your Advantage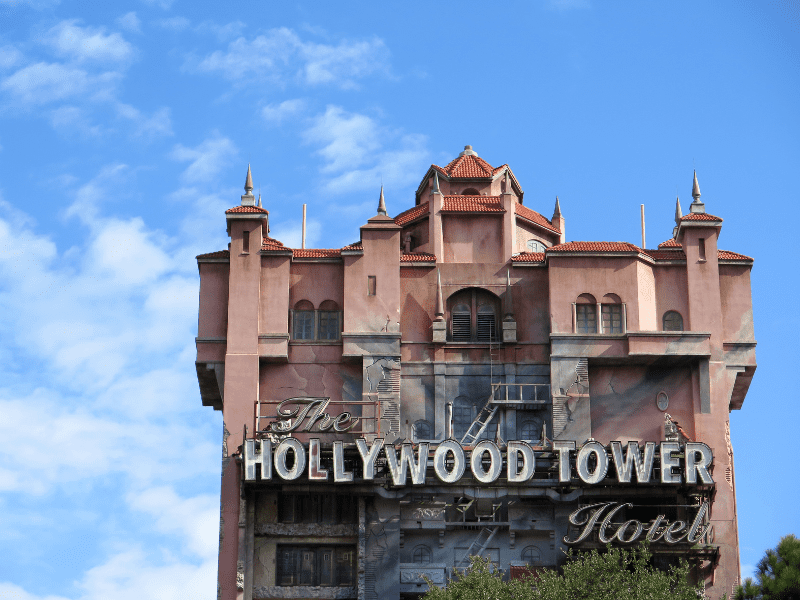 If you start at Disney World "Good Neighbor" hotel, you can make FastPass+ reservations up to 60 days before arrival. If you aren't staying at Disney hotel, you can make reservations 30 days prior to your arrival, as long as you purchased theme park tickets and have your numbers.
Guests have three FastPass+ reservation limits per day, and you can add one more same day reservation once.
Ideally, you use the FastPass+ to book rides with the longest wait times. Here are a list of some rides to consider using your FastPass+ with.
Magic Kingdom: Seven Dwarfs Mine Train, Enchanted Tales with Belle, Anna & Elsa, Peter Pan's Flight, Big Thunder Mountain, Splash Mountain, and Space Mountain.
Animal Kingdom: Avator Flight of Passage
Hollywood Studios: Mickey & Minnie's Runaway Railway, Millennium Falcon: Smugglers Run, or Slinky Dog Fish – you can pick ONE of these. Then, their second tier lets you pick two of these rides: Tower of Terror, Rock 'N Roller Coaster, & Toy Story Mania.
Epcot: Pick 1 Ride – Frozen Ever After, Soarin', and Test Track.
FastPass+ is free; it's part of the price of admission, so failing to use them is definitely not something you want to do. When visiting the park at busy times like Disney during spring break, all reservations will be distributed by noon.
4. Know Your Plan When the Parks Open
So, you got to the park early, and you headed in ahead of most other guests. Use this time wisely to get to some rides that traditionally have long wait times.
Animal Kingdom: Use your FastPass to book Avatar Flight of Passage, and hustle over to Expedition Everest when the park opens. However, if rollercoasters aren't really your family's thing, the Africa area holds the ride Kilimanjaro Safari. Then, check out the first Festival of the Lion King.
Hollywood Studio: If you didn't use your FastPass for Toy Story Midway Mania, head there first. Otherwise, the line will be horrible the rest of your visit. Other great options are Runaway Railway or Millennium Falcon, but thriller seekers should check out the Tower of Terror.
Epcot: You only have one FastPass here, so use your time to ride the opposite: Test Track or Soarin.
Magic Kingdom: You have several options, and it all depends on what you want to do the most. Pick between the Seven Dwarfs Mine Train or Space Mountain, or head over to Splash Mountain and Big Thunder Mountain. Families with small kids more than likely want to hit up Peter Pan, Winnie the Pooh, Dumbo, Mad Tea Party, and Under the Sea.
5. Understand Disney Transportation Ahead of Time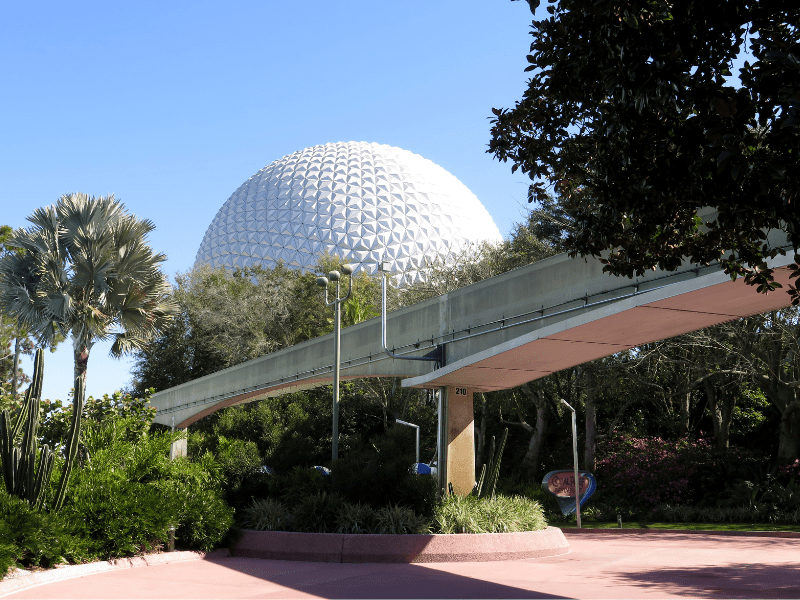 Something that trips up guests all the time is the multiple transportation options offered to Disney guests. Disney transportation is complimentary, but the wait times often are long.
Buses, boats, monorail cars, and Disney Skyliner tend to fill up quicker, and you may find yourself waiting through several cars before getting a turn.
It's also possible to drive your own car around Disney! That means you get to have your own schedule, but know that parking booths don't open until an hour before the parks are scheduled to open. Walt Disney World Resort guests pay for overnight hotel parking, but the parking at the theme parks is free.
6.Have Your Essentials
Parents need to plan their trip to Disney during spring break like a battle plan, with all the necessities lined up and ready to go.
It's not summer during spring break, but that doesn't mean it won't get hot in Florida. Having hand-held fans and sunscreen is a must-have for Disney in the spring.
Another thing to consider is that it rains often in the spring, so bring rain ponchos! Don't pay the high price at the park for ponchos.
Also, always bring refillable water bottles to the park; they have refilling stations fro free. It helps save you money and keeps you hydrated.
Related: 5 Best Stroller Fans for Disney in 2022
7. Bring Snacks with You
Eat breakfast before you come to the park; I suggest grabbing breakfast at your hotel. Most offer some sort of breakfast foods, or grab food to keep in your hotel room.
Also, make sure you bring snacks and drinks with you when you head to the parks. It helps hold your kids over to a less busy time to grab lunch or dinner, and the snacks in the park cost a small fortune.
8. Don't Dine at the Prime Times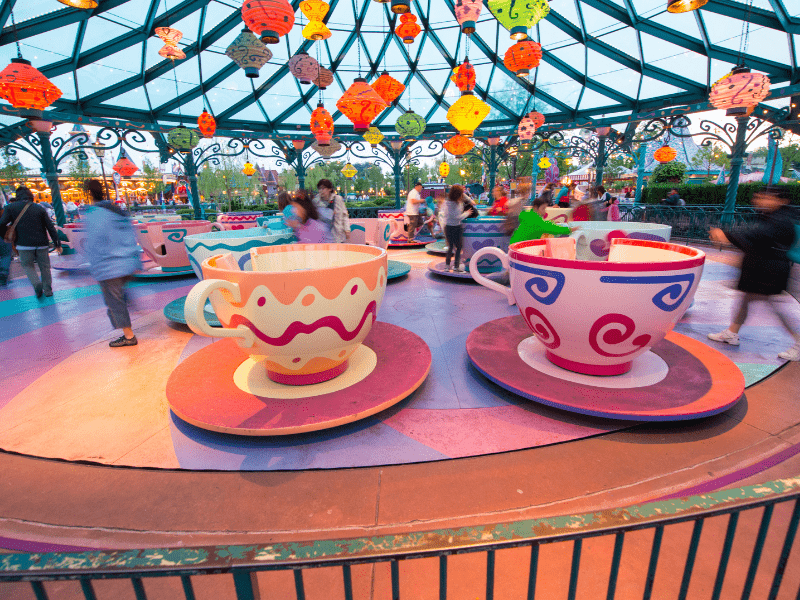 You might wonder what are the less busy times to grab food – let me tell you!
The restaurant lines and waits are often as long – if not longer – than some ride lines. The lunch rush is between 11 AM and 1 PM, and the dinner rush is 5 PM to 7 PM. So, if you hit up the restaurants before or after these times, the crowds are smaller.
However, even with ideal timing, make sure you take my earlier advice and make dining reservations. It's one less thing you need to worry about, but if you forget to do so, check for last minute openings on the Disney app.
9. Take Breaks as Needed
You might be there primarily to see the parks, but if your kids start to have breakdowns after a few hours, take a break from the parks.
Most resorts have pools, so head back for a swim or a nap – or both! The evening time tends to be less busy in the parks anyway, so use that to your advantage.
Hit the parks up early, leave when it gets crowded for some swimming and relaxation. Then, grab dinner – with your reservations! – and head back for an evening in the parks.
---
Visiting Disney during spring break is a great time! It's not too hot or too cold, and while it's crowded, it's not as crowded as Christmastime. So, make the trip and have fun with your kids!