Packing for a trip with a baby takes a lot of planning and organization. You need to make sure you have all the baby travel essentials, along with any items that may make your life a bit easier when on the go with your infant.
Traveling with a baby feels complicated.
What if you forget something? Is your baby going to be able to sleep somewhere else other than home?
Having a list of what you need to bring with you is a great idea, and it ensures you bring all of the baby travel essentials. Here are some of my must-have items.
Pin this blog for later! ↓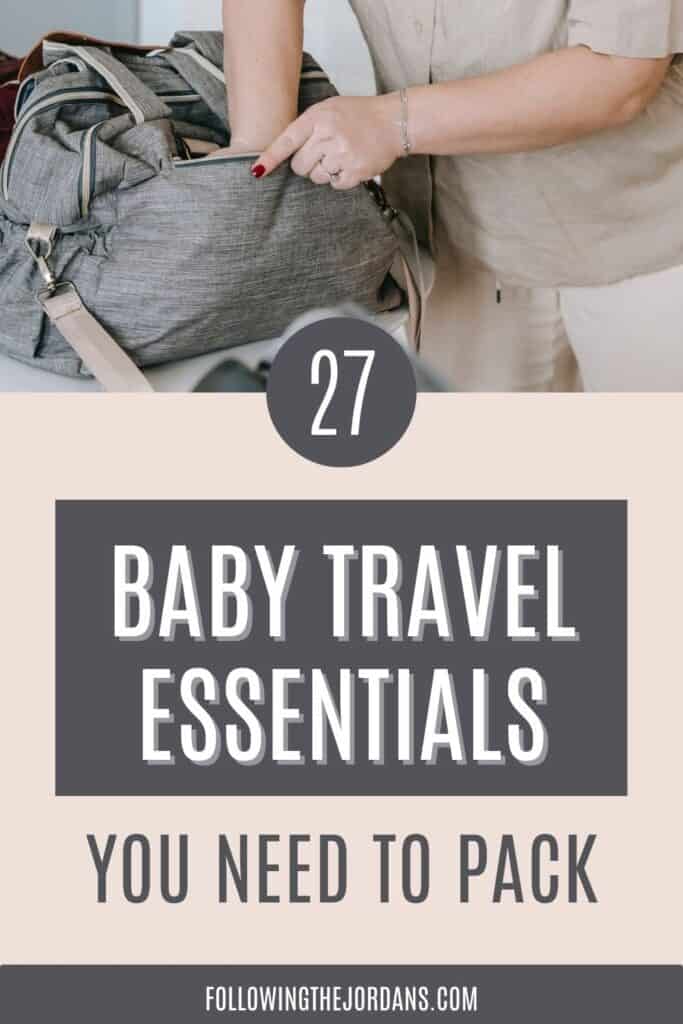 Related: 25 Essentials for Your Family Road Trip Packing List
27 Baby Travel Essentials
1. A Baby Carrier
One of my most important baby travel essentials is a baby carrier. Sometimes, when it comes to getting around with a baby, a carrier is far easier than a stroller. Whether you are visiting tourist attractions or walking through the airport, baby carriers give you a hands-free way to hold your baby.
There are all sorts of baby carriers available. Parents with young babies may love the Baby K'Tan Baby Wrap; it's a pre-wrapped carrier without any tying or rings. It feels so cozy!
Parents with older infants prefer to use soft structured carriers. These use buckles and a structured seat to hold your infant or toddler in place. They're adjustable and work great for back carrying.
I love the Lillebaby Complete All Seasons Carrier; it has lumbar support and padded straps that make carrying a toddler around easy.
2. A Lightweight Stroller
Despite preferring a baby carrier most times when traveling, a stroller is on the list of baby travel necessities. It makes getting through the airport or visiting attractions easier, especially with the basket underneath to carry bags and souvenirs.
If you have an infant, a travel system with a car seat combined with a stroller is a great choice; most infant seats are FAA-approved.
If you have an older infant or a toddler, a lightweight travel stroller gives you everything you need like a canopy and a basket.
3. Travel Car Seat
If you're flying with your infant, you may keep your baby on your lap, but it's recommended to buy your infant a ticket and bring a car seat on the airplane. Carrying a car seat through the airport is rarely an easy task, so it's best to have a lightweight car seat.
If you plan to fly with a car seat and not bring it into the plane with you, grab a car seat travel bag. Car seats are often tossed around by the handlers, so it's best to ensure your car seat is well protected.
4. Simple Travel Toys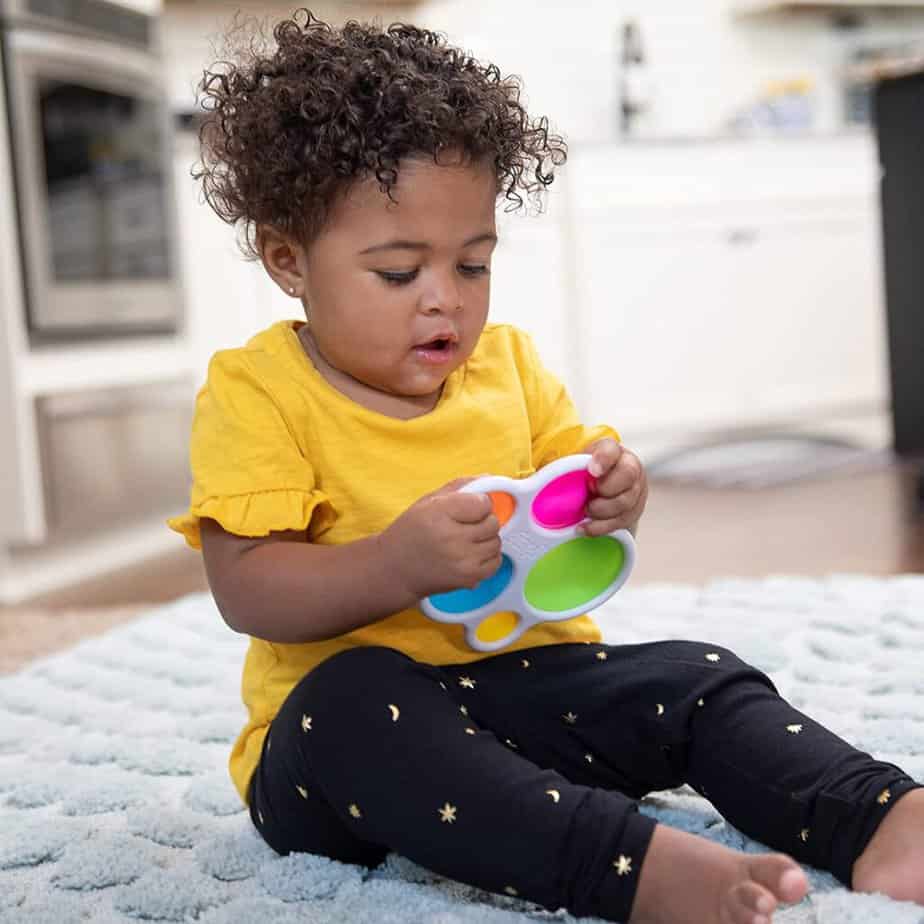 Whether you travel on an airplane or take a road trip with your baby, you need to make sure you pack some simple travel toys. These keep your baby entertained while traveling, and most are compact, so they won't take up much space in your diaper bag.
Here are some of my favorite travel toys.
5. Plenty of Baby Clothes
Unless you are staying somewhere with laundry facilities (I always recommend this when traveling with a baby), pack more baby clothes than you think you need to have. Babies tend to drool, have diaper blowouts, and spit up milk regularly, so it's a good idea to have more clothes than you think you need.
If you have laundry facilities available where you stay, then make sure you bring some laundry detergent along with you. I always think it's better to wash clothes than try to pack enough.
6. Diapers and Wipes
Always pack more diapers than you think you'll need to have while traveling with your baby. Of course, you can always buy more diapers at a store local to your destination, but during the trip, blowouts happen, and you need to be prepared.
7. Diaper Changing Pad
Another thing to include on your baby travel essentials list is to grab a diaper change pad. It prevents you from having to find a place to change your baby that may be clean.
One of my favorite picks is the Kopi Baby Diaper Changing Pad because it folds compactly. The pad is waterproof and attaches to strollers or tables. It comes with a pocket for wipes, toys, and diaper creams.
8. Swim Diapers
If you are heading somewhere like the beach or an area with pools, you will need to make sure you have swim diapers on hand. Disposable swim diapers are convenient; I love the Pampers Splashers.
However, some pools and waterparks require cloth swim diapers to prevent anything from leaking out of the disposable diaper. The iPlay by Green Sprouts Reusable Swim Diapers are excellent options and provide UPF protection.
Related: 6 Best Reusable Swim Diapers for 2022
9. Backpack Diaper Bag
I suggest using a backpack diaper bag when traveling with your baby. It keeps your hands free to do other things like carrying suitcases or holding your toddler's hand.
One of the top picks for a backpack diaper bag is the Rivalino Diaper Bag Backpack. It's lightweight with two large zippered closure compartments and 16 pockets for organization. The interior also has a padded laptop pocket and mesh pocket organizers for parents.
Related: Best Diaper Bag for Travel
10. Wet Bags
A pack of wet bags are a great thing to bring along with you when traveling. Whether going to the beach or another location, wet bags are great for wet clothes or diaper explosions
I love the AlvaBaby Wet Dry Bags because they have two compartments – one wet and one dry. They keep the items separate from each other.
11. Stroller Hook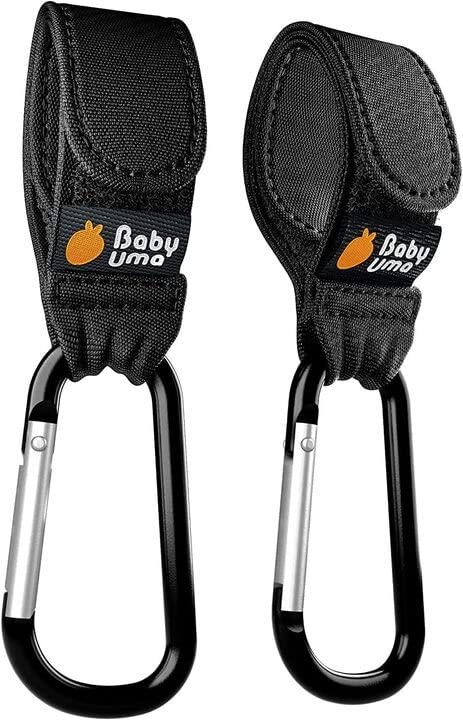 Stroller hooks are another handy item to have when traveling. Hang your diaper bags or shopping bags from the hook; it gives you more space when traveling with a stroller.
12. Lightweight Baby Blankets
I always suggest having at least two lightweight baby blankets with you. My favorite blankets are the Aden & Anais Muslin Blankets; they're large, lightweight, and versatile.
I use muslin blankets in strollers, car seats, and nursing covers, and airplanes often feel cold when traveling. They will keep your baby warm, and they fold compactly, perfect for diaper bags.
13. SlumberPod Privacy Pod
Getting good sleep while traveling is a must, and while many hotels have cribs available, the environment may not be conducive to sleep. A solution is SlumberPod that creates a dark environment for your infant, so it's perfect if you have to share a hotel room with your baby.
SlumberPod is great for even daytime naps, turning your room into a dark environment without the need for blackout curtains. It's a newer product on the market, and it's definitely making its way to the top of the baby travel essentials.
14. Baby Travel Crib or Travel Tent
A lot of hotels and AirBNBs offer cribs or pack 'n plays for visitors with babies, but having a portable baby travel crib or travel tent gives your infant a familiar sleep environment whenever traveling. It's one less thing to be concerned about when going on your trip – what if the crib or pack 'n play available isn't as nice as you hope?
Older infants, those older than 12 months old, can use the KidCo PeaPod Plus Travel Bed. It's a travel tent that's lightweight and sturdy, collapsing into a typical suitcase. It keeps your child safe and contained with its lightweight, mesh screen.
Younger infants may sleep in the Baby Bjorn Travel Crib. It's a sturdy, lightweight travel crib that is easy to set up or fold down when traveling. The mattress is soft and comfortable, and all of the mesh creates an airy design.
15. Night Lights
If your baby wakes up in the middle of the night, having a traveling night light makes sure you can get to your baby with ease. Otherwise, you might trip over things at night trying to get to your baby.
16. White Noise Machine
A lot of infants need a white noise machine to fall asleep, so if your infant uses one, it's a good idea to grab a traveling white noise machine. This machine helps you replicate your baby's sleep environment while blocking out extra noise that may wake up your baby at night.
17. Sleep Swaddles
If your infant uses swaddle sleep sacks, then you want to make sure you include a swaddle in your baby travel list. Swaddles are often part of a baby's sleep routine, so if your baby needs a swaddle to get a good night's sleep while traveling, don't forget to pack one when traveling.
18. Travel Baby Monitor
Some parents like use a baby monitor app, but it's not always the best solution when you need a strong, consistent signal. A travel baby monitor gives you the peace of mind knowing that you can keep an eye on your baby at all times, especially when you aren't staying in the same room together.
A WiFi baby monitor is great if the place you are staying has a wireless network. The VTech Smart WiFi VM901 features a true color HD monitor with night vision, fully remote pan tilt zoom features, and two-way talk options.
19. Bottles and/or Sippy Cups
Make sure you bring enough bottles to last a full day without needing wash them. You never know how busy you will be when traveling, and washing bottles is the last thing you want to do.
The same thing goes for sippy cups! If your baby uses sippy cups, grab a few to take with you.
20. Portable Travel High Chair
You may not need a portable travel high chair if you travel somewhere that every restaurant should have a high chair. However, having one with you is convenient for feeding a baby in hotel rooms or AirBNBs, which often do not come with a high chair.
You have a few options when picking a travel highchair.
Some parents love a fabric travel high chair that attaches to a chair. They have a 5-point harness that keeps your baby securely in the chair. These pack down small, so you can keep the high chair in your diaper bag while sightseeing with your baby.
A great option is the Iiuliuby travel harness seat, a portable harness chair that is machine washable and affordable. It has three height adjustments, and your child has to be able to sit unassisted before using this chair.
Other parents prefer clip-on high chairs because they are more structured. You can use them as a substitute for a real high chair, attaching to most tables. A top-rated choice is the Inglesina fast table chair that works for most tables and restaurants. It comes with an integrated travel friendly bag, and it's usable for babies six months and older.
21. Baby Bibs
Bibs keep your baby's clothes clean if they're eating solid foods. Tossing a few in your bag makes going out to eat while traveling easier. I like silicone baby bibs because they're easy to wipe clean.
22. Silicone Table Mat
Babies make a huge mess when eating, especially when they're in the beloved throwing-their-plate stage. When traveling, you will end up eating at a lot of restaurants, so you more than likely don't want to put the food on the table.
Using a silicone table mat gives you a clean place to put your food in front of them. These wipe clean, made with 100% food-grade silicone, and they're lightweight, so you can stuff it in your diaper bag.
23. Spill Proof Snack Cups
While traveling, having a spill proof snack cup is a great way to brig snacks on the go. Giving your kids a snack cup lets your baby snack while in the stroller.
One of my favorites is the Munchkin Snack Catcher that come in a two pack set, perfect for parents who two kiddos.
24. Nursing Cover for Breastfeeding Moms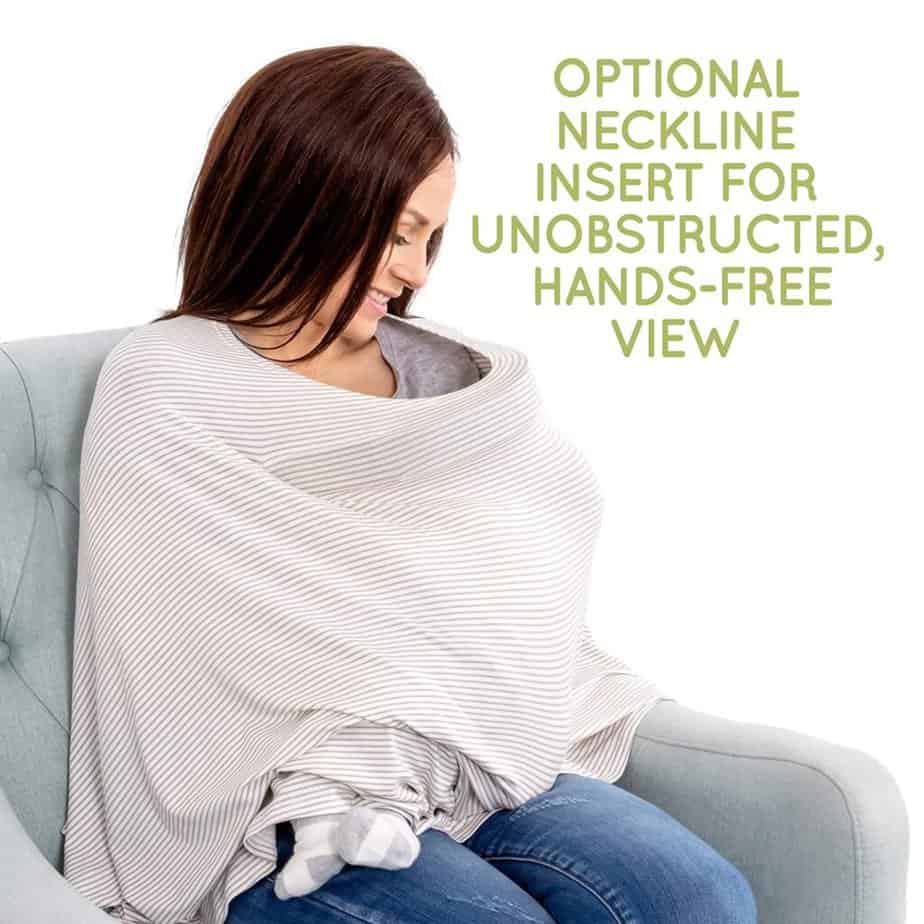 Women don't need to cover up while breastfeeding, but if you feel more comfortable being covered or having some privacy, make sure you pack a nursing cover to your baby travel list.
I like the WeeSprout Nursing Cover; it doubles as a car seat cover as well as a nursing cover. It has several other uses like acting as a shopping cart cover, a high chair cover, changing table cover, and more. Plus, the material is soft and cozy!
Related: 8 Tips for Breastfeeding on a Plane and Important Policies to Know
25. Portable Baby Bottle Warmer
Some babies prefer to drink a warm bottle of milk rather than lukewarm or cold bottle. So, a portable baby bottle warmer is definitely on the list of baby travel essentials.
Tommee Tippee Closer to Nature Portable Bottle Warmer is a thermal flask that stores hot water for warming on the go without the need for electricity.
26. Inflatable Travel Bathtub
You will inevitably need to bathe your baby while traveling, especially if your baby thrives on routine. You will need to give your baby a bath as part of the bedtime routine, and some hotels don't have a bathtub.
The solution is to buy an inflatable bathtub for travel, which is easier than using the hotel sink.
27. Baby First Aid Kit
Make sure you don't forget to grab a baby first aid kit when traveling as part of your baby travel essentials. Hopefully, you don't have to deal with a sick infant, but you never know what will happen. Kids get sick at the worse times.
I always carry baby Tylenol and a baby thermometer with me, along with a first aid kit for babies.
---
Make sure you write a complete list of baby travel essentials when packing. Grab all of the feeding and health essentials before leaving to make your trip even easier.