Road tripping with your family is a great way to see parts of the country and explore together while saving money, since flying anywhere costs an arm and a leg with little kids. You can take your time, find new places to enjoy together, and ultimately end up at your final destination. Before you pull out of your driveway, make sure you have all of your family road trip essentials plus a list!
I'm a list maker.
After traveling with my kids so often, I learned that keeping a list of things I need to bring is the best way to keep track of things. Often, I have things that pop into my brain that I need to bring, and if I don't have a list, I forget that pretty quickly.
I put together a list of my must-have family road trip essentials that you don't want to forget. Let's take a look!
Pin this blog for later! ↓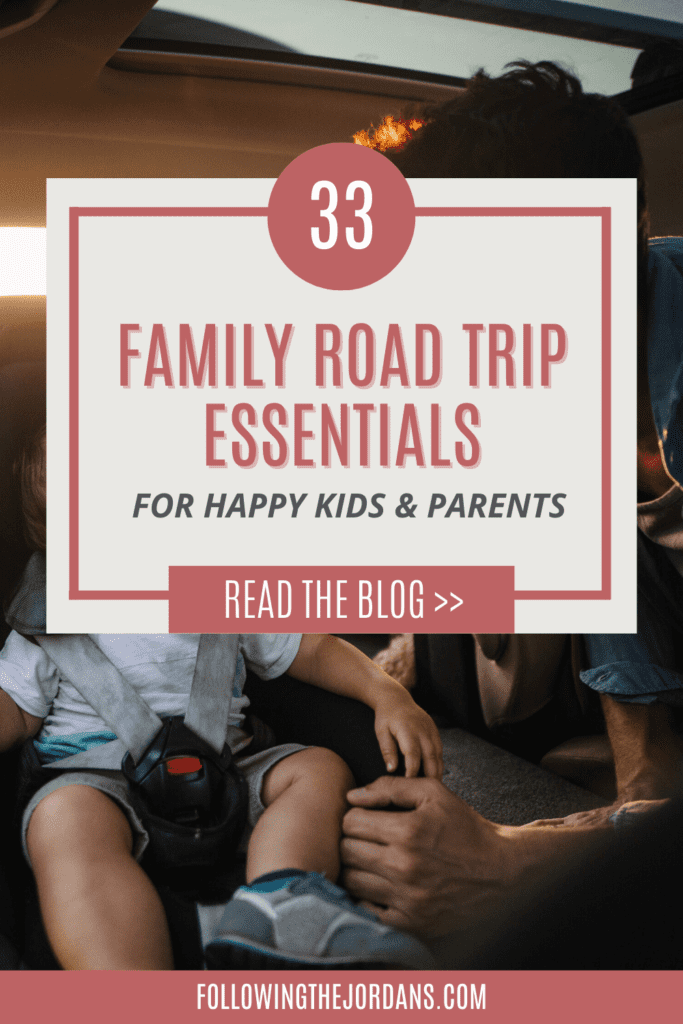 Related: What to Wear on a Road Trip: 5 Outfits You'll Love
Before You Go – Car Safety Check
The first thing you need to do before heading out on a family road trip is to prep your vehicle with some essential maintenance tasks. Your vehicle needs to be well taken care of before heading out.
Let's take a look at some of the must-have items for car safety before your road trip.
Wheels
Take a good look at your wheels before traveling far. Make sure your wheels need to have plenty of tread, proper amounts of air, and balanced in recent months.
Also, make sure you have a spare tire that is full of air – I've found a flat spare before -, a car jack, and a tire iron!
Vehicle Maintenance
Before you head out on any family road trip, you have to make sure to work through the basic list of vehicle maintenance. Check the brakes, and get them changed if needed. Make sure your oil is nearly changed along with your air filter.
Don't forget to get new wipers and top off all your fluids.
Vehicle Registration
Another thing you want to do is ensure your vehicle registration is not expired, along with your license. It's easy to forget these things that need to be done.
Clean Your Car
Let's be honest; I bet your car gets dirty all the time dealing with kids. Before you head out on a road trip, make sure you start with a clean slate and get everything cleaned up.
33 Family Road Trip Essentials
1. Trash Bags
One thing I always keep in my vehicle during family road trips is trash bags or even grocery store bags. Not only do you end up accumulating a lot of trash, but if a kid gets sick, it comes in handy to have a trash bag.
You also can use trash bags to store wet clothing and swimsuits.
2. Puke Bags
Do you have a kid who pukes regularly in the car? Then, you need some puke bags.
You see these at hospitals, but they're less likely to break. You want the vomit to be contained, and that's the goal of these bags. Give each kid a bag to keep handy if they feel sick during the drive.
3. Towels
Here is something I learned through experience – towels are a must have. Now, I take towels with me no matter where I go. Whether you have a kid who spills something, a vomiting kid, or muddy shoes, towels come in handy.
I would rather put a few towels into my car and never need them than forgetting them and needing them on your drive.
4. Toilet Paper & Tissues
These are pretty self explanatory, but you never know when you may have to make a stop along the way for a potty break off the side of the road.
Listen, it happens!
Tissues also are needed for sneezing; I feel like that always happens as we drive on road trips.
5. Wet Wipes & Hand Sanitizer
Kids are going to eat snacks or drive through food along the way during your family road trip, so make sure you have a few packs of wet wipes that are easily accessible in your vehicle.
6. Travel Potty
Unlike adults, kids can't always hold it when they have to go. So, if you have a toddler in your car that is in the process of potty training or newly potty trained, you want to make sure you have a travel potty. These pop up wherever you are and gives your toddler a place to use a clean toilet.
I like this Portable Potty Training Seat for Toddlers that comes with a storage and travel bag to keep it clean and out of the way. Another thing I like is a potty travel seat that covers the toilets at rest stops, because let's be honest, those things are a bit sketchy. It's cheap and fits most toilets.
Related: Potty Training Readiness: What Age is Best for Potty Training?
7. Piddle Pad
Something else I like for those potty training toddlers is a Piddle Pad Car Seat Protector. They set on your car seat or stroller, so if your toddler has an accident, it won't ruin the car seat.
Let's be honest; how can you wash a car seat or a stroller while traveling on a road trip? You can't, and you don't want a stinky car seat either. This is the solution!
8. Portable Chargers & Cords
Make sure you have portable charging devices for your cell phone, tablets, and whatever else you have with you. I suggest taking along more than you think you'll need and adapter to work in your car.
9. Battery Pack
I love battery packs. You charge those, and whenever your phone or tablet starts to die, you can plug it into the battery pack. It lets you charge your phone wherever you want with ease.
When you're on a family road trip, the reality is you and your kids will have a lot of screen time, but they may not have access to a charging spot. A battery pack or two ensures everyone with a way to charge their tech while on the go.
10. DVD Player & Movies
If your vehicle doesn't have a DVD player built into it, then you need to get a separate portable DVD player that attaches to your headrest. It's a must-have item for your family road trip, and then you need to make sure you bring a few movies to pass the time.
I suggest bringing your kids' favorite movies, even if they've watched them a dozen times. If the movie makes them happy and keeps them entertained for long periods, those are the ones you want to bring with you.
11. Headphones
If you don't want to listen to Encanto or Luca for hours at a time in the car, get your kids headphones – wireless or not – that will attach to their DVD players.
You also can get yourself wireless headphones instead. I love binging on podcasts for long car rides, but since I like crime podcasts, they aren't kid-friendly.
12. Drinks & Snacks
Snacks and drinks are a must-have for any car ride with your kids. Snacking while traveling is one of the best ways to help your kids stay patient and happy, especially since delays happen regularly.
Here are some of my favorite portable snacks for road trips.
You also want to pack some drinks in your cooler. I always have some water, cold coffee drinks, juice boxes, and maybe even some orange juice for breakfast.
Related: 24 Best Snacks for Kids When Flying That Will Keep Everyone Happy
13. A Small Cooler
I like a place to keep our drinks cool, so I bring a soft, small cooler that I keep within easy reach. No one wants to pull the car over to get the drinks for your kids.
Make sure the cooler is big enough to hold the snacks that need to stay cool and half of your drinks. You can refill as you drive and as needed.
14. Travel Mug for You
We always start off our road trips with big cups of coffee for my husband and I; you need that pep in your step to start a long drive with little kids. I've found that, when you stop at rest stops, it's cheaper to refill a travel mug than get a new one.
15. Portable Bottle Warmer
If you have a small baby who takes a bottle, make sure you have a portable bottle warmer with you. Some babies refuse cold bottles, but you won't have access to a stove or microwave when traveling.
I love the Tommee Tippee Portable Baby Bottle Warmer; it's affordable and will keep your bottle warm for several hours. It's easy to refill the flask with warm water when you stop at rest stops.
16. Car First Aid Kit
It's always essential to bring a small car first aid kit. You never know what you're going to need, especially when traveling with kids.
Here are some things you need to bring with you.
Related: Family Travel First Aid Kit: What You Need to Pack
17. Scissors or Seat Belt Cutters
I'm always cautious when we head out on a trip, and one thing I've added to my vehicle is a pair of scissors and seatbelt cutters. Seat belts save lives, but in the event of a car crash, seat belts get jammed. So, I always have a safety hammer in my car that can break windows or cut seat belts.
Hopefully, I never have to use it, but these are one of those things I always want to have on hand all the time.
18. Car Emergency Kit
You should always have a good road side assistance kit when you go on a family road trip. This is another one of those situations when I would rather pack it and never need rather than forget it at home and need it.



19. An Extra Set of Keys
Take it from me – you need to make sure you have a spare set of keys. Keep one in a separate area, like your purse or your suitcase in the hotel room. Losing your key while on vacation is a sure way to cost a pretty penny and cause a big hiccup a long the way.
20. Road Atlas
When I grew up, we always had a road atlas in our car. Today, we rely heavily on Google Maps or Apple Maps to get around, but when you lose service and internet access, digital maps don't always work.
Having a road atlas in your car prevents stressful moments when the GPS goes offline. It's always handy to have one when driving through unfamiliar areas.
21. Window Shades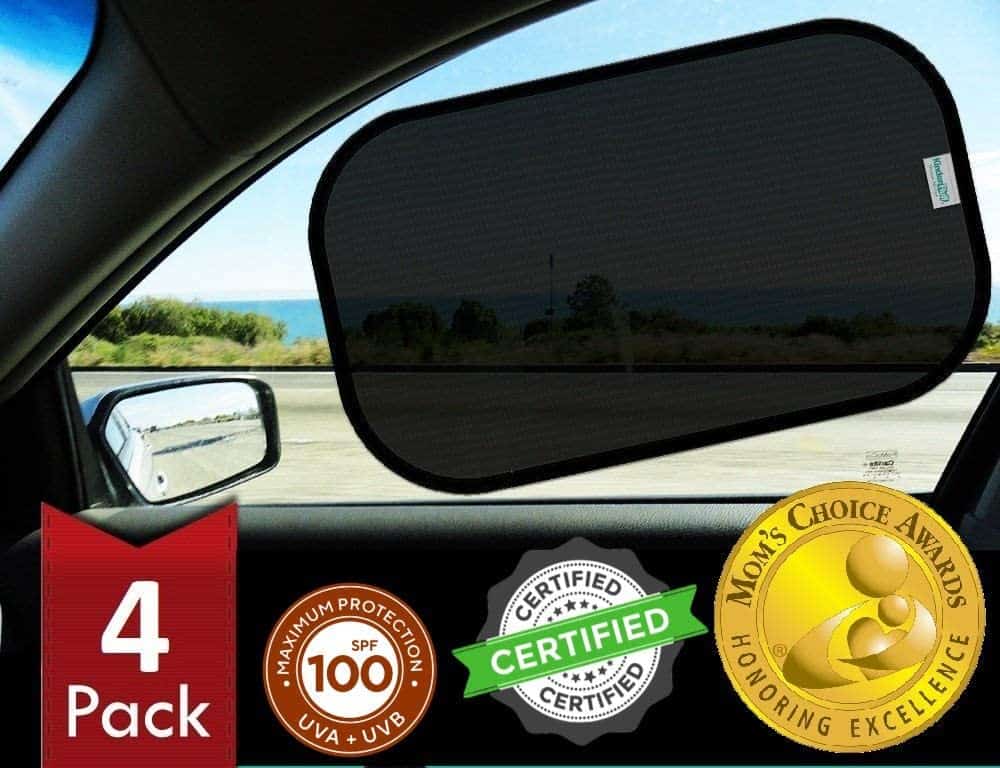 Some cars have included shades with their vehicle, but if not, you will want to grab some window shades to stick onto the car windows. It prevents the sun from beating down on your child while taking your family road trip.
22. Blankets
I always pack one blanket per kid when going on a family road trip. The car is never a perfect temperature for everyone; some are colder than others.
We don't want to make it too hot, so a blanket for everyone is the perfect solution. That's why blankets are definitely on our family road trip essentials list.
23. Car Pillows & Neck Pillows
You also need to have some pillows. I can't sleep with a pillow in the car, but my kids can. I love a good neck pillow.
A neck pillow is a simple solution to the problem of needing your kids to take naps in the car. Chances are you leave early in the morning when your kids often sleep. I like the Bcozzy's Neck Pillow because it clips onto the back of their car seat and prevents their heads from falling forward
24. Extra Change of Clothing
When you're going on a road trip with your kids, most of your clothes will be in your suitcases, but it's essential to have a change of clothing on hand. You never know when a diaper will explode or a kid spills their drink all over their lap.
Digging through the suitcases is a no-go; just grab a bag and stick clothing in it for all of your kids.
25. Sandals or Flip Flops
Kids kick their shoes off as soon as they get in the car for a family road trip. So, I've found having sandals or flip flops – anything they can get on their feet easily – is ideal unless you travel in the middle of the winter.
This prevents you from having to tie and untie shoes a dozen times at rest stops – so frustrating!
26. Car Seat Organizers
Something I find useful since our family travels regularly is car seat organizers. Even if you don't travel a lot, these are great if you're in the car going back and forth all the time.
Car seat organizers hold all of your kids' stuff in one place and saves you plenty of frustration. I like these organizers that have nine different sized storage compartments including a tablet holder and pockets for bottles.
These are definitely family road trip essentials for us!
27. Small Activities & Toys for Your Kids
Behind snacks and drinks, kids would put small activities and travel toys as the second most important thing to bring on a family road trip. I've tried a bunch of different toys for road trips, and now I have a few that I think are must-have items.
Make sure they're small enough to fit into your kid's organizer so they don't get lost.
28. Coloring Books & Colored Pencils
Kids love to color when they're driving for long hours. I prefer colored pencils for myself, but my kids like crayons. I get each child their own set of coloring utensils, and then each child gets one or two coloring books.
29. Road Trip Games
Another one of my top family road trip essentials is games to play along the way. Don't grab too many, but one or two will keep your kids entertained and happy.
30. Toys for Stops
I like to bring a football, frisbee, and a few small balls for the kids to kick around when we go to rest stops. Kids have to burn some energy, and throwing a ball around will do that faster than just walking around.
31. Camera
A fun idea is to give all of your kids a camera to take pictures along the way. My kids love to take photos out the window or at all the stops along the way. It gives them something else to do.
If your child has a tablet or if you have an extra cell phone, that's an easy camera. Otherwise, a basic point and shoot camera will be something your kids love!
32. Binoculars
These are one of those unique family road trip essentials I swear I will always have on hand. I get a small pair of binoculars for each kid, and it keeps them busy, looking out the window at whatever they see.
33. Audiobooks
Audiobooks are definitely part of the family road trip essentials. Stories keep your kids engaged and quiet as they listen to what happens. Sometimes, it's better than just mindlessly listening to music.
Check out this list of audiobooks for family road trips that both kids and parents like!
---
The key to a successful family road trip is packing the things you need for your family to be happy and content while traveling to your next destination. It's always better to pack more than what you think you need when it comes to family road trip essentials!