Christmas is one of the best times to travel with your family. Families get together and spend time together, so pick one of the best Christmas vacations for families. Many families enjoy traveling together throughout the holiday season. The holiday season turns towns and cities throughout the United States into magical escapes for families and couples. From magical light displays to Christmas shows and performances, these locations are great for Christmas getaways. Best of all, you don't have to leave the United States to enjoy any of these destinations.
16 Best Christmas Vacations for Families in the US
1. San Francisco, CA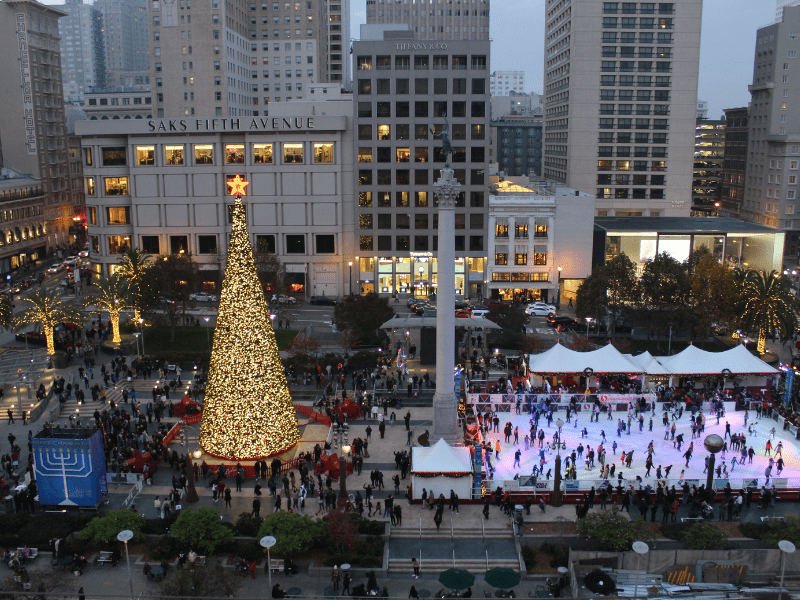 You won't find any of the white stuff when visiting San Francisco during Christmas, but the city is full of holiday cheer and spirit. The shining star of the action is the city's shopping district, Union Square. Here, you'll find the giant Union Square Christmas tree and a temporary ice skating rink, along with Santa. You'll see trolleys moving throughout the city, decorated with garland and lights. It's hard to not smile at that! Since the city has always been a destination during the Christmas season, it hosts a variety of sights and events. Visitors love the two-story gingerbread house, and many luxury hotels throughout the city offers high teas on the weekends, a family-friendly tradition. The San Francisco Ballet performs The Nutcracker each year, and catch A Christmas Carol at the American Conservatory Theater. They have performed for over 40 years straight!
2. Disney World, FL
One of the top Christmas vacations for families in the US is Disney World, and it's easy to see why. Disney World transforms into a Disney dream come true during the holidays with millions of lights and decor throughout all of the parks. Plus, visiting Disney is often a gift for kids rather than giving more toys that they actually don't need. Experiences for gifts rock!
3. Atlanta, GA
You don't always have to venture far for an amazing Christmas vacation. Atlanta is a great city during the holidays; it's one of the best times to see the city. One of the top destination during the holiday season is Atlanta's Botanical Gardens which features huge holiday set-ups for families to explore and stroll through. If you want a real treat, take a day trip to Callaway Gardens; their "Fantasy in Lights" display is named one of the top 10 Christmas light displays in the world. Yes, the world! Atlanta features the German Christkindl market, featuring food and shops while surrounded by Christmas decor. Another favorite is the Alliance Theatre's production of A Christmas Carol and the Nutcracker!
4. Hawaii
I didn't list a single destination in Hawaii as a Christmas family because anywhere on the island is an amazing getaway during the holidays. At the top of the list for Hawaii destinations during Christmas is Oahu. If you're ready to escape your frigid temperatures and enjoy a tropical destination – without leaving the United States – Oahu is your answer. You'll be on the beach building sandcastles rather snowmen and fending off a sunburn rather than frostbite. Oahu features many of the other things about Christmas we love like Christmas decor, hot chocolate, caroling, and ice skating. Another Hawaiian destination is Kailua-Kona, an adorable historic village that likes to go all out during the holiday season. You'll find penguins wearing grass skirts, Christmas parades, and decor all throughout the town.
5. Chicago, IL
The Windy City might be cold during Christmas – that lake wind is rough! – but it gives you the city vibes you crave without heading to NYC, which is more expensive and busier. Chicago sets up a massive Christmas tree, a highlight of the city and something you don't want to miss. The city features parades and fireworks throughout the season. One of the other highlights in the city is the Christkindlmarket, an open-air fair that families enjoy strolling and seeing all the set ups. You'll find live music, Christmas decor, shops, and more at the fair.
6. Santa Claus, IN
Yes, there is a town named Santa Claus, Indiana, an adorable town during the holiday season. It's complete with parades, light displays, and more festive events than you could attend in your visit. Santa Claus, IN gets hyped with the holiday spirit, and you'll find charming events like story times, building gingerbread house contests, cookie baking, and more. Kids get to send a special letter to Santa at the post office, and the town feature an adorable Santa Claus museum. One of the top events is Santa's Candy Castle and their Fire & Ice Challenge. They have signature frozen hot chocolate and fire popcorn, along with roasting chestnuts. Who doesn't want to roast chestnuts on an open fire like the songs say?
7. Boston, MA
Boston is one of the best Christmas vacations for families, a New England seaside city full of winter wonderland. It's a magical season during the holidays, and visitors have plenty of fantastic events to enjoy. The Boston Ballet features the Nutcracker each year at The Opera House; it's an iconic show, perfect for kids and families. The Boston Commons hosts ice skating on the Frog Pond, a favorite for visitors and locals alike. You'll get to ice skate aside the gorgeous Christmas Tree. Families enjoy strolling through the Boston Winter Holiday Market; it's full of cheer and spirit. This market features food stalls, vendors, live entertainment, and more. Make sure you check out a performance of the Holiday Pops concert, an event for music lovers performed by Boston Pops. It's one that visitors and locals alike enjoy each year.
8. Branson, MO
I'm all about Hallmark-like towns during Christmas, and Branson, Missouri is an incredible stop for a quick Christmas trip. Branson is located in the Ozark Mountains, so it feels like you stepped into the scene of a movie. There are light displays all over the town, so rent a car and check out the displays everywhere. Kids love the Christmas Tree Trail; you'll spot many amazing decorations throughout the town. The city puts together an incredible Christmas festival with gorgeous light displays, music, and the perfect Christmas tree in the middle of the park.
9. New York City, NY
It's hard to imagine a city more iconic during Christmas than New York City. Hundreds of Christmas movies surround this city; it truly comes alive during the holiday season. Going to New York City during Christmas belongs on everyone's bucket list. You'll find more to do than possible to accomplish in any set period of time. Go to Central Park and enjoy ice skating or take a carriage ride throughout the park. The Rockettes perform at Radio City, and it's worth the tickets. Nearly everyone Christmas activity belongs on the list for a reason. The only downside is that shopping in NYC during the holidays is a bit of a nightmare. The lines are long, so I suggest skipping the shopping and enjoying all the iconic sites.
10. Seneca Falls, NY
Families rave about Seneca Falls, New York. Those who love 
It's a Wonderful Life, 
a classic Christmas movie, will be happy to know that Bedford Falls – the fictional town in the movie – is based on Seneca Falls. The town hosts a four-day-long festival called It's a Wonderful Life Festival, a treat for fans of the movie. It belongs on your bucket list! The town has large gingerbread houses and gorgeous light displays. Watch live Christmas concerts and spend time feeling like you are in the movie.
11. Oklahoma City, OK
Here's another city that might surprise you as an awesome Christmas getaway – Oklahoma City. This city is chic and a food lover's dream. One of the biggest hits in Oklahoma City is the holiday pop-up shops, offering local shopping inside of makeshift igloo. You'll find some amazing buys, and be sure to indulge in the gourmet hot chocolate as well. If you want to spot Christmas lights, drive down Automobile Alley, an entire street lit with holiday lights from top to bottom. The Myriad Botanical Gardens is a hit for families as well. This is a glass sphere conservatory with a light show; it's amazing! Then, when you head outside, you'll find an ice skating rink. Make sure you stop at the Oklahoma City National Memorial to pay your respects. Each year, a wreath is set on each chair to honor those killed in the 1995 bombing.
12. Nashville, TN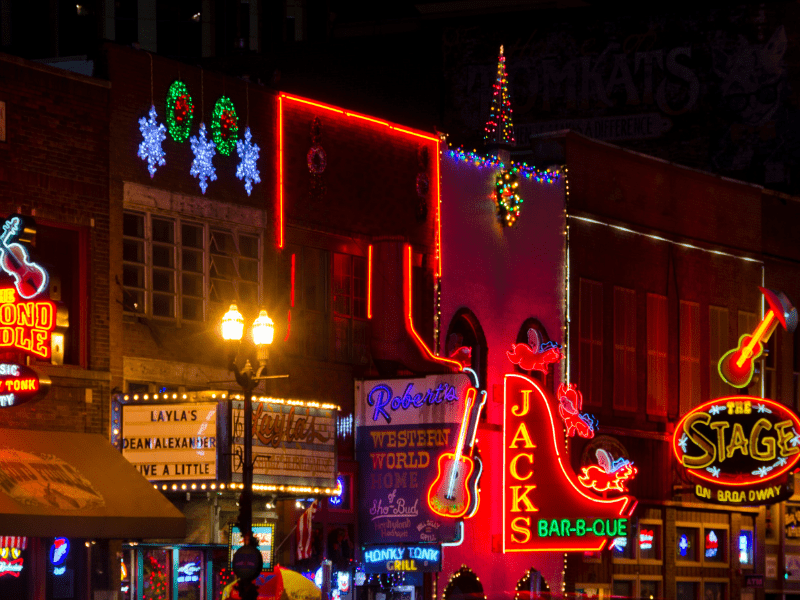 Don't assume the Music City is only for adults; families love this destination! You won't typically find a white Christmas here, but the city is full of holiday magic and cheer. Nashville hosts festivals, planned activities, family-friendly events, and parades. There is seemingly an endless amount of things to do here. One of the most popular is The Country Christmas, located at the Gaylord Opryland Resort. The hotel transforms into a magical, winter wonderland with lights displays everywhere, and all of it is free to see for the public. Kids love the holiday Dr. Seuss-inspired playground made of ice, and families enjoy a multitude of musical performances and events all season long. Another family favorite is Cheekwood's Holiday Lights, featuring millions of bulbs strong throughout the mansion and botanical gardens. Cheekwood has live reindeer and an elf who visits on specific weekends. Then, you'll find fires to make s'mores, caroling, and other goodness. Of course, these aren't the only things in the city. Each year, you'll find a multitude of holiday markets, carriage rides, decor, and more. Be sure to plan a trip here!
13. Grapevine, TX
Texas may not make the list often for Christmas vacations for families, but Grapevine, TX simply is too awesome not to list. This small town goes big for the holidays with a list of over 1,400 events in only 40 days during the holiday season. Grapevine loves Christmas! There events range from musical light shows, public holiday movie nights, the North Pole Express, and a parade of lights. You'll find workshops to design your own Christmas ornaments at a local glass blowing studio, and make sure you sample hot chocolate at Dr. Sue's Chocolate. Caroling is a must at Grapevine. Liberty Park, located in downtown Grapevine, is full of decoration for the holiday. It's a joy to spend time there, visiting Santa, and taking pictures. The town itself holds many boutiques and shops you won't find elsewhere, so get some of that Christmas shopping out of the way too.
14. Stowe, VT
Sound of Music fans will find Stowe, Vermont the perfect place to spend their holiday season. Here, you'll find The Trapp Family Lodge, where the Von Trapp family settled against escaping Austria and touring the United States. Who doesn't love a bit of history along with Christmas cheer? The lodge is truly a shrine to the Von Trapp family with music and all of the details about the family you could hope to know. Stowe features more than this! You can enjoy family activities like sugar maple tours, rock climbing, Christmas crafting workshops, and skiing. The slopes are only 15 minutes from the lodge, so if you love to ski, the proximity is hard to beat.
15. Leavenworth, WA
You don't have to travel out of the United States for the best Christmas vacations for families! Leavenworth feels like you stepped out of the US and entered a German city without leaving this continent. This town is Bavarian-themed that comes to life during the Christmas season. The town starts their Christmas displays at Thanksgiving, and they stay up until Valentines's Day. It's full of over 500,00 lights, making this sleepy little village come to life. If possible, try to come to Leavenworth during the Bavarian Ice Festival in January, but they also have special Christmas concerts and displays. There is something magical about sledding under lights, eating traditional German sausage, and checking out a gingerbread factory. The Kris Kringle Christmas store is two stories tall and the perfect destination for anything Christmas related.
16. Jackson Hole, WY
Jackson Hole is one of the best Christmas vacations for families, but this is a  popular destination. If you want to visit this place, make sure you book well ahead of time, so book as early as possible. Jackson Hole gives you the white Christmas vibes you want, and if you love snow sports, you can even hit the slopes on Christmas Day. The town offers other winter sports like skiing, sledding, sleigh rides, snowmobiling, and more. The town decorates and goes all out with the festival activities. Something you should know is that Jackson, Wyoming gets very cold. It's possible to stroll the adorable downtown, but you'll need to stop in shops and coffee shops on the regular. If you hit the slopes, make sure you have appropriate winter attire. Kids love checking out Kings Tubes Park for the best snow tubing adventure. Another great activity is enjoying a sleigh ridge through the National Elk Refuge, where you can spot wild elk roaming throughout the valley.
---
The hardest part is picking where you want to go out of all these awesome Christmas vacations for families in the US. You have so many great choices for your Christmas getaway!

Save this post to Pinterest!
Follow us
so that you never miss a thing.
Copyright © 2022 Following the Jordans. All Rights Reserved