Your love of traveling doesn't have to stop when you have a baby. You can find so many amazing places to travel with a baby in the United States. Taking a baby outside of the country is possible, but if you don't want to get a passport or spend too long traveling to your destination, don't worry. The United States has plenty of amazing destinations right here.
We love traveling, and we typically stay in the United States. While we love Atlantis in the Bahamas, we've explored many other U.S. based cities and found endless things for our kids to do.
When I'm picking a new destination to take my kids, I look at what there is to do. All of these locations have things that you can do with a baby inside and outside. Let's take a look at some great places to travel with a baby and some fun things you can do at each city.
Pin this blog for later! ↓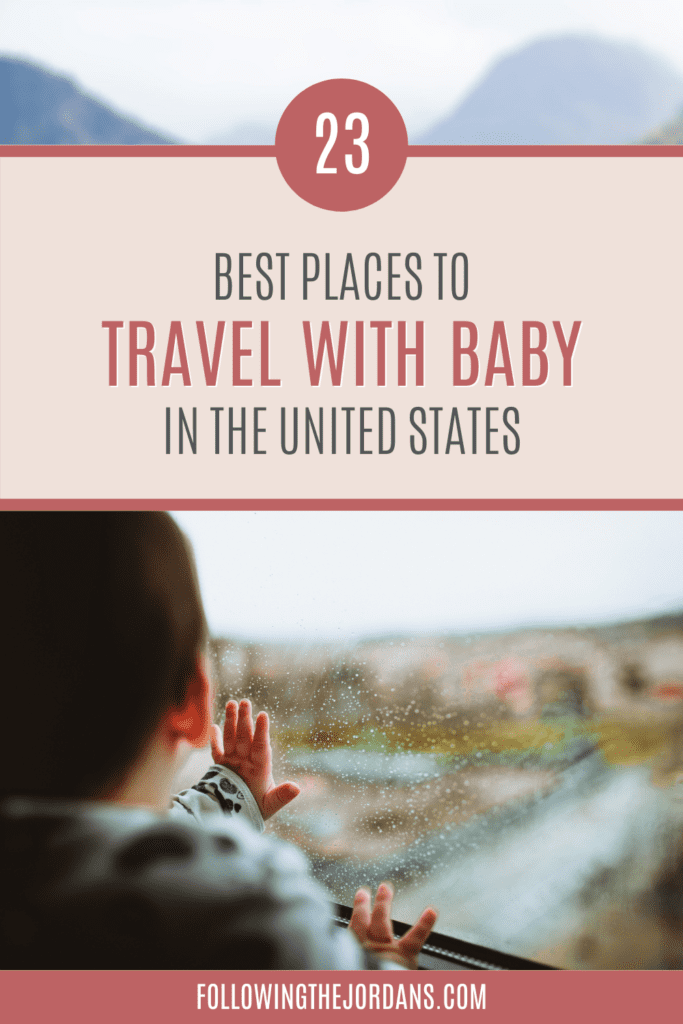 Related: 8 Best North Carolina Vacations for Families Everyone Will Love
23 Best Places to Travel with a Baby
1. Charleston, South Carolina
Charleston is a great place to visit with a baby for families. The city has many attractions that both parents and children can enjoy, such as museums, gardens, and historical landmarks. The Historic Town Center is walkable, and the City Market has some of the best shopping and eating in the city.
Plus, Charleston is known for its delicious food, so make sure you try out some of the local restaurants!
Another great thing about Charleston is that it's not too big or too small – it's just the right size for exploring on foot. And if you need to get out of the city for a day, there are plenty of beautiful beaches and parks close by. Head down to the Waterfront Park for some exploring, or check out the South Carolina Aquarium if it's a rainy afternoon.
You won't struggle to fill your days with activities.
2. Chicago, Illinois
Chicago is another great place to visit with a baby. The city has tons of things to see and do, from museums and theaters to world-class shopping and dining.
Enjoy the free stroller tours in some of the museums throughout the city, like The Field Museum. You'll also enjoy visiting the Shedd Aquarium and Navy Pier.
Chicago is also very walkable, so you can easily get around without having to take taxis or buses. And if you want to explore the area outside of Chicago, there are plenty of beautiful parks and lakes nearby. So if you're looking for a fun-filled city break with your baby, Chicago is a great choice.
3. Disney World, Florida
If there is one vacation you should take with your baby, it's Disney World.
I know so many people say you should wait until they remember, and while it's true, you want your child to remember Disney. You can always take them later!
Kids 3 years old and under are FREE at Disney World. It's no secret that this is an expensive trip, so take advantage of the savings. Disney World with a baby is fun, and they're still able to enjoy so many things like the pools, rides, and all the sights and sounds.
Disney is a vacation for all ages!
Related: 10 Best Resorts in Disney World for Toddlers
4. Great Smoky Mountains National Park, Tennessee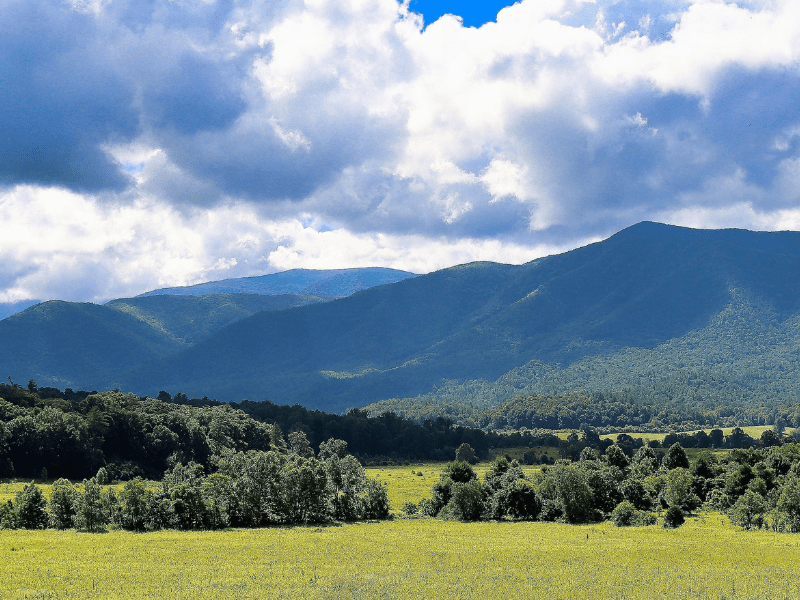 Since I live in North Carolina, I'm only a few hours away from the Great Smoky Mountains National Park. This is the most visited national park in the United States for many reasons.
It's near Gatlinburg and Pigeon Forge, so the number of things for families to do is high. You won't be able to do everything, or even close to everything, in one visit.
Go to Cades Cove, especially in the morning, and try to get a sight of the famous black bears. Hike to Clingsman one, or take a ride up to Anakeesta and see some of the best views of the mountains. On a rainy day, you can hit up Ripley's Aquarium or check out some of the amazing restaurants.
5. Honolulu, Hawaii
It should be no surprise that Hawaii is on my list of best places to travel with a baby. It's paradise and part of the United States.
This island offers so many amazing sights, gorgeous hotels, and miles of sand and water. All you really have to do is enjoy playing in the water and sand with your baby, but Hawaii has plenty of baby-friendly places to visit.
Head to the Valley of the Temples and make sure you walk the Makapu'u Point Lighthouse Trail.
Consider visiting Honolulu between December to April. The temperatures are more comfortable for everyone; the summer gets extremely hot.
6. Minneapolis, Minnesota
Too many people forget that Minneapolis is known for being one of the most family-friendly cities in the country; some call it "Minnesota Nice" because the people are so friendly!
If you head to the city in the colder seasons, make sure to bring layers. This city gets cold, so bring extra layers including a scarf, mittens, boots, and more.
Why would you visit Minneapolis in the winter?
Because the city shines at this time! They make winter fun for families. They have an ice palace, a holiday marketplace, ice skating, snowmen building, and so much more for families to enjoy.
Minneapolis is also a stroller friendly city, so it's easy to stroll the streets. Plus, it's a fairly budget-friendly destination!
7. New Orleans, Louisiana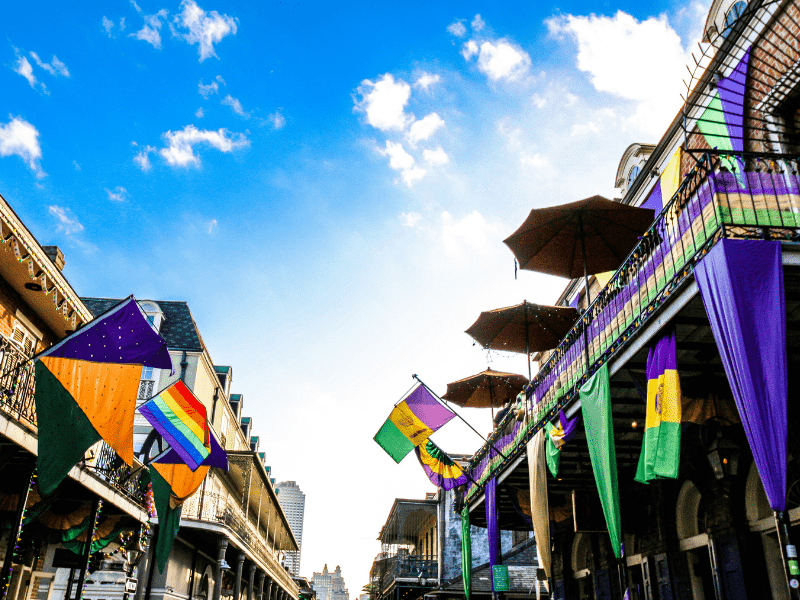 New Orleans is another family-friendly city with lots to see and do. In general, this city has great weather year-round; you may only need a thin coat and some long sleeves. You don't need full winter gear!
The number of things you can do when traveling with a baby to New Orleans seems endless. Explore the French Quarter, and enjoy a carriage ride through the city. Many streets feature live musicians you can stop and watch for free. Make sure you get some beignets.
You can spend hours at the Louisana's Children's Museum or watching butterflies at the Audubon Insectorium. Don't forget the Carousel Gardens or the Audubon Aquarium.
I think this is one of the best places to travel with a baby in the United States. It'll be an amazing trip for your family!
Related: 13 Things to Do with Kids in New Orleans
8. New York City, New York
I always assumed that NYC was not one of the best places to travel with a baby, but now that I have kids, it's an incredible trip for all. It's really a baby-friendly city, despite what the reputation tells you.
Let's not forget that millions of families call New York City home, so it has to be kid friendly!
All you really need is a baby carrier and a lightweight stroller. You'll be able to get anywhere you want to go in the city, and this bustling area has so much to do for your baby.
Whether you want to head to Central Park to let your baby stretch his legs, check out one of the many museums, or go to Times Square, New York City is truly a vacation spot for all.
9. Phoenix, Arizona
You might think that going to Phoenix is way too hot, but if you want to escape the cold winter months, Phoenix has lovely temperatures in the winter.
This area of the country has plenty for families to enjoy together, and it's close to Sedona – see below. Phoenix has amazing playgrounds and parks, and a miniature railroad that your baby will find amazing.
They have tons of hotels with pools or small waterparks to cool off and enjoy as well.
10. San Antonio, Texas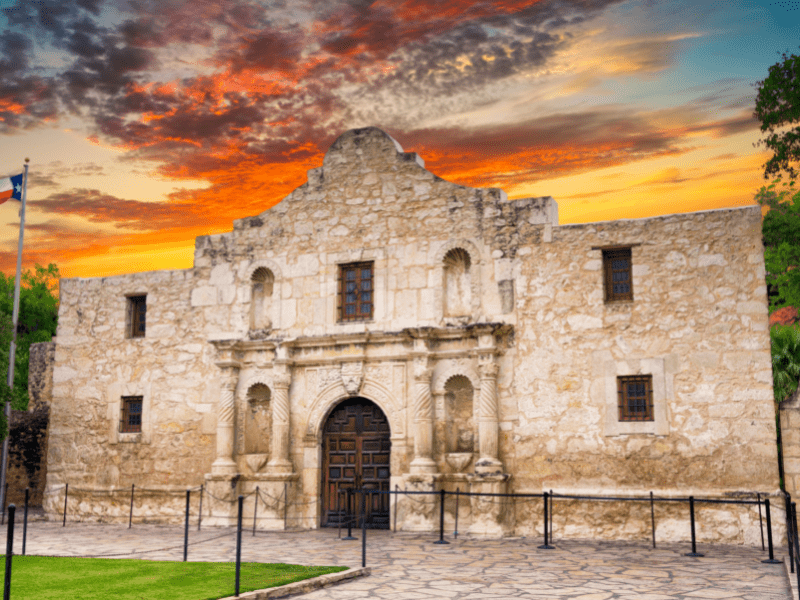 San Antonio, often referred to as the Alamo City, and it's a family-friendly city that features excellent zoos and playgrounds. DoSeum features an adorable children's train with hands-on, sensory activities with babies in mind.
This area is booming with plenty of things for families, which is why it's growing into quite a hub. You'll find splash pads throughout the city and delicious restaurants.
Outside of the city, you'll find golf courses, hiking, water parks, and more.
11. San Diego, California
If you want to stick the west coast, San Diego offers all sorts of activities for families to enjoy, both indoor and outdoors. They have amazing beaches, like Mission Beach, for babies and families to stretch out and enjoy the surf and sand.
Families who enjoy hiking will love the nearby Torrey Pines Natural Reserve. You'll find miles of trails to hike and sightsee together. San Diego has one fo the best zoos in the country, and the Birch Aquarium is a little kid favorite very time. Babies and toddlers alike want to spend all day watching the animals.
12. San Francisco, California
I can't lie; San Francisco is one of my favorite cities in the world. I love their weather. They never get too hot nor too warm, and there is so much to do. It's like NYC but a bit more relaxed and compact.
Getting around the city with a baby is easy. Many things are reachable by walking or riding the cable cars, and if you have a baby carrier, you'll be able to make it anywhere.
Head down to the Wharf to check out the boats and restaurants, or take a ferry ride over to Alcatraz and enjoy a tour – it's fascinating!
13. Savannah, Georgia
If you're looking for somewhere unique to take your baby this year, consider going to Savannah, Georgia. It's a charming, southern city, full of history and things to enjoy together.
Make a stop at Colonial Life Area, and explore the replica houses from the plantation era. Go to Ellis Square and let your baby play in the fountains.
Savannah, Georgia has so many trails to walk throughout the city an area. You'll be able to spot different wildlife and historic places. You might even see dolphins at Skidaway Narrows River – that's pretty cool!
14. Seaside, Florida
Florida has plenty of amazing cities and beaches most people recognize like Miami, Palm Beach, and Key West, but if you're looking for something a bit more laid back, consider Seaside, Florida, located on the Emerald Coast.
It's truly an idyllic beach town with pastel houses and white picket fences on manicured streets. You'll fine sugar sand beaches, perfect for pitching an umbrella and building sand castles all day. Restaurants overlook the beaches, so you can keep an eye on those turquoise waters all the time.
15. Seattle, Washington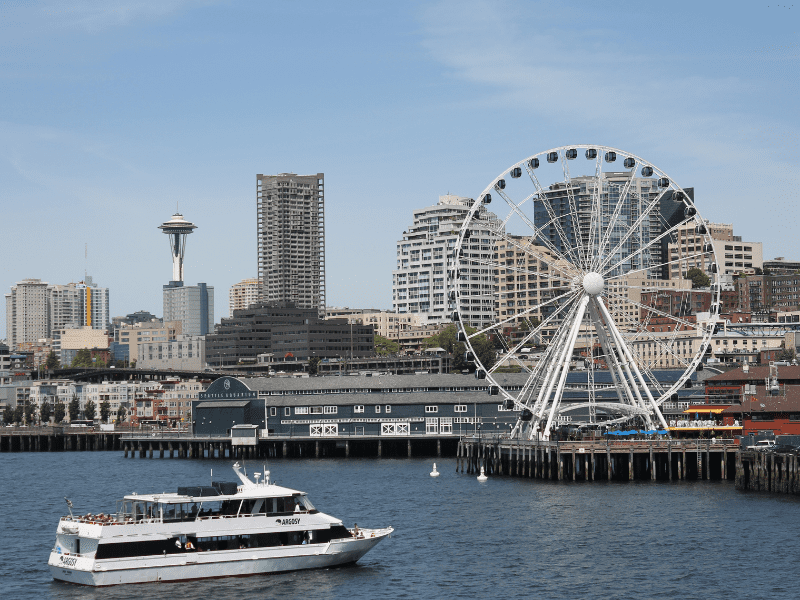 Most people think of Seattle because of it's a high tech hub with plenty of coffee. This city has easy accessible public transportation, so you can check out the entire city with no problems.
In general, Seattle has decent weather year-round and mild winters, but of course, the city is known for being rainy. The busiest times are between June and September because the weather is ideal.
When traveling to Seattle with a baby, make sure you have a stroller. The streets are easy to walk, but some go uphill. Make sure you visit the Pike Place Market and Children's Museum. Seward Park is another favorite destination in Seattle, and no trip there is complete without riding the Great Wheel and going to the top of the Space Needle.
16. Sedona, Arizona
Too many people pass by Arizona as a place to vacation, but here is another destination I consider one of the best places to travel with a baby – Sedona. Sedona is a gorgeous area to visit, especially for outdoorsy families who thinking a hiking vacation is the way to go.
You'll find miles of hike trails and gorgeous scenery. Some trails are long, but many are short, perfect for families with kids in tow. Overall, Sedona is quite a family-friendly city with gorgeous parks and relaxed restaurants to enjoy in the evenings.
17. St. Thomas, U.S. Virgin Islands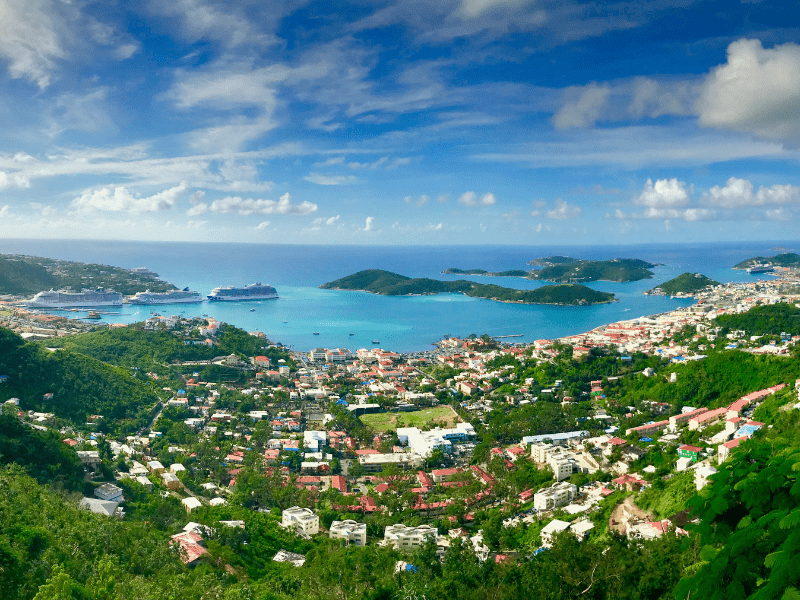 Do you want to take your baby to paradise but don't want to go too far or get a passport? St. Thomas, located in the U.S. Virgin Islands, is the answer to your quest.
This beautiful island is less than a three hour airplane right from Miami, Florida. You won't find boardwalks or amusement parks here, but you will find stunning beaches with some of the best snorkeling around.
Take the ferry over to St. John Island and visit Trunk Bay Beach, but make sure you get there early because the parking is tight. Magen's Bay is one of the best places on St. Thomas with a yummy restaurant right on the beach.
Make sure you go to Drake's Point to get one of the best views of the island.
Related: 10 Amazing Things You Need to Do in St. Thomas, USVI
18. Vail, Colorado
Are you a lover of winter sports? You don't have to give up those because you have a baby. Consider traveling to Vail, Colorado for all your winter sports activities.
Some of the resorts offer childcare, starting at two months old, so parents can hit up the slopes while their baby stays inside in the warmth. Vail is a family-friendly city with free public transportation and beautiful playgrounds.
Make sure you check Travel Vail Baby. This company offers baby and toddler rentals for almost all items you may need for a baby including hiking backpack carriers, strollers, and more.
19. Washington, D.C.
The capital is another great place to visit with a baby. The city is home to some of the most famous landmarks in the world, including the White House and the Lincoln Memorial. Washington D.C. is also packed with museums, theaters, and restaurants, so there's something for everyone to do.
Did you know that many of the museums are totally free to visit? Including the amazing space museum!
And since the city is so walkable, you can easily get around without having to take taxis or buses. Plus, Washington D.C. is only a short drive from some of the most beautiful beaches in the country.
Along the Potomac River, D.C. Metro added miles of hiking and biking trails you can stroll with your baby. They also have restaurants that line the river, giving you a gorgeous view during dinner.
20. White Sands National Park, New Mexico
White Sands National Park, located in New Mexico, is a must-see for families. It might not be a full vacation location by itself, but if you are in the area, stopping to see the expansive white stand dunes is an excellent idea.
This area is hot, so if you bring a baby here, be prepared with plenty of sun protection and water. White Sands is a great stop when visiting Santa Fe as well!
21. Wildwood, New Jersey
If you're looking for a beach vacation with your baby, consider going to Wildwood, New Jersey. You'll find dozens of beachfront hotels and a wide beach with plenty of space to spread out and enjoy the surf and sand.
At night, the boardwalk is what shines – quite literally. The boardwalk features three piers, each with unique rides, games, and attractions. Make sure you catch the tram car as you stroll this at night and grab some delicious ice cream cones.
Cape May, New Jersey is right below Wildwood, and it offers a quaint little beachside town with shops to stroll and yummy restaurants. This area has plenty to do for families of all ages!
22. Wilmington, North Carolina
As a North Carolina resident, I know all the amazing places to visit in our state, and Wilmington is truly a gem that too many pass over for big places like Myrtle Beach.
This city is a pleasant area for babies and toddlers. Carolina Beach State Park has plenty of surf and sand to enjoy with your family. Take a took of Masonboro Island; you won't forget it.
This city has some amazing delicious foods as well. You'll spend your days at the beach and enjoying the gorgeous weather here and the evenings enjoying the city and all it has to offer.
Related: The 13 Best Family Resorts in North Carolina in 2022
23. Zion National Park, Utah
Zion National Park is definitely one of the best places to travel with a baby. This national park offers families plenty of places to explore nature, including some easy and beginner-friendly trails. They even have some paved trails if you have a walking toddler or want to bring your stroller along.
The site here are gorgeous. So, if you're an outdoors loving family, I suggest a stop here!
---
These are definitely a few of the best places to travel with a baby. From New York City to Disney World and over to Seattle, the United States offers amazing destinations for babies. Make sure to include a few of these on your bucket list of traveling destinations.